Pictured above: Carolyn Waldee as Aggie (front) with the cast in the world premiere of Neverland at Prop Thtr/Photo: Beth Rooney
Editor's Note: This is an expression by Yasmin Zacaria Mikhaiel in response to Neverland in a listical form; it is followed by information about the work and process.
Never have I ever witnessed an ethical, timely adaption of Peter Pan—and I'm willing to bet you haven't either.
・・・
The average person believes we no longer need adaptations of J.M Barrie's "classic" Peter Pan.  (Probably.)
Here's a list why:
Princess Tiger Lily and the racist depiction of Native Americans

Over-reliance on Peter Pan as a (white) savior

The abuse of Tinkerbell and other womxn

Wendy's role in perpetuating the subjugation of women

Victorian Era depictions of children are boring (and unsettling)
Prop Thtr's Neverland, devised by the ensemble and directed by Olivia Lilley, torched this trash and created a work that deserves to live and breathe in our time.
Here's a list why:
The Lost have points of view separate from their relationship with Peter

There are no racist depictions of people of color; rather, the cast is incredibly diverse along every measure

Tinkerbell is a percussive, badass drag queen that takes no shit

Wendy is a Jane-the-Virgin-watching, queer Latina

You will see yourself in Hook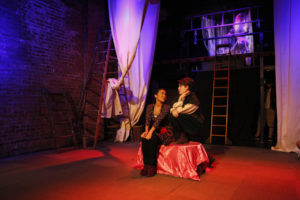 Though the tale is dark with ample moments of somber and pensivity, I couldn't stop smiling.
Here's a list why:
The dual simplicity and ingenuity of the set is brilliant; sky to ground draped fabric transforms from sails to home as it is tied back or left free

Artful, sonically situated folly accompanies the Lost through their journeys as every prop serves a sound

Ladders live along the walls as refuge, places of safety, transforming from trees to ship and back again

Shadows are haunting yet playful characters in their own right

This reimagination of

Peter Pan

is what I wish my young lost self would have had the privilege of witnessing
・・・
Neverland performances occur Thursdays through Sundays at Prop Thtr, 3502 North Elston Avenue, October 29 through December 2. More information can be found through propthtr.org.
Yasmin Zacaria Mikhaiel (she/her/hers) is a dramaturg and oral historian based in Chicago. She is a mixed-Persian girl, lover of writing, reading and listening. She consults for many arts and humanities organizations on the art of oral history interviews and prioritizing narrator agency in community-based projects. Yasmin also writes for other arts/culture publications, crafting reviews and pushing for POC representation and equity in theatre. Learn more about her and her work at her portfolio, or follow her on Instagram.