Pictured above: Tim Kidwell and Amanda Caryl Fink in I'm Gonna Pray for You So Hard by First Floor Theater/Photo: WHO IS SHE.
Editor's Note: This is an expression by Jonathan Goldthwaite in response to I'm Gonna Pray for You So Hard in the form of a mock interview of Ella Berryman, one of the show's protagonists. It is followed by information about the work.
I'm Gonna Pray for You So Hard is a two-person drama which focuses on the relationship between established playwright David Berryman and his daughter Ella, an emerging New York City actress. The two anxiously wait in David's Upper West Side apartment for the first review to come out of Ella's performance in a production of The Seagull. The play explores the challenge of growing up and forging one's own path while living in the shadow of someone you desperately want to break away from while also needing their approval. I've written a mock-interview with Ella after the opening of her one-woman show.
・・・
During Ella Berryman's three-year hiatus from performing, she focused on self-care, addiction rehab, and bringing her life story to the stage. The powerhouse actress– and daughter of Pulitzer Prize and Tony Award-winning playwright David Berryman– now enters the family business as her one-woman show, In Parentheses, has just opened off-Broadway:
Where did the inspiration come for In Parentheses?
Ella: Well, first, it's not just a show. This is a meta-theatrical one-woman experience where I play twelve characters spanning three generations. It came from one of the absolute worst nights of my life—after I read my first Times review.
Was the review negative?
Ella: Oh no! He loved it, said it was "a rave." Just not for me. No. For me, all I got was a mention, not even an adjective. The review just said "Medvedenko is in love with Masha (Ella Berryman)." That night crushed me–crushed me.
How much of your work is autobiographical and how much is embellished?
Ella: Whether this is autobiographical or not is not the point. Instead of asking yourself "Is this play a factual retelling of real events that happened in real life?" Why don't you ask yourself something like this: "Did I relate to it? Did some part of me wish I hadn't related to it? What did I discover about myself and my existence?"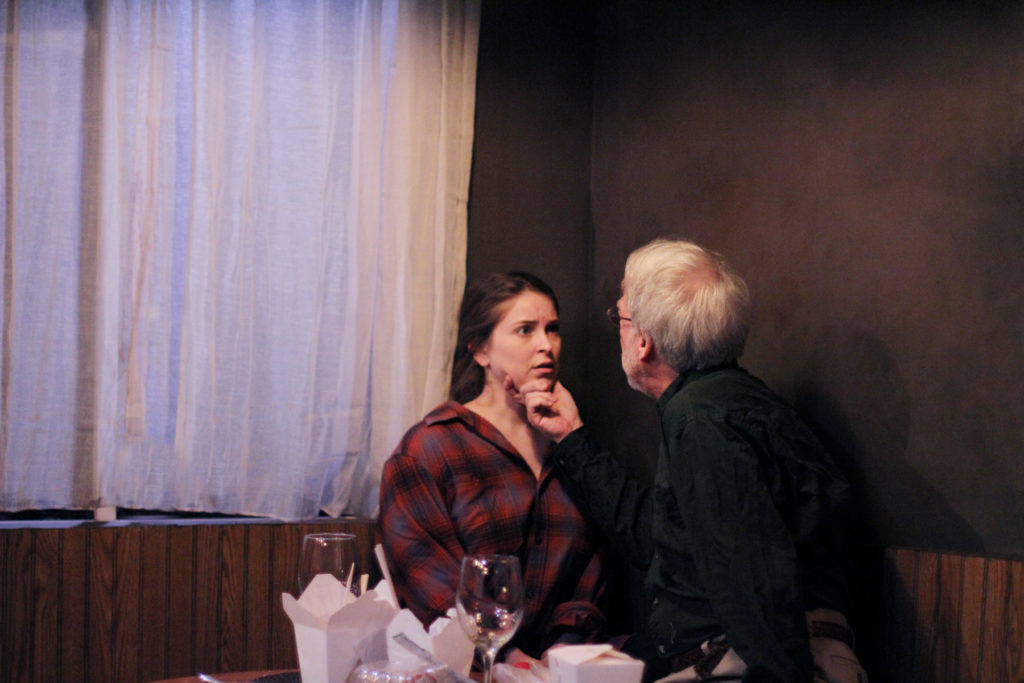 Is this a "get-even play" about your father?
Ella: I wouldn't say that. We have a good relationship. We just don't speak. It's not about him. It's about a woman's multi-generational collective journey to self-love, empowerment, and acceptance. It's about breaking through your own barriers and not letting others write your life.

When did you start to see yourself as a writer?
Ella: I had to do something with the all the f*cked up sh*t that happened. Would you let a stranger watch your kids? I had to write, direct, and star in it myself. I knew my story could be something. I'm not just handing it over.

Was it difficult writing In Parentheses knowing your father had already won two Tonys and a Pulitzer?
Ella: What kind of a question is that? This is the problem. I'm not him. I didn't get daddy to help his pretty little princess with her first big show. He left his dad when he was 18 to become great and I should've done the same sooner. As far as I'm concerned, he's a hack. Sure he got a couple awards, but if he wasn't coddled as a teenager by Milo Koppler, would he be anybody? As far as I'm concerned, he's going to be another dead white guy on the Mount Rushmore of American theater.

Kristof Jansen from The New Yorker described your performance as "consistent" and said your script was "30 minutes too long and 30 years too late." Your response?
Ella: I don't read reviews-I don't. When you read reviews, you give them power; they're winning. You're saying "my work doesn't matter and I need you to tell me if it's good." Dad always said that "critics are the enemies of artistic expression."
What will audiences walk away with after seeing In Parentheses?
Ella: I want them to leave with the power of knowing they can walk away, to have the balls to break away from every voice that petrifies them. Art…life is sacrifice. You have to do what hurts now to make yourself into something later. They need to realize that everyone is trying to hold you back. And they're either winning or losing.

In Parentheses will be playing at The Brick Theater in Brooklyn until June 4.

・・・

I'm Gonna Pray for You So Hard captures the contradictory inner struggle of many artists to find one's unique voice while also accepting the reality that our success ultimately comes from the arbitrary opinions of others. It explores not only what it means to form your self-identity as an artist—but as a human.
I'm Gonna Pray for You So Hard is playing at The Den Theater, 1331 North Milwaukee Avenue through May 18. More information can be found here.