Early Saturday mornings at BOT Bakery customers are greeted by fresh flowers on tables, a handwritten menu featuring weekend specials in blue marker, and a smiling figurine robot under a glass bell. Looking around, more robots can be found lounging on the bakery shelves and dessert cases.
"Robots do what they are supposed to do. Vegan is what I'm supposed to do," 35 year old bakery owner Betty Alper said as she explained the bakery's name.
BOT Bakery opened on August 4th in the South Shore neighborhood as the first dedicated vegan bakery in Chicago. The bakery's mantra is "Local-Organic-Fresh."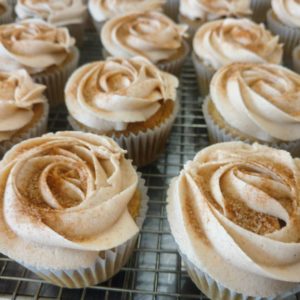 Betty takes these three words seriously. She incorporates local recipes like the South Shore invented banana and strawberry layered atomic cake, into her bakery. In BOT's dessert cases, one will find unique and seasonal flavors like kombucha cupcakes, pumpkin seed icing, tofu tarts, and kale molasses cookies. Kale cookies. A woman called the bakery recently to order these…before they were even on the menu.
"I had no idea what she was talking about, so I decided to try and make them," Alper said.
In the city known as the Hog Butcher of the World, vegan food is trending. Kalish, opening in Uptown in late 2016, Vegan Deep-Dish Pizza with homemade cashew mozzarella in September 2017 at the House of 'Za in Ravenswood, non-vegan restaurants like Little Goat Diner and True Foods Kitchen placing vegan options on their menus, and burger shops incorporating the Ultimate Burger left and right.
With the success of two vegan bakeries, Chicago's appetite for vegan fare is reaching a kind of apotheosis. Although people once assumed that vegan dessert could not be delicious without butter and eggs, Betty Alper and Heather Bodine-Lederman prove that their vegan desserts take the cake.
The 26-year-old operates Pie, Pie My Darling and has a substantial fan base. There are over 41,000 followers on her Instagram account. VegNews magazine nominated Pie, Pie My Darling for the 2017 VegNews magazine veggie awards. Although Heather doesn't have a storefront, (she plans to open one in early 2018), that doesn't stop people from finding her treats.
"We are not the weirdos anymore. New vegan businesses are opening every year," Bodine-Lederman said.
Despite the thirty-eight degree temperature on October 28th, 2017, a line forms down the block for Heather's Halloween pop-up at retail shop FLAIR. She runs out of cookies within the first ten minutes. By 1:30 PM her inventory of snickers cake slices, pumpkin rice crispy treats, and assorted Halloween-themed cupcakes, are nearly sold out.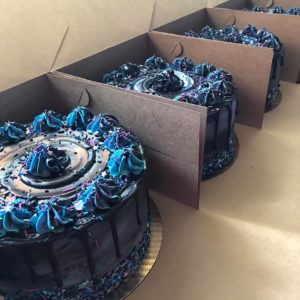 Heather's business has skyrocketed since it first opened three years ago. Perhaps that is why it's becoming increasingly harder for her to forecast event attendees. Heather cites the expansion of Chicago's vegan community as one reason for her success.
"Being a niche business is a huge advantage. There is a huge market for vegan treats right now," Bodine-Lederman said.
According to a study conducted by food-ordering service GrubHub, vegan was the most popular 2016 Chicago eating plan, with orders up 58% from 2015.
"While the percentage of Americans claiming to be vegan or vegetarian has not changed dramatically, the growth in the market for plant-based meat, eggs, and dairy alternatives is significantly outpacing that of the overall grocery market," Elaine Watson, editor of Food Navigator USA said.
She cites a multitude of reasons for this, including an increasing anxiety that we won't be able to sustain nine billion people in 2050 with the economy of animal protein supply. Another concern is animal welfare, More people are exposed to factory farming animal cruelty due to documentaries like Shaun Monson's "Earthlings."
Alternatively, there are less serious reasons for trying plant-based food. Sometimes simple curiosity leads to experimentation. Heather's own live-in boyfriend, a software engineer and non-vegan, likes to taste test her treats and compare them to the non-vegan versions.
"Some of the growth in this market stems from a desire to try new things. You don't have to be vegan to buy cashew based milk or ice cream," Watson said.
Heather's philosophy is that it's all about the taste. For people who are hesitant to try vegan food, Heather suggests seeing the food as just food rather than focusing on the vegan aspect. She says that most people eat vegan food in a day without thinking about it.
"I don't push the vegan thing on anyone. I don't add anything weird like vegetables or tofu," Bodine-Lederman said. "I still use sugar, oil, and all the good stuff. I think there is a misconception that vegan means healthy which equals gross and not indulgent. My treats are not meant to be healthy. They are meant to be delicious."
Heather began as an overnight bread baker at Whole Foods. After her shift, she came home and baked "just because." Her boyfriend couldn't eat it all fast enough so she decided to see what she could sell. Her first business venture was at the Vegan Vortex, a market devoted to vegan food and merchandise in Logan Square. She offered four flavors of miniature pies and that is when she dubbed her business Pie, Pie My Darling.
"The song Die, Die My Darling by The Misfits came on while I was baking. It was too perfect," Bodine-Lederman said.  
Like Heather, Betty started her career baking bread. She studied at the Culinary Institute of America in New York. After completing school, Betty opened the Balanced Kitchen in Lincolnwood where, inside the restaurant, BOT Bakery desserts began. When the restaurant closed, Betty tried to sell her baked goods wholesale at local grocery stores, cafes, and farmer's markets. It took ten years to build her accounts. Eventually, her desserts landed in seventeen Chicago locations.
Proud of her Chicago roots, Betty uses the bakery to make a difference in the community. In 2013, when the local Dominick's closed, the South Shore became a food desert. With the shuttering of its doors, easy access to inexpensive and healthy groceries vanished. Living six blocks away from her bakery, Betty witnesses the food shortage problem firsthand.
In an attempt to offset this issue, she brings organic produce to BOT Bakery daily. Betty finds produce at local markets or through organizations like Healthy Food Hub, a South Shore community supported agricultural group. Additionally, Betty makes a variety of foods to supplement her desserts. She offers smoothies, sandwiches, pizza, and raw food. Everything is vegan and gluten-free.
"There are many reasons to be vegan. For me, there is not one specific reason. It is the answer to so many questions," Alper said. "I love everything about being vegan, but the food is the best part."