The weekend before the holidays this year, December 15th, 16th, and 17th saw a run of performers from some familiar faces for Operagoing Chicago folks, but under a different name. The Distant Flight of Birds had their run at Links Hall in North Bucktown, a space known well in its relation to Constellation and Chicago's New Music scene and started as a pitch to local all-femme Opera Improv group Forte Chicago.
"Our associate director Sara has had this brainchild for a while of delving into a Grimm's fairy tale from the perspective of a therapist,"  performer in The Distant Flight of Birds Angela Torres said. "So she's been wanting to do that for a while and she finally actually got a grant to do it. So she asked us because she's worked closely with us now for 3 years. Are you all interested in something like this. Of course we all said 'Well, fuck yeah.'"
In order for the collaboration to work on paper, it would have to be something separate from Forte Chicago entirely. They were able to fund the project using a grant from the Department of Cultural Affairs and Special Events.
Local sources of funding like this can sometimes be overlooked by Chicago-based creators, in the grassroots Opera and Theater spaces, and even in the DIY scene.
"I think people just don't know about them," Performer Amanda Noelle Neal said. "because I mean I've worked with the West Town Chamber of Commerce Lakeview chamber of commerce with other businesses that I've worked for and once I find out they're there I'm like wait a second. This never occurred to me to go to these people and ask them about like 'How do we get a bike rack?' You know, things like that. They do a lot of arts supporting-events, most run street fests all summer."
"I think oftentimes we're so focused on creating the art which is you know what we do as artists individually, that we are not thinking about the administration aspect of it because that's not what most of us do," Torres said.
As for the work itself, The Distant Flight of Birds is a well-paced curated performance art experience blending art song, puppetry, movement, digital media, and ensemble work.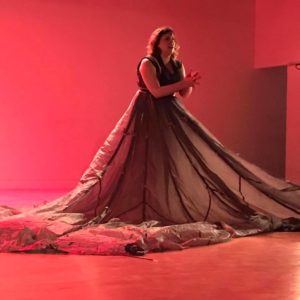 "The first act is a De Falla Siete canciones populares Espagñolas," Alexandra Plattos Sulack said. "So it's seven songs and it's sung by Forte Director Susan Payne O'Brien and they made these songs into a spectacle of puppetry and music."
This work was also directed by Mikalina Rabinsky and collaborating with local pianist and Opera Director Nyela Basney.
"One of the other performances is there's an award-winning author Abby Geni is going to read a story called "Landscaping" from her book called The Last Animal. And so that's going to be beautiful and that's actually where the title 'The Distant Flight of Birds comes from. Sarah pull that out of her story because she heard it and thought that it just fit our performance so perfectly." Sulack said.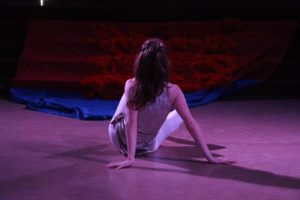 The third act, Cetology, was a one-woman performance that examines the destructive and nurturing forces of human nature through the whales from Moby Dick and Jonah's story. Nelia Miller is an interdisciplinary performance artist who utilizes training in movement, classical singing and acting. Cetology was developed with support from both Mozawa and Chicago Danztheatre Ensemble.
What these first three acts provided was a ride of the spectrum of media that brought centuries of understanding of performance art together in a way that the final act, the namesake The Distant Flight of Birds felt like a culmination of experiences rather than four acts put together in a way that doesn't relate.
The Distant Flight of Birds is a series of original staged songs developed out of a six-week exploration by 16 Chicago-based artists and therapists around themes from the Grimm Brothers' "Seven Ravens". These songs are a meditation on themes of the family cycles and our struggles to mend what is broken. The music was composed by Lara Golan and the Lyrics were written by Susan Payne O'Brien.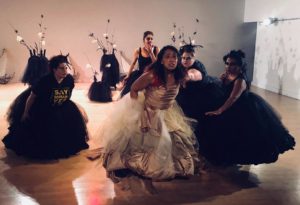 "It's a really dense 15 minutes of performance for the performers because not only do we have this new music and this beautiful poetry on top of that we're also we have huge costumes and we're using a lot of different objects," Sulack said. "Big, big bolts of fabric these beautiful stick boats that Sarah created and then shadow puppets as well, so as performers. We're not just standing up there and singing. We're telling a story through our entire bodies, we're telling a story through puppetry and through the use of these objects."
The night as a whole is a step out of the idea of thematic material, and instead presents an exploration of the human experience in a way audiences might not be used to.
"That's the other really awesome thing, is that [short of one pianist, credited as wonderful and named Seth] this is all women telling stories."
If you missed The Distant Flight of Birds, you'll just need to keep posted. The title has its own facebook page here, and you can, of course, keep up with Forte Chicago on Facebook and on their site.
These quotes alone come from Scapi Radio's interview  on December 6th, 2017 with Alexandra Plattos Sulack, Angela Torres, and Amanda Noelle Neal. For the entire episode click here.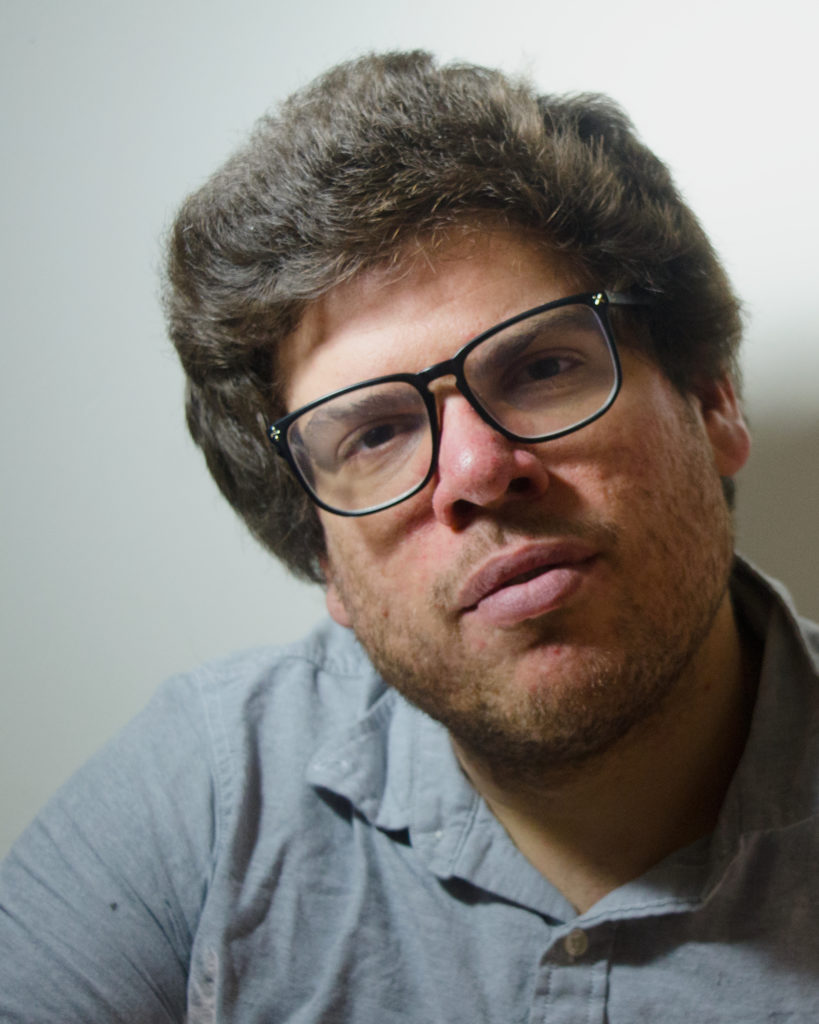 Daniel Johanson (he/him) is a journalist and digital media specialist living in Chicago, Illinois. He serves as Editor-in-Chief at Scapi and in that capacity manages all things content, including writing and editing articles and producing digital content. His most recent work includes the docuseries Heart of a Nation: Tracking Socialism in the Midwest and co-hosting the podcast Scapi Radio. He spends his free time with cats.