Photo by Jerry Alt of Alt Imagery
On September 14, 2017, Scapi Magazine met with local photographer Caitlin Ruby Miller of Ruby Images. Due to Daniel having double booked, prior to the interview Maureen and the pets, including Oscar, met with guest Caitlin Ruby Miller for a few hours as they awaited Daniel's return. Once he returned, Daniel and Maureen introduced their audience to the very talented Caitlin Ruby Miller.
Caitlin received her undergraduate degree in Opera from the University of Wisconsin Madison prior to relocating to Chicago and becoming a photographer. She began her professional journey as an artist by photographing her friends before transitioning to Opera singers and to establishing her own studio. Currently Caitlin is photographing models, boudoir clients, couples and creating editorials. Her first wedding is in the spring.
"It just happened very organically," Miller said, "I had a set of people in my mind who were friends of mine, or people who I went to college with, whose beauty inspired me.I wanted to shoot them because I feel as though I could bring out an aspect of them that maybe they hadn't brought out within themselves."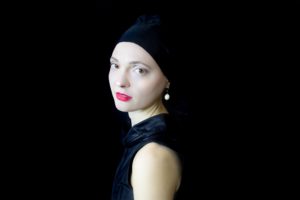 The way in which Caitlin approaches a photo shoot sets her apart from other photographers who might focus on capturing a traditionally beautiful face rather than focusing on what might not be considered traditionally beautiful. Her approach to capturing an image begins before the client arrives for a photo session. Before the shoot, Caitlin methodically ponders on what aspect of the client's personality she'd like to display in a photograph. 
"I'll analyze the person. I'll analyze they way their body looks, the certain outfit that they're wearing, maybe even like the angular aspects of their face."
Caitlin expressed an interest in working with diverse populations. Her attention to diversity can be noted in the subjects she chooses to photograph. Maintaining a diverse portfolio was easier when she was beginning her career as a photographer; now that she focuses a part of her talent on photographing Opera singers, she has begun to realize that many of her clients are starting to look the same. In order to remain true to her interest in representing different types of beauty in her art, Caitlin acknowledges her desire to continue to present diversity in her portfolio. 
"I think that's very important–especially in the Trump era–because I don't want to create photography that's just carrying on the White eurocentric skinny American upper class view," Miller said.
While her work has been primarily focused around women and opera singers, Caitlin expresses an interest in working with new populations such as burlesque dancers, plus-size women, gay men, women of color and other people who do not fit traditional standards of beauty. She believes that through her photographs she can show that these people can be beautiful.
"I just like playing with people who aren't a part of the heterosexual white male everything you're supposed to be," Miller said. "But really, I like photographing everyone."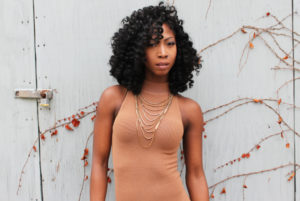 Her interest in working with and empowering women goes beyond photographs. Caitlin shares that she is working towards her Master's degree in Psychology. Her photo sessions contain what can be described as a little bit of counseling and training, as she shows women how to position themselves for a shoot and feel comfortable with the process. She has noticed that many of her clients carry a sense of societally imposed shame towards their bodies.
Some of her Opera singing clients have expressed the belief that the quality of their art is being compromised by an emphasis on body image.
"I think there's a moment in every shoot that the woman looks in the mirror, or puts on a dress, or I'm asking her to do a certain pose, or feel a certain way," Miller said. "I can tell that society has told almost every woman that they're not beautiful."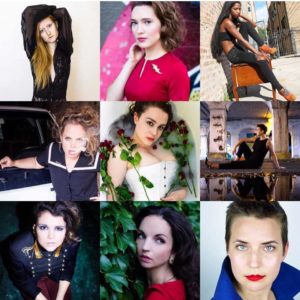 In order to combat the internal shame around this, Caitlin uses photography to capture something different and beautiful in each of her clients. What her photographs purposely display can vary from women with armpit hair to women with more masculine features. She shares that she does not want to be in the mold that many Chicago photographers who take headshots fit because there are many photographers already doing a good job in that area. 
"I want to push [the client's] boundaries as a way to make them love themselves even more and see a different part of themselves that maybe only I saw."
To learn more about Caitlin's art and see some of her work visit her web page at caitlinrubymiller.com or her facebook page where you can contact her and talk about your budget and vision. You can also see more of her work in her column in our Opinion section, Milk and Petals.