Photos by Clint Funk
On the 30th of September Daniel and Maureen met with Rose Freeman, Lucía Mier YTerán Romero, and Isabel Davis-Velázquez to speak about their then upcoming show, With Blood, With Ink, expected to run at the Third Eye Theater Ensemble between October 20 and November 5th. With Blood, With Ink is a requiem-styled opera about the life of Sor. Juana Inés de la Cruz, a Mexican poet and nun. In the opera Lucía plays the younger version of Juana, while Isabel plays the older, and dying, version who spends the opera looking back on her life.
"It's a beautiful opera," Freeman said. "It's in English and Latin because it's telling the story of Sor. Juana Inés de la Cruz who was a Mexican nun, and poet, and playwright, and scholar, and feminist, and general badass. She was a really phenomenal human."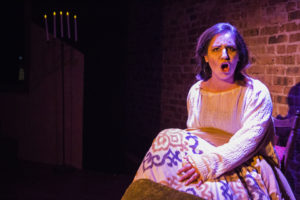 Isabel, a native of El Paso, Texas, shares that she has played a nun in four different productions and, as the older version of Sor. Juana Inés de la Cruz, will be playing a dying nun for the second time. She shares her insecurities about her ability to play someone as intelligent as Sor. Juana. 
"I'm actually really happy to do this opera because it reminds me of my roots and of my heritage," Velázquez said. "And I'm thinking about my hometown a lot because of this opera, because of the people, the experiences."
When asked why this specific opera was chosen for production, Rose replied with one word, 'Trump.'
"One thing that Third Eye is very careful about is making sure that we are consistently doing work that is engaging social discussion," Freeman said. "We settled on With Blood, With Ink because there's this tendency for when you have Otherness to minimize the contributions of the Otherness."
Third Eye Theater Ensemble's determination to not minimize the contributions of the Otherness was present when hiring the cast of With Blood, With Ink. Rose acknowledges that opera has, at times, been whitewashed. She has tried to find a diverse group of opera singers in order to not have Sor. Juana's story be told by an entirely white cast.
"We definitely need to work on being inclusive and I think that this is a great opportunity to do that and bring in some people who wouldn't normally go to an Opera," Freeman said. "People who I talk to about this character, especially Hispanic people, are drawn to this character because so rarely do we get to hear a Mexican, or Latinx excellence."
Rose, Isabel, and Lucía each acknowledge the powerful narrative of Sor. Juana's life. They are even able to relate her story to the current political climate. Acknowledging that comments President Trump has made led to the production of With Blood, With Tears at the Third Eye Theater Ensemble, Isabel ascribes a specific word the president used to describe his opponent, Hillary Clinton, to Sor. Juana. She says,
"Sor. Juana Inés de la Cruz was like the original nasty woman" Velázquez said. "You know? She totally stuck it to the man knowing she was sticking it to the man. Knowing that it was going to get her in trouble. She couldn't help it because she was a human being with thoughts and emotions, and by God she was going to express it."
The Third Eye Theater attempts to open dialogue about social issues that matter in order to spark conversations. While talking about their production, Rose, Isabel, and Lucía engaged Maureen and Daniel in conversations about White Supremacy, White Privilege, and general privilege. Lucía, who teaches Spanish, reminds the audience that the word America refers to the continent, not a specific country. Members of Both North and South America are Americans, or americanos. US citizens are estadounidenses.
Once the focus of the conversation is returned to Sor. Juana Inés de la Cruz, Lucía summarizes the production.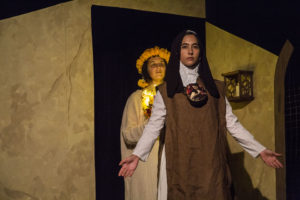 "The big decisions that [Sor. Juana] has to take in her life in order to survive and do what she wants." Romero said. "This story is a reflection of what we do in our lives, as artists, so that we can continue making art."
Although Sor. Juana passed away over three centuries ago, her story remains relevant. The Third Eye Theater Ensemble retains a social-justice mindset and engages audiences with both contemporary and relevant content in order to promote social change.
To listen to the entire conversation with Rose, Isabel, and Lucía click here. To learn more about Third Eye Theater visit www.thirdeyete.com