Photo by Bryan Allen Lamb with styling by Whitney Middleton & art direction by Jamila A. Woods 
Kevin Coval, poet-activist-community builder, also the Artistic Director of Louder Than a Bomb, sat down with Scapi Magazine in 2017 to talk about his book A People's History of Chicago (released April 2017). The book is a collection of 77 poems based on the 77 neighborhoods of Chicago that spans 525 years of the city's history.
"The poems are about people who I admired, some people who aren't known, some people I didn't know about when starting the book and then through research kind of got put onto some of the folk who I think had a big impact not only on culture politics and policies in Chicago but also around the planet," Kevin Coval said. "I think a lot of it too is a moment to praise, and remember, a lot of the working-class victories and struggles that the city and working people in this city have fought hard to secure and win for working people.  I think in this time you have to be perpetually an optimist, but I wanted to lean in a little bit to that working-class history to remind us that we certainly have fought against great forces of tyranny and won."
"[W]e shouldn't be afraid to risk, and come together, and organize. Some of the most powerful people in the city and have been intentional about the type of organizing they wish to do. I have a poem about Chairman Fred Hampton in the book, and thinking about the legacy of Chairman Fred and his organizing ability and what he was seeking to do which was so fearful for the center also in some ways mirror the campaign of Mayor Harold Washington." Coval continues, "In some ways, I think part of the story of the city is about the insurance that working people are kept from one another so they don't [build] these allegiances to create a different kind of hold of power that ultimately terrifies the center. I wanted to be reminded of that personally as an organizer and as an activist, and really lean into the stories I guess."
Coval originally wrote around 150 poems for the book before his colleague, and one of the main editors of the book, Nate Marshall suggested that was way too many and that maybe one for each community neighborhood was a good idea."I had a Sox poem in there, but during the writing of it the Cubs won so I had to take the Sox out. No shots at my Southside brethren. My dad has been a Cubs fan since '43 so, that poem, in particular, is about the white space of Wrigleyville and the problems of the white supremacy of the owners of the Cubs too. I wanted to tell a very broad story." Coval explained.
Coval's interest in history was piqued at an early age because of his love for hip-hop music and he credit's the music for sending him to the library. This led to him reading Howard Zinn's A People's History of the United States which he says armed him for battle in a mandatory high school history class.
Coval said, "I probably read the bulk of it between my sophomore and junior year of high school in order to even prepare for that class. So the first day, first period, I had my hand up ready to battle because there were only pictures of dead white dudes on the wall and that was my first question. And I had already dipped into the history text they gave us which was whack, and revisionist, and through a very narrow Euro-centric white supremacist cannon." Coval explained, "So yeah, that book had a giant impact on me and I think I wanted to then use a similar lens and my own imagination to tell the story of this city that I love, and I feel like sometimes we don't do the best job of putting on for our own."
Coval went on to say, "We have this notorious Second City complex, we also lose a lot of our people to the culture industries of the coasts, but I've been so profoundly moved by the impact that culture makers in this city have had on me both in my lifetime but also in some of the various legacies and gifts that I've been as a Chicagoan, given from some of the people who lived here prior. So I also wanted to rep for that and really claim some Chicago stories."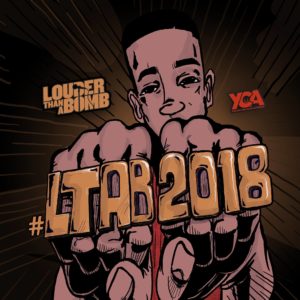 Coval's love for Chicago doesn't end with its rich history, as he is actively engaged in making the community better for everyone. One of the many ways he is currently giving back to the city is with a program called Louder than a Bomb: the Chicago Youth Poetry Festival. The festival has been going for 19 years and is a year-round program culminating in the spring. The number of participants and audience members has continued to grow rapidly causing the event to become a four to five week event that provides a space for over a thousand young poets to come together and practice their poetry slam skills.
Another project that Coval is heavily involved in is Young Chicago Authors which is a program that works in hundreds of schools a year to "cultivate young voices through writing, publication, and performance education." Coval explains that the goal of Young Chicago Authors very rarely stops there as they seek "to create different cultural spaces for young people and are also trying to think about a new kind of creative cultural workforce too."
"We end up employing a lot of our graduates from the program who then go on to be some of our teaching artists. Our marketing managers from the program, our National Director of Louder Than a Bomb is from the program, our associate artistic directors from the [program]. So, we also see, in our own backyard, in our own program the future. And that's big [and] powerful too." Coval said.
Go to youngchicagoauthors.org to learn more about Louder Than a Bomb. A People's History of Chicago is everywhere but the author strongly encourages you to shop locally. To stay up to date on Kevin Coval's solo projects check out http://kevincoval.com/kc/. You can also hear the full interview with Scapi here.
Sharai Bohannon (she/hers/her) is a playwright who is pretty excited to write about DIY theater and performance in Chicago. She has a background in journalism and is excited to see what all she remembers as she begins her freelance career with Scapi Magazine. Get to know some of her work on her page at the New Play Exchange.