Photo by Ruby Images, Makeup by Jules Fleming
On April 4th, successful Instagram Model and Femme FATales founder Carina Shero's instagram account was frozen and she was unable to post, prompting her to create a backup account, @carina_shero. Then, on April 13th, her account was deleted completely leading her to start a petition to Instagram on change.org.
"Instagram has been silently terminating and shadow banning accounts that feature plus size and fat people that are unapologetic in showcasing their bodies in lingerie and sensual poses and are breaking the stereotypes around larger bodies," Carina said.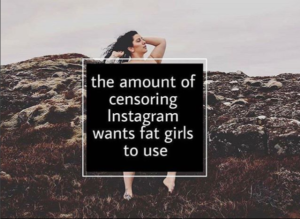 Shadow-banning is particularly prevalent among the plus size community, with some users citing experiencing this practice for next to nothing.
"Yes!!! I've been shadow banned simply for my hashtags and I'm freaking sick of this! Consider me signed on that petition!" Molly Steele, @mayden_steele_ said.
Shadowbanning as a concept isn't talked about often, but an article on Inc.com talks about the practice and seems to be the prominent resource in a limited pool on the topic. According to the article, Shadow banning, also known as stealth banning, refers to a practice in which apps, forums, or websites will ban a user from the site or app in some way, but will not alert the user that the site or app is doing so.
Usually, the ban imposes limitations on how you might interact with other users, along with your visibility on the site. Reddit users regularly post about shadow banning on the site, and earlier this year, Twitter was shadow banning misbehaving users but calling it account limiting.
"For many of us this is our full time job and livelihood and having our accounts terminated is devastating," Carina said. "Let alone losing the community we've built around us."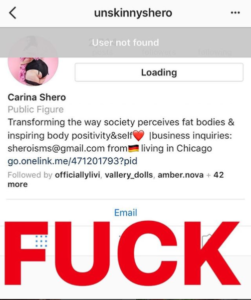 Carina's backup account, @carina_shero is still active, and has gained 11.4k followers in the last four days. Carina has been diligent and transparent throughout the experience through both her posts and her instagram stories, keeping followers up to date with how they can support her through the ordeal.
Carina uses IG as a tool to connect with her followers and encourage folks to contribute to her patreon. Since January of 2016, her instagram account @unskinnyshero grew to 395k followers, despite experiencing being "shadow-banned."
Scapi Magazine has reached our directly to instagram for a comment on this practice, and has not yet heard from anyone representing the app. We'll keep this article posted when we hear something, and in the meantime, you can keep up with Carina on her new Instagram, or her patreon, or tumblr.
Maureen Smith (she/her/hers) is Womanaging Director of Scapi Magazine. She is a female human who appreciates both dogs and cats, sprinkles nutmeg on everything, and does not enjoy sprouts on her sandwich thank you.