Local outfit Oku is premiering their single "Luscinia" off their new full length album planned for release on September 21. The first single was released on July 13th, on ANCHR Magazine's site.
Oku is the pseudonym for Alex Katsaropoulos, a singer, writer, and producer who creates music somewhere in between Radiohead, Bon Iver, and James Blake. Alex just finished his debut full length album that will be released September 21 of this year. Oku has been playing shows as a full band outfit around Chicago and the Midwest and has dates scheduled leading up to the release.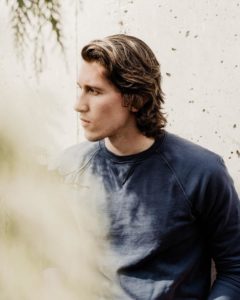 "This song is about a woman driving in the middle of the night after a traumatic experience. She's lost, confused, hurt, and afraid," Katsaropoulos said. "Luscinia is the name of the family of birds that the Nightingale is a part of and in myth, the Nightingale symbolizes a lost soul or someone in purgatory."
"This felt like a perfect connection as I began writing this song. The subject matter and story is something that's hard for me to talk about in a straightforward way, so I tried to use metaphor in the lyrics and melody to convey the feelings that I needed."
You can find out more about Oku on their site here, and listen to the track on Soundcloud here.
"The way the music arrangement started was with that high acoustic guitar part in the beginning that sounds kind of like a bird chirping," Katsaropoulos said. "Then the vocal harmonies and low bass build the tension. As it moves on it starts to feel more like you're driving or running because of that electric snare hit. The bridge then replicates that lost feeling from the story and then it breaks back into the final verse as it's high point. This song is mostly about building on top of itself and then letting those parts fall away since it centers around one progression and melody. It really relies on that huge drum part at the end to bring all the feels from the melody together."