Photos by Tyke Riggs
Ariel Zetina has a well-known sound throughout Chicago. DJ and Producer Zetina can be found DJing at Smart Bar, where she's resident DJ, spinning at The Hideout, Berlin Nightclub and more. Scapi Magazine caught up with the DJ to talk about her work in Chicago, curating format of genre in the digital age and the queer industrial renaissance of 2018.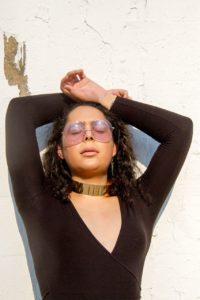 Zetina's journey to DJing began as a way to include music she loved in clubs that wouldn't play them otherwise.
"I started throwing parties and DJing because I didn't necessarily hear music I wanted to hear in the club, in the club. I didn't expect a lot of people to catch on but they definitely did. There's been people DJing with me side-by-side the entire time," said Zetina. "There's a lot of cool producers and DJs in Chicago that are really excited about changing form up."
With a background in theater and performance art, Zetina connects her experiences as a performer to creatively guide others through music curation. Her interdisciplinary work allows her to express herself in a way that, in her eyes, is less restricting than words.
"Producing and DJing is such an instrumental world," Zetina said. "I think I got into that more so than theatrical stuff originally because it allows you to express things that are inexpressible by words. That's the big thing for me that got me into this practice."
In a world where many people percieve today's DJs and producers as people who circulate EDM music at parties, Zetina's style challenges this years-old notion.
When people ask Zetina how she'd describe her sound, she simply responds, "I make club music."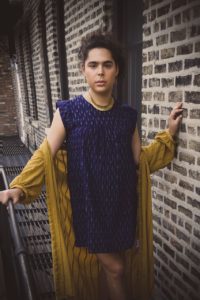 "It honestly depends on who asks," Zetina said. "Sometimes I say club, sometimes I say, 'I play mostly techno but it also has other stuff in it,' and I'll say, 'techno but Rihanna.' I feel like I do that a lot. Club music is the short answer but genres I really pull from are House, Techno, I pull a lot from Vogue, I pull a lot from Grimes' UK Hip-Hop instrumentals. I use a lot of Jersey Club, Latinx-influenced beats. It's from a lot."
The Florida native doesn't shy away from including those close to her and her identity in her music.
"So much of what I'm making musically is informed by spending a lot of time with people in club and spending time with those people chilling with their cats," Zetina said. "I'm glad people are seeing me and my scene in a bigger way but I want to make sure that it's not just me being seen."
Though Zetina has been curating music for quite some time, she is clear about the ways she hopes to progress in through her music.
"I'm really trying to work on, as a DJ and in the mixes I release, is being able to slow that pace down and really trusting my selection in tracks; not having to feel the need to mix at all times and be okay with doing nothing," Zetina said. "I feel so in the spotlight all the time that I feel like I have to be doing things all the time. It's definitely important to have that focus but I have to remember the choice of stopping and chilling and breathing and listening. All the things I forget to do."
Listen to this Scapi Magazine podcast episode and listen to Ariel Zetina's music here.