photo from the Nothing Without a Company facebook page
On January 25, Scapi Magazine talked with Anna Rose Ii-Epstein, Ryan Oliveira, and Hannah Herrerra Greenspan about Nothing Without a Company's upcoming "Soccer Player in the Closet," turning experiences of depression and toxic masculinity into art, the power of the playwright-dramaturg relationship, and making audiences formatively uncomfortable.

"Soccer Player in the Closet," written by Oliveira, is about an e-soccer player named Cristiano, who leaves his apartment after three years of staying inside.

"I'd like to call it one part ghost story, one part family drama, one part something about toxic masculinity, one part about queer relationships, and all parts incredibly cooky and weird," said Oliveira. "But essentially, it's sort of about the difficulty of moving on, and the difficulty of, sort of, confronting failure when you are queer and you are also a latinx person. And usually a son or daughter or child of Latinx immigrants."

Oliveira's play stems from his own experiences, specifically a depression-ridden stretch 2015. Six months after finishing grad school in Iowa, he came out to his mother and was shut down. He then visited family in Brazil, where, despite having come out in the US, he had to closet himself to avoid judgment.

After returning from Brazil, Oliveira underwent a tonsillectomy, and consequent complications left him bed-ridden, "which means I had to stay in bed for an entire month living with a room full of seven cats," said Oliveira.

"I was just so incredibly depressed," said Oliveira. "I didn't think I was doing anything good as a writer. I had failed my parents, I had failed my own culture in several ways. Like, I'm supposed to be a doctor and now I'm a writer and I'm not doing anything."

Occasionally joining the seven cats was Oliveira's weed smoking, FIFA-playing brother, and Dr. G of "Dr. G Medical Examiner." Inspired by these elements, Oliveira began writing the e-soccer play after watching an episode where a man died from a "football sized poo" that perforated his colon, a result of laying in bed for a month.

"I thought, A, what a horrible way to die, and B, Jesus, I've been doing that. Lord knows like…woah," said Oliveira.

Roughly three years later, Nothing without a Company picked up "Soccer Player in the Closet."

"They gave me some notes and I was like, wow, after years of therapy and several breakups, I have to now go back into this play and reconcile why it was important and I kept thinking about pulse, and I kept thinking about the things we don't talk about," said Oliveira.

Being Brazilian-American, Oliveira struggled in a culture that does not talk about depression or toxic masculinity. He described evolving the play from a personal "depression play" into a narrative representing feelings of failure specific to first generation children.

"I almost feel like a lot of those characters are aspects of myself failing in different ways," said Oliveira. "They're all having to intertwine with each other and navigate each other and fight each other, to some extent. To really assert that, A, they're enough, and, B, that they can survive with each other."

Oliveira attributes much of his play's development to working with dramaturg Hannah Herrera Greenspan, who he met in a workshop for a mutual friend's play.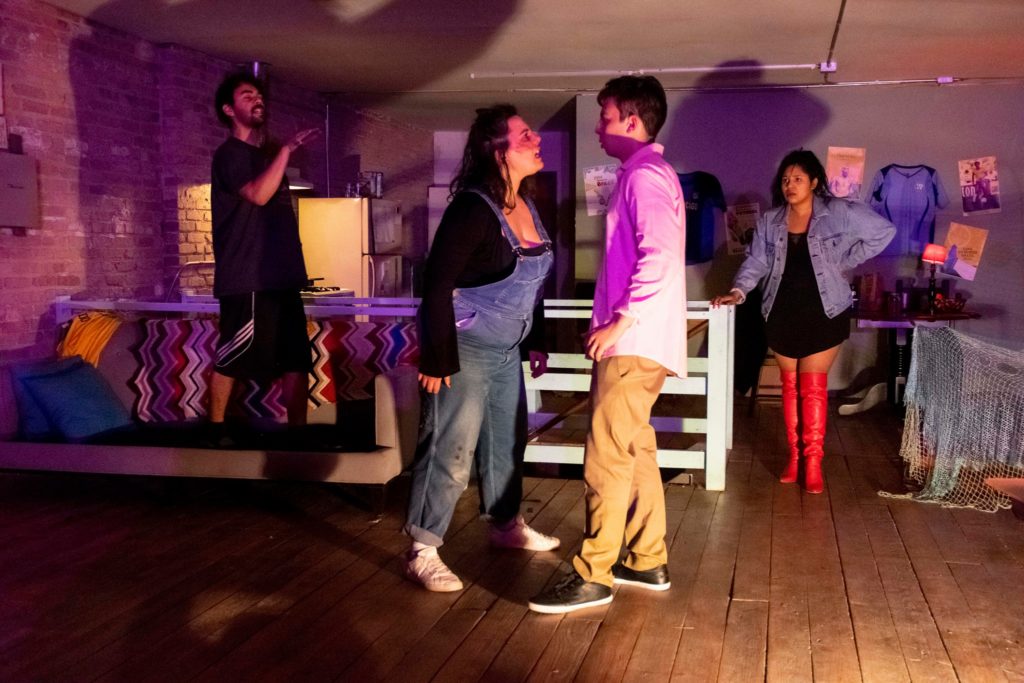 "After that we went to karaoke and Ryan sang Celena and I was like, oh maybe we should be friends and work together," said Herrera.

At seventeen, Herrera's high school drama teacher told her that she was not a director, but a dramaturg. For the benefit of those unfamiliar, she explained that dramaturgy consists of providing research or any other information relevant to producing a play.

"It's super collaborative and all hands on deck. It's not like I'm the keeper of all the secrets and I'm the smartest person in the room," said Herrera. "That's one way I was taught to do dramaturgy, and it is extremely old school and I don't think it really works."

Oliveira and Herrera have collaborated closely to develop and produce "Soccer Player in the Closet." According to Oliveira, Herrera has been instrumental in his success because she is an objective lens that grounds his "bajillion ideas."

"As I writer I cannot see the forest for the trees, and Hannah's like, no, let's unpeel this, let's really take a look at what you're trying to accomplish," said Oliveira.

A performance detail that Oliveira is particularly interested in is language and sound. He described himself as "musically inclined," and focuses largely on cadence and rhythm when writing. If a line is beautiful and coherent but doesn't land right, it needs revision.

Language is also relevant to Oliveira's play because it uses both English and Brazilian Portuguese, which he explained is a rhythmic language in itself. Unfortunately, past white audiences have resisted his use of Portuguese.

"I've written in Portugese for a lot of plays in Iowa, and, nine times out of ten, the comment I would get was, 'as soon as Portuguese was used, I dropped out,' and I was like, aw come on," said Oliveira. "It's such a performative language. It's such a sing-song. It's like musical language. That's really what it is."

Oliveira realized that the problem wasn't him, but the audience's refusal to empathize with other cultures. However, there is hope for progression as playwrights and production companies are becoming more willing to make audiences uncomfortable, to urge them to train their ears and turn toward instead of away from the unfamiliar.

He emphasized that, though audiences may struggle to understand the Portuguese denotations, there is more than text, but "subtext, context, liminal text that is performative and total." Also, in a political climate where people want to isolate themselves to what they know, listening to Portuguese might have a positive, subversive effect on audiences.

"It's so powerful to be able to attempt to understand another culture, let alone another language," said Oliveira. "And though you might not necessarily get every single word, you can at least get the cadence, you can get the performance of it."

Brazilian culture is also heavily present in the play through soccer, because, Oliveira said, "it's this life force that permeates everything we do." He explained that the two main characters deconstruct what a "typical Brazilian" might be to North Americans, because, "To Americans, generally, if you're Brazilian, you're either a model or a maid, of which I am neither," said Oliveira.

"I'm hoping that in another way this play is a matter of education and empathy for another culture that you may not necessarily understand, but the emotional undertones are incredibly present," said Oliveira.

"Soccer Player in the Closet" opened on February 14, 2019, at Christy Webber Farm & Garden in Humboldt Park. The show runs until March 17. Purchase tickets at http://www.nothingwithoutacompany.org/.