photo by Daniel Johanson
Chicago just wrapped up its historic 2019 municipal election with Lori Lightfoot sweeping all 50 wards against Cook County Board President Toni Preckwinkle, but many on the left have something else to be excited about: Big wins for many running under the Democratic Socialist banner thanks to campaigns founded in grassroots organizing.
Two such candidates clinched their seats back in February, Ald. Carlos Ramirez-Rosa and Daniel La Spata, in the 35th and 1st Wards respectively.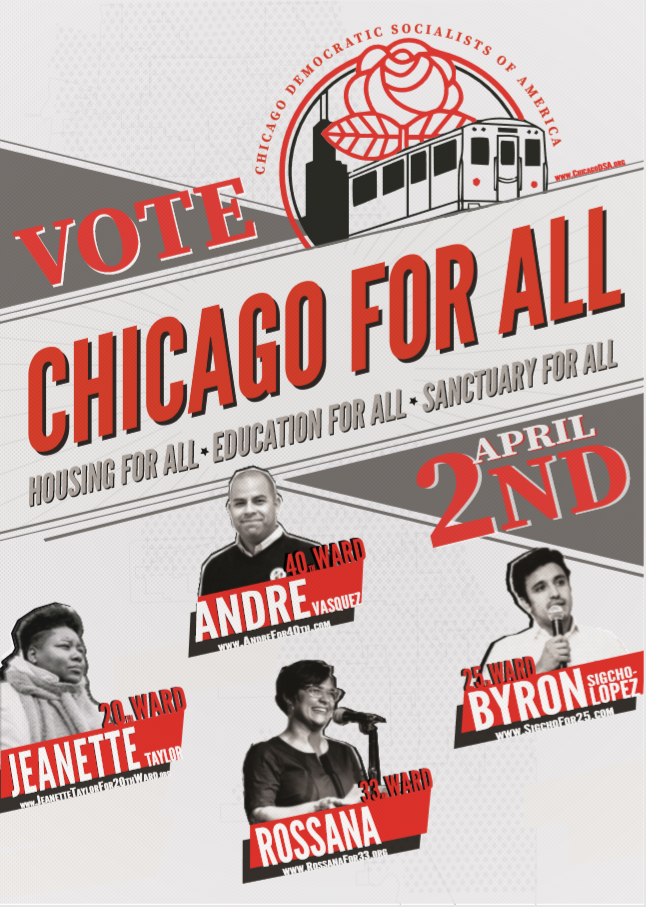 "The oligarchs are shaking in their boots tonight," Rosa told supporters that night at Puebla Restaurant celebrating his re-election over challenger Amanda Yu Dieterich. "Our continued organizing and movement-building over the last four years is paying dividends. And it appears to be a total transformation of political power at City Hall from the bottom up."
This set the stage for four more candidates to go on to success in tonight's runoffs. As of 10:30 on the night of the election, Andre Vasquez (40th ward,) Byron Sigcho-Lopez (25th Ward,) and Jeanette Taylor (20th Ward) have clinched their seats in the council, with the fourth, Rossana Rodriguez, sitting too close to call against incumbent Deb Mell within a few votes.
Many are wondering if this will mean a socialist caucus in the new city council that can advocate for specific interests like tax reform that includes taxing higher income brackets, police accountability, healthcare reform, and establishing a platform with which other candidates can run in future elections.
The Chicago DSA released a statement this week reminding their members to help Get Out the Vote and with it, reiterated the policy platforms it hopes to see these candidates exemplify now that they are in office.
On February 26, 2019 we put the machine on notice. Since January we mobilized around a shared vision of #Housing4All, #Sanctuary4All, and #Education4All, and by talking to thousands of working-class voters, Democratic Socialists candidates won, or led the field to advance to the runoff election on Tuesday April 2nd. It's a great time to be a Democratic Socialist in Chicago, but we need everyone to help organize and win. The machine and the rich will do everything in their power to stop our fight for Chicago's working class.
The popularity of Democratic Socialism in this city is palpable, and at this rate may continue to frame the political discourse in upcoming elections. We saw this in the 33rd ward especially, as Deb Mell resorted to sharing a screen shot of a private post from one of Rossana Rodriguez's campaign worker's personal facebook page.
Many called this tactic redbaiting, a logical fallacy dating back to McCarthyism that works to discredit a political policy or opinion by reducing it to Stalinist rather than engaging with it ideologically. It is something that the Democratic Socialist movement has had to deal with since its inception, especially considering both's origins in 1920s America.
In These Times published an article written by Bhaskar Sunkara about what a socialist caucus could mean in the US Congress in their piece after Alexandria Ocasio-Cortez's win back in November 2018:
"Now, imagine it's 2023 and we have democratic socialist caucuses in Congress and state legislatures, where like-minded electeds are organized. They agree to a broad set of principles, associate themselves with a network of activist organizations and labor unions, and only take money from working-class organizations and individual small donors. Within individual legislatures they maintain a degree of coherence — free votes on many items, but bloc voting on key programmatic issues like opposing wars or budget cuts.

While they relate constructively to some liberal formations like the Congressional Progressive Caucus, they retain a distinct profile. And unlike most politicians — who are indifferent to or try to clamp down on mass organizing — our officeholders encourage a wider class struggle, seeing it as the source of their power as they pursue policies in the interests of ordinary people."
Having even two socialist aldermen in Chicago is the most since the 1910s, when voters elected several aldermen who belonged to the Socialist Party founded by former presidential candidate Eugene V. Debs. Debs was an Indiana native who rose to fame for his role in the Pullman porters strike and ran for president five times, including a 1912 campaign where he secured 6% of the vote.
This is all to say that Chicago has been a hotbed for socialist ideology in the last 100 years, and if tonight's elections are any indication, will continue to be for as long as the movement continues. Meanwhile, supporters and critics alike await what this new platform can accomplish now that it has its foot in the door.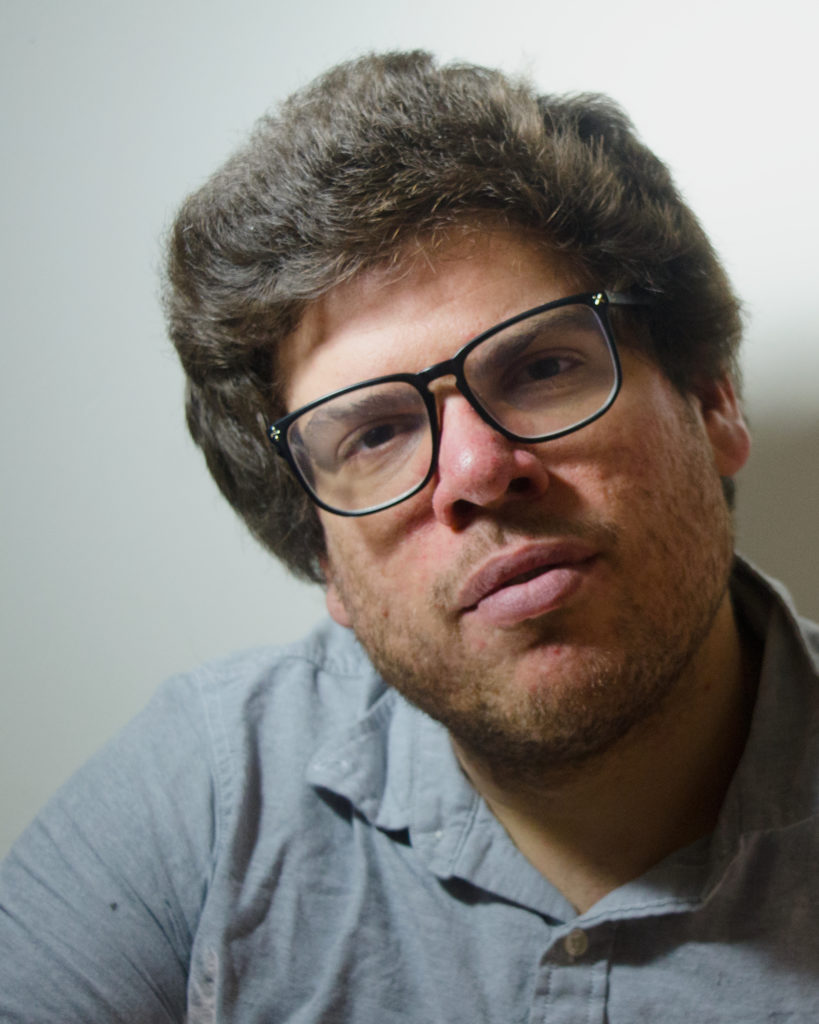 Daniel Johanson (he/him) is a journalist and digital media specialist living in Chicago, Illinois. He serves as Editor-in-Chief at Scapi and in that capacity manages all things content, including writing and editing articles and producing digital content. His most recent work includes the docuseries Heart of a Nation: Tracking Socialism in the Midwest and co-hosting the podcast Scapi Radio. He spends his free time with cats.