Photo: Emma Grace by Charles Pearson
As I sit down to listen to Emma Grace's debut EP Peach Tree for the first time I have an inkling it will contain some quality gay content. When asked what her information for the record was Grace replied "the album was inspired by a kiss I got from a lady under a peach tree". Yes. I'm in. I think you certainly will be too.

All of the songs on Peach Tree are sung, written and composed by Emma Grace. She plays the baritone ukulele on every track, achieving a rich sound I wasn't aware could come from a ukulele. Grace serves up some soft Mitski vibes mixed with a twinge of Mumford and Sons and weaves in playful melodies reminiscent of those of Regina Spektor. "I want my music to serve my community and bring healing and compassion," Grace says. There is a sense of queer romance, radical honesty, and openness on this record that I can both relate to and learn from.

Grace's influences include Lucy Dacus, Ingrid Michaelson, Regina Spektor and Girlpool. Sure, we hear tones of these artists revealing themselves throughout Grace's music, but her sound is completely her own. Here are my real-time reactions to each track from "Peach Tree"

Take It All: This song keeps me on my toes, switching tone and pace seamlessly. Stunning harmonies and layered vocals. "Like rivers flow you cannot catch me. Yeah you should go before you love me." Too real! Do we love the chase more than what we're chasing?
Peach Tree: It feels like the dreamy part of love right before reality sets in. When both parties are still perfect. "I won't miss you, you can leave if you want to kiss me goodbye." Tender and open. Pink clouds and orange sunsets right before it rains. Grace's voice floats up and down the scale with ease.
I Can Be Anything: Yes gravelly vocals!!!! A tribute to no-strings-attached intimacy. Remember – we contain multitudes. One body can hold a desire to be loved and a desire to be fucked and forgotten. "I just want you to stay. I just want a really good lay."
Vulnerable: "Why do I sleep over the first night? Scars reopen when I forget to fight." Reminds me of Sharon Van Etten's "We Are Fine." Do I remember that being vulnerable is not always synonymous with fucking on the first date? Falling in love and breaking up are equally valuable. Vulnerability can be a strength.
Fuck Right Off: Timely, catchy, and unapologetic. This track is the most anthemic song off the album, revolving around self-love and enthusiastic consent. Though I prefer the through line and musicality of the first 4 songs, I can't help but bop along this tune and I have no doubt this will be a fan favorite, especially at live shows.
After a few listens I am fully invested in this EP. I text a few friends about it, I hum along with my favorite lines, and I look up the price of a baritone ukulele. Eager to dig deeper, I asked Emma Grace to get vulnerable with me by answering a few questions about Peach Tree.

・・・
Caption: Emma Grace at Chill Fest by Charles Pearson

How do you define vulnerability and why was it so important to give us that side of you in this EP?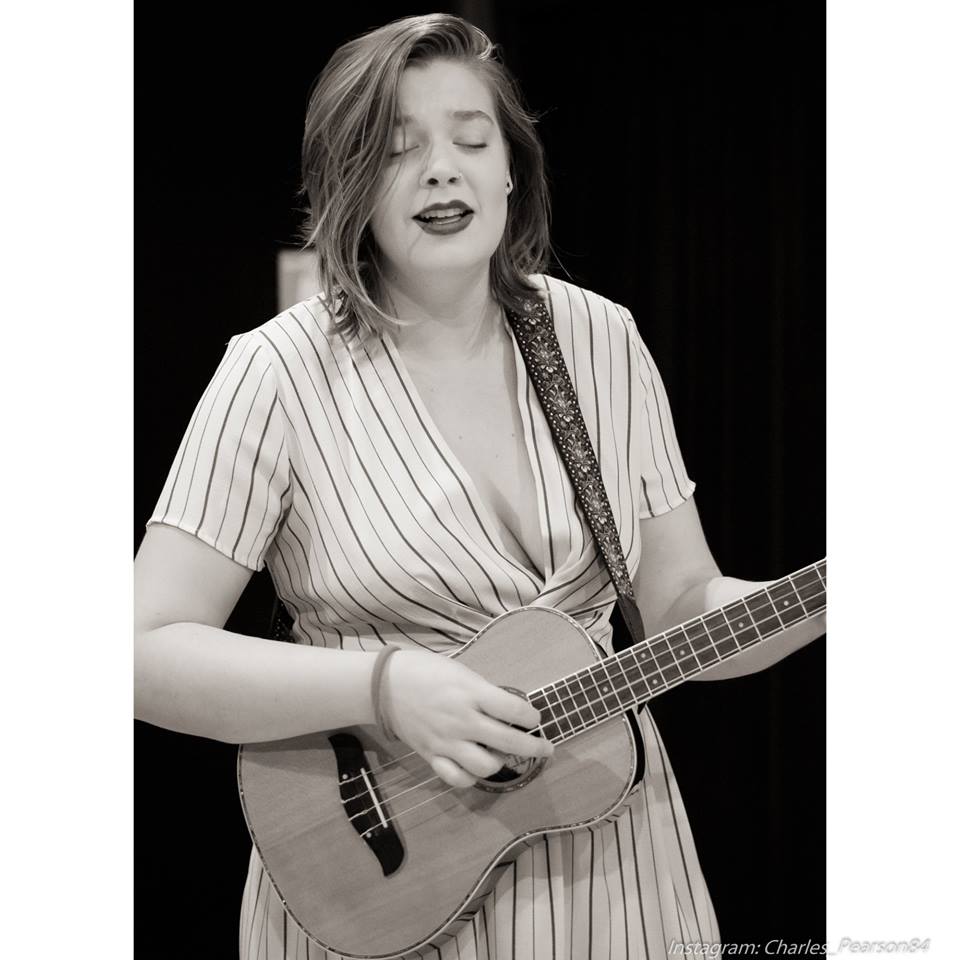 Vulnerability is a strength. I love exploring how my vulnerability is one of my strongest attributes because I enjoy letting people see my imperfections and the underbelly of my being. This can also be a really intimate and scary thing. I believe expressing my vulnerabilities allows me to feel more deeply and for more love to be shared. In my song "Vulnerable" I started with the lyrics "Why do I sleep over on the first night?" because I've been really struggling with the hook-up culture and how I would let people in way too fast. However, I give [vulnerability] away too quickly sometimes and it can be taken for granted. A peach is very vulnerable on the outside. It's soft and sweet and fuzzy, but if you eat it too fast and dig your teeth in too far you can crack your teeth from the pit. This EP is an exploration of finding a balance in being vulnerable and unbreakable.

The title track "Peach Tree" is a tragically dreamy message to the curly haired woman you shared a kiss with. I must know what happened to her.
Oh, good question. She and I went our separate ways and she kissed me goodbye for the final time last year. We always had a deep friendship and went back and forth on the romantic relationship side of things a lot. She was one of the first people that helped me open my queer closet doors and I'm grateful for how much inspiration she has given me. She even listened to the album and loved it. We said happy birthday to each other this year, but otherwise, we don't really talk. And that's okay.

How long have you been playing the ukulele and what draws you to the baritone uke?
I've been playing ukulele for almost four years now. I am completely self taught and I actually started learning on a concert ukulele. After about a year though I was really wanting something that gave me more depth and UMPH. The baritone uke has a much richer and deeper tone that compliments the deeper tones I love to explore in my chest voice.
*Matt Griffo (Peach Tree's engineer) gave some insight into how he achieved such a rich tone from Grace's baritone ukulele in this article.

What lessons did you learn throughout the process of writing and recording this EP?
I think the biggest thing I learned is that I don't have to invite people into my initial writing space. I just have to write what I feel. These songs were all done mostly by free writing thoughts, accepting them and then finding the cohesive phrases to piece together. When I wrote the song "Peach Tree" it was right after I got off the phone with the lady it's about. I just wrote what I felt. The recording process has taught me that I can truly do anything… and that I have also A LOT more I need to develop in my music..like time signatures!

What do you hope your listeners take away from Peach Tree?
One of my favorite responses [to] Peach Tree, so far, is "This is a gift." The fact that my music can be a gift to someone who needs it is so meaningful to me. I want this album to uplift people, empower people, and heal people as much as possible. I have always held a philosophy as a creative that I want my art to be a service. It is for me, but it also needs to serve others. I also hope people will feel like they can handle any street harasser, abuser, user, and ghoster out there with an empowering and loud "Fuck Right Off!".

I can't help but feel a little bit safer to show my vulnerable side after listening to this short and sweet EP. I agree that Emma Grace's EP is a gift to be kept close, shared, and cherished.
You can find Emma Grace's music on Spotify, iTunes, Bandcamp and SoundCloud. Follow her on Twitter and Facebook.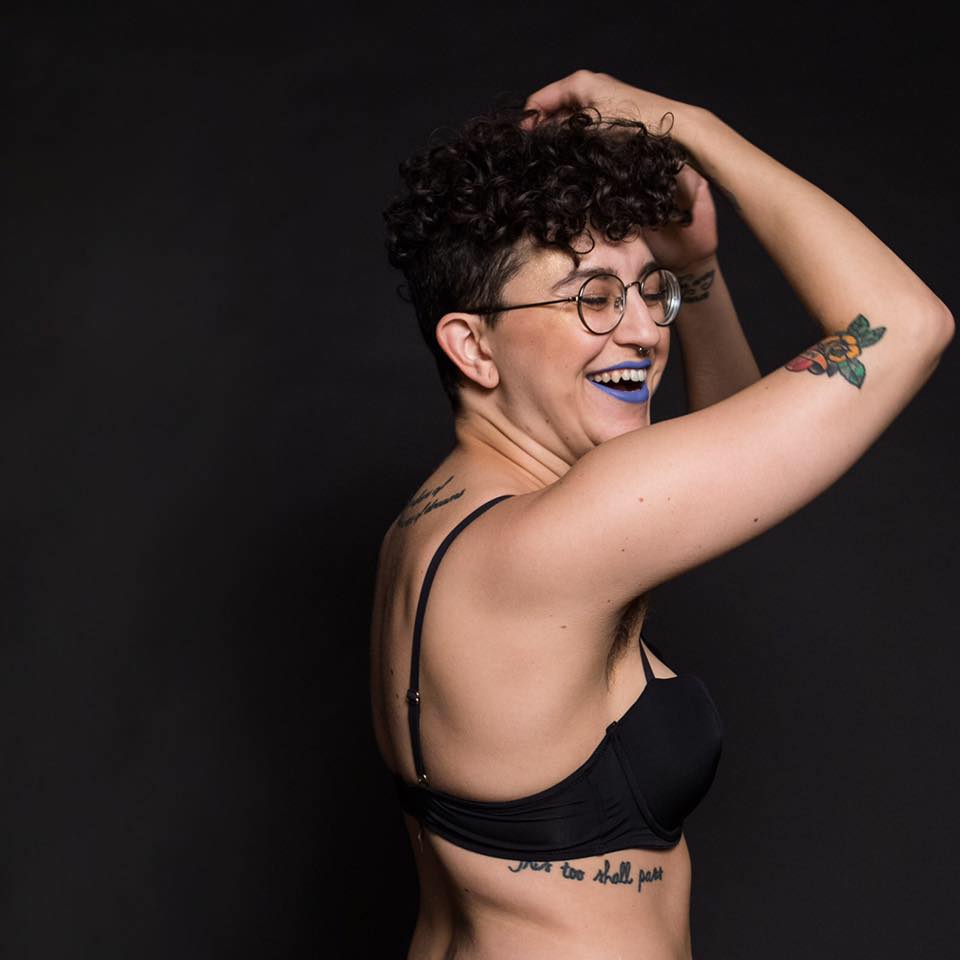 Emilie Modaff (they/them/theirs) is a Chicago-based actor, writer, musician, storyteller, cat co-parent, podcaster, tarot reader, reiki practitioner, performance artist, producer & casting director. They write for several publications, covering the Chicago theater scene, pop culture, and topics surrounding sobriety and recovery from addiction. Learn more about their work at their 
website
, or keep up with them on 
Facebook
, 
Instagram
 or 
Twitter
.