photo by Gage Skidmore
Many Progressives, while noting Speaker Nancy Pelosi's pink suit is pretty cool, and ripping paper sure is a fun stunt, have felt that her history of undermining progressive action in congress is a growing concern amidst the coronavirus pandemic.
That is why many tuned into a virtual town hall hosted by Vermont Senator Bernie Sanders on April 30 featuring members of the Congressional Progressive Caucus, including Democrats Rep. Primila Jayapal (D-Wash), Rep. Mark Pocan (D-Wis), and Sen. Elizabeth Warren (D-Mass), to discuss their COVID-19 relief priorities for the next bill.
A week after Trump signed the CARES act into law, Pelosi backtracked on her earlier support for progressive agendas, and instead stated support for more bipartisan ('have your cake and eat it too' speak for 'more conservative') efforts.
"While I'm very much in favor of doing some things we need to do to meet the needs–clean water, more broadband, the rest of that–that may have to be for a bill beyond that right now," Pelosi said on CNBC.
"Let's do the same bill we just did, make some changes to make it current," Pelosi later said to reporters at the capital of scaling back on goals so outlandish as "clean water."
The next big congressional move was an interim, small business relief plan that passed on March 23, a $484 billion package to expand testing and financially assist small businesses and hospitals. Since then, Democrats have begun compiling a next phase relief bill. Hopefully, with strong pushes from the left flank of the Democratic House, and perhaps better support from Pelosi and Chuck Schumer, the next relief package will make more room for protecting working people, expanding healthcare, and improving infrastructure.
That sets the stage for the Town Hall on the 30th, where CPC members discussed relieving issues such as hunger, living paycheck to paycheck, healthcare affordability, test shortage, the inability to pay rent and mortgage, student debt, incredible job anxiety, credit rating anxiety, and healthcare inequity.
"Tomorrow is May 1. Happy May day to everybody, but among other things that's when the rent is due," said Sanders. "If you're out there and you are living in anxiety, and you're a little bit depressed, hey, you are not alone Millions of other americans are in the same boat"
"First of all," Sanders began the meeting, "we have our stable genius in Washington telling us he wants to reopen the economy as soon as possible, and I think all of us are concerned. You don't want to re-open an economy if it will result in the deaths of thousands and thousands of people who will be going to work."
Sanders labeled four major categories of concern: COVID-19 tests, healthcare, economy (namely paycheck and benefit protection for workers), and elections. His first prompt for the panelists: What are your major priorities for the next relief bill?
Jayapal, co-chair of the Progressive Caucus along with Mark Pocan, outlined her Paycheck Guarantee Act, which will protect healthcare and is designed to help both workers and small businesses that are facing layoffs from revenue drops.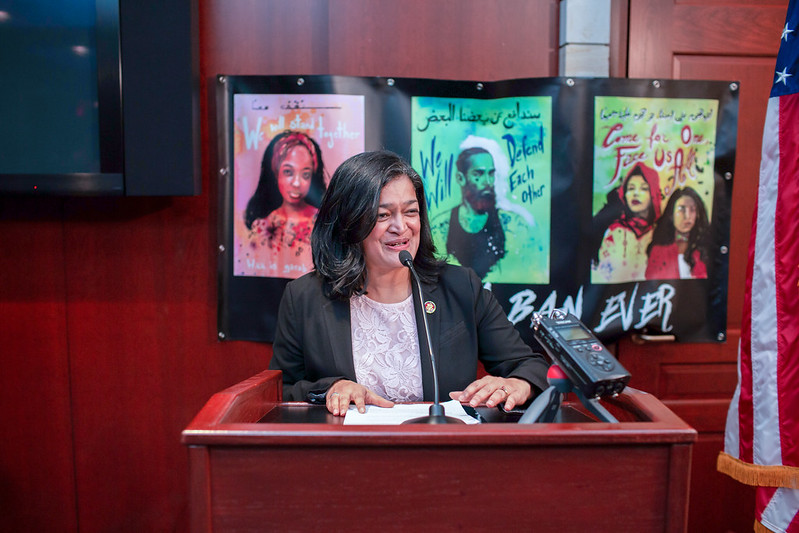 "I believe that mass unemployment is a policy choice, and we can choose differently," said Jayapal. "It's good that we've expanded dramatically unemployment insurance, but we all know it's way better to keep workers in their jobs, and that this level of demand for even unemployment insurance that we have, it's crippling those systems."
The act will provide grants to businesses that will cover paychecks, benefits, and basic maintenance costs. Jayapal emphasized funds will come from the IRS, not from "a bunch of banks who have never frankly done us a lot of good in reaching ppl." The grants are also scalable and retroactive to March 1, in order to pull people back from unemployment.
"Keeping your job, as [Bernie] said at the beginning, it is less anxiety for workers, " said Jayapal. "It allows businesses to get back to work without training and rehiring, and–let me tell you something–it's hard to go from the unemployment system back into a job, particularly if you're black or brown."
Jayapal's Paycheck Guarantee Act is also a public health plan, as "job number one for a strong economy is that we've got to beat the virus, and if we're going to beat the virus, we need people to stay home until we have strong testing and contact testing in place. To keep peeple home, they've got to be able to get a paycheck so they can put food on the table and pay their rent and not feel pushed to go back to work so quickly."
She added that "so many countries have already put this into place, from Germany to Singapore, to South Korea. I believe we can win on this for the next package."
Warren is also pushing protections for working people with an Essential Workers Bill of Rights for frontline workers, which she explained in two parts: Workers are entitled to healthcare coverage if they get sick "and the second part is the economic part–you always go right to the heart of this Bernie–and that is how people are being left behind." This "economic part" presses for hazardous duty pay, childcare, protected bargaining/union rights, and whistleblowing protection. She explained that this is what we should have for all workers eventually, but that congress should "start here for today."
Mark Pocan broke down his priorities into four areas: "One, we want to prevent layoffs, protect paychecks, and allow small businesses and nonprofits to grow and flourish. That includes the federal paycheck guarantee that Primila just talked about, as well as expanding and improving our workshare programs."
The other three focuses are housing and debt protection, free COVID-19 related medical care, and safe elections.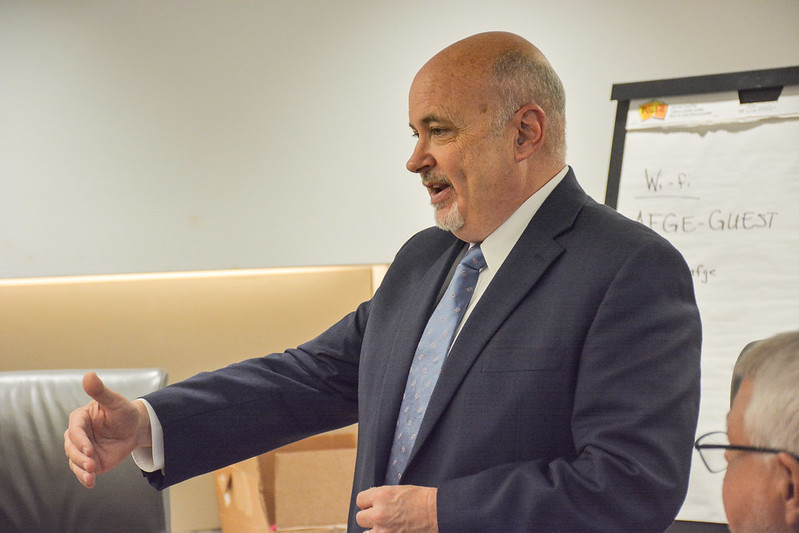 "And I'll tell ya, coming from Wisconsin, where we were the poster child for why you don't want to have an election during a pandemic, we really need to make sure we have a vote by mail option in this next package for November," said Pocan. "By election day we had five polling places for the entire city of Milwaukee, we had National Guard people working as poll workers, and we have now 52 people who contacted COVID-9 because we had the elections in April."
"Pramila," Sanders later asked, "What does it mean that we have a president that is telling workers that they should go back to work, even though it is quite possible that going to work will result in them getting terribly sick or maybe dying?"
"The perverse irony here is that the very people who are going to work to do this essential work are actually the people who can't stay home. When Trump says meatpacking plants should continue to operate, it's so cruel and callous because these workers are forced to go to work," said Jayapal. "It is a public health crisis if we are forcing people to go to work."
"Pramila, building on what you said, what is so outrageous and unspeakable, is that if these workers do not go to work, they're going to lose their unemployment," added Sanders. "Which means they are given the choice: going to work in an unsafe environment and getting sick, or not going to work and starving and not being able to take care of their families."
Sanders then asked, in the short term, what do we do to make sure everyone can access healthcare?
Many readers are probably familiar with the statistical analogy that we've been having a "911 everyday." Primila Jayapal, in a similar vein, cited that, so far, we've already hit more US deaths than in the Vietnam war.
Jayapal, who like Sanders has written a robust Medicare for All bill, takes her answer a step further than Warren or Pocan. She suggests that the next COVID-19 relief package requires not only free healthcare for COVID-19 related illness, but the enactment of a full-blown single payer system.
"I think that we had a broken healthcare system before this crisis," said Jayapal.
Prior to the shutdown, there were 35 million uninsured and 30 million underinsured US people. Now, another 35 million are projected to lose coverage in the pandemic.
"What are we learning about a healthcare system in which many, many millions of people are losing their health insurance because they got laid off from their jobs?" Sanders asked. "Any lesson to be learned here?"
Warren, who walked back on her Medicare for All policy but does believe workers are entitled to full COVID-19 related care, explained that the dominant US priority has been, How can corporations cut costs?
"We have a system that doesn't have flex or protection at a time when a crisis hits us," said Warren. (Not to mention no individual flex for the day to day crisis that low-income and working people faced daily, prior to this.)
All four congresspeople agree that the US needs a system with, in Warren's words, "flex, protection, and resilience," which requires that everyone has access to care.
Payapal pointed out that other countries will emerge more quickly from COVID-19 because of their resilient systems that are designed "to protect the people and not the biggest corporations."
"If we had had Medicare for All system in place, I think about what would have been different," said Payapal. "First of all, we would've had a centralized ability to provide health care much more quickly, and make sure everyone had testing, treatment, etc. But also, Bernie, we would've had people who didn't have the underlying chronic health conditions that came about specifically because they have delayed treatment and all of the drugs that they needed and been put in this position of having these chronic health conditions that ironically make them more susceptible to getting covid and ultimately to dying."
Pocan, adding to Jayapal's meatpacking example, mentioned that the meatpacking industry in Greenbay, Wis. is primarily Latino workers. Two weeks ago, Greenbay had the biggest national surge in COVID-19 infections.
"People working there for low pay and terrible conditions got COVID and can't even work because they're sick, while the President uses the Defense Production Act not for test kits or protection equipment for frontline workers, but does it to ensure corporate entities who run meatpacking facilities."
With the massive COVID infection and death rate among black and brown people, Pocan urged policymakers to "emphasize social and economic justice, especially with a lens for racial disparities." He said, "We need to use this time, as we put the next package together, to use the lens."
"What does it say about a system in which we now spend twice as much per capita as the people of any other country, and yet we have doctors and nurses in America putting their lives on the line because they don't have masks to protect them?" Asked Sanders. "What does it say about our public health system? Who wants to jump in on that one?"
"That, unfortunately, is the real face of not having a healthcare system," said Pocan, mentioning the overwhelming public support for universal healthcare. "When you're the greatest country on the planet and we don't have the greatest healthcare system, people get what's wrong with that."
"Hey mark, we don't have a system! Forget the greatest, we don't have a system," added Sanders, who detailed that hospitals and clinics are going bankrupt, and doctors and nurses are being laid off.
"How in god's name, in the midst of a major crisis, are we laying off doctors and nurses? What does that tell u about the current system?"
"The whole system is built around a for-profit model, [so] then hospitals are not immune from that," answered Jayapal.
Our for-profit healthcare system is super-capitalism, where, now, the big boys not only profit off of others' labor, but off other others' illness and desperation. Jayapal talked about meeting a major hospital doctor, who told her that he has 300 employees whose only job is to fight with insurance companies and get claims paid.
"You were right to say it's not a system,"said Jayapal. "It's a bunch of things kind of pieced together and the only beneficiaries at the end of the day are the for profit insurance companies and pharmaceutical companies who make a lot of money."
What should be a considered human right, and at the very very very least made into an "affordable" service, has become a twisted hostage-taking of health equipment, pharmaceuticals, and care against profit.
Veering from healthcare, Sanders proposed a new topic, "What do we do to make sure that people are not forced from their apartments or their homes or go more deeply into debt having to depend on payday lenders?"
One can think of payday loans like price gouging, except with credit. Payday loan interest can reach up to 400%.
"It is very expensive to be poor. Poor people are paying 50% interest rates, rich ppl pay 2%." said Sanders. "Poor people go to these little shops to buy food: twice the price of a good grocery store. Etcetera, etcetera."
"Last question," said Sanders. "A lot of people at home are feeling real worry about the future of this country. They don't quite know what they should be doing. Pramila, why don't you, and everybody, take a quick shot at this? What's your suggestion to the working ppl, low income ppl, young ppl, ppl who want real change, Where do we go from here?"
Pramila: Organize and stay engaged.
Mark: Vote for progressives.
Warren: Use hashtag "standwithessentialworkers."
In the final minutes, Sanders gave an image of poor people working and dying, while rich people vacate their summer homes.
"I want to use the last moments that we have to take a deep breath and try to reflect upon: What are the lessons? What are we going to learn out of our unpreparedness for this crisis?" Said Sanders. "The unbelievably high rates of death in this pandemic among poor people and African Americans and Latinos, many of them have preexisting conditions for a wide variety of reasons. Seeing so many people desperate out there–you would not think that in the richest country in the world, that if people lost their paycheck for a week or two, they would find themselves in absolute desperation?"