Sitting in a dimly lit, abrasively loud bar in Andersonville, I ask Kelley Sheehan and Jonathan Hannau, members of the Plucky Plunkers duo, how they met. They say:
"Rehab."
"Group therapy."
"Actually, it was a new music concert at that random hipster place in that random part of town."
"Yeah, it spiraled out of control and now we're friends."
Kelley leans over, points toward my note pad, and says, 
"Um, can you write: best friends."
The birth of the Plucky Plunkers took place at Chicago's Narloch Piano studios, and they've been rolling with it ever since.
"We started out with the intention of expanding the instruments repertoire through commissions of living composers but have migrated to collaborative multimedia improvisations that works closely with other artists and musicians," Sheehan said.
"We like to get together and improvise, and every so often we would put on a shit show," Jonathan tells me.
Kelley says, "Um, can you write: a curated shit show."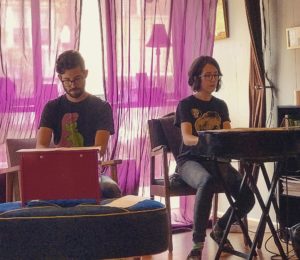 Their website, pluckyplunkers.com, describe the two as "having ambiguous beginnings and ambiguous endings. They collaborate regularly with composers in and around the city and seek to push the toy piano medium to some arbitrarily high level through eclectic programming and death defying stunts."
As I click through the site's different pages, I discover a little hidden component, the youtube video Tiny Teacup Pig Plays Piano. I ask the duo about this and Kelley tells me,
"I got bored, so I created hidden elements on the website. I'm learning html and javascript."
The duo describe themselves as "cool, sort of cool. The kind of cool that you'd introduce to your grandma." They see performances as a place to experiment and enjoy improvising together.
"If it goes somewhere, it goes somewhere," Jonathan says.
They joke about how the two of them always accidentally match, whether it's matching socks or button-up shirts.
Jonathan shouts over the music: "Here's a photo of Kelley and me in Florida."
And when he turns his phone around, it's a picture of Dwayne the Rock Johnson and Vin Diesel in matching T-Shirts.
Kelley says, "My phone is filled with photos of javascript snippets and my dogs."
There are many iterations of the ensemble's name. So far I have heard: the Plunky Plunkers, the Plucky Pluckers, the Plucky Plunkers, so I ask for clarification.
"Changing the name for each concert is actually very intentional (despite what we said at the bar). We change one letter for each concert or appearance. We consider the group to produce high music but to be approachable, and being funny with the name helps achieve that vibe," Kelley says.
I ask about their respective instruments, Jonathan plays two upright Schoenhut toy pianos while Kelley plays a BC baby grand toy piano.
"I like writing pieces based off toy piano inconsistencies," Jonathan tells me.
Kelley nods and says, "It's a really unstandardized instrument which surprises people. It's worth mentioning that we started this group because we wanted to use an instrument that wasn't so culturally or historically loaded. "
"There are toy piano snobs. There are people who believe toy piano music belongs on one stave. You'll always find purists," Jonathan says.
Kelley jokes, "Be careful I don't want to get blacklisted."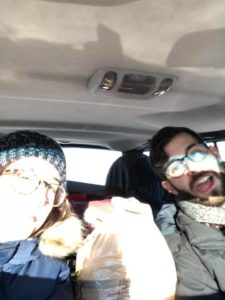 The Plucky Plunkers were artists-in-residence at the 2018 Florida International Toy Piano Festival, spearheaded by The New Music Conflagration, Inc.
Press quotes for the festival include: "Adults Playing Toy Pianos? Seriously?" – TB Reporter
The two turned their road trip to St. Petersburg, Florida into a compositional technique:
"During the road trip, we recorded a minute of every hour of the trip and then spliced it all together to form one track. Then we improvised with it," Kelley says.
You can listen to the result here.
Catch the Plucky Plunkers at the Splice series at the Beat Kitchen this April. In the meantime, check out AudPod interviews with Kelley and Jonathan here.