Pictured above: Art for Reality is an Activity by Theater Oobleck/Graphic Design: Morgan Krehibiel
Editor's Note: Editor's Note: This is an expression by Wendy Schmidt in response to Theater Oobleck's Reality is an Activity; it is followed by information about the work and process.
In Reality is An Activity – Mirena and Helena are selected to repair the current state of affairs by developing technologies that will stop all things from being so terrible. When they discover that they can use poetry written by Wallace Stevens and William Carlos Williams to help their goal, their project turns into something entirely different.
This is a play said to be about "imagination, humanity, friendship," and, above all,
"permission."
・・・
At night, we came to sit in the dark as audience members. We were a sonnet. We were also simply an audience. We came in separate cars.*
Miranda (Vicki Walden) and Helen (Diana Slickman) are role mates, permission grantors for each other. They build their reality out of poetry, sitting at a table with a hole in the middle, eating rolls. They are comfortable in the space between, where conventional reality would have put a table leaf.
Of course, the conflict comes when their reality collides with another reality—the rest of society.
Not surprisingly either, this reality withholds permission in the form of money.
Mr. Howard (Colm O'Reilly) is the representative of the Foundation, and he arrives to decide whether to fund the two role mates or not.
He's a nice enough man, just trying to do his job, but he mistakenly believes he is the permission giver because he has the money. Fond of order, he wants to base his decision on the maintenance of order.
Miranda likes Mr. Howard and invites him to roll down the hill to the theater to watch the audience with them. Unfortunately, Mr. Howard prefers "flat surfaces, when it comes to land."
Miranda encourages him to be a fresh new baby with chubby legs!
Despite his orderliness, Mr. Howard would like to do this, you can tell, so it's only a matter of time before the role mates convince him. We, the actual audience, listen in the dark to the joyful sounds of these three rolling down the hill!
At the theater, Miranda helps Mr. Howard read the audience like a sonnet. It is fun to watch them act their own reality, in response to us, the audience. I was sad our real reality was ignored, though. The characters observe poetic things that do not happen. A woman opens a tangerine and offers her friend a section.
"Care for a section?" Miranda imagines she asked. She tastes the words.
*We came in separate cars because we had a mix up about the time. Two of us were from Arizona. We sat in different lines of the sonnet.
These are parts of our reality.
We had tea afterward in the cozy lobby of the Den.
We commented on the Hamilton coffee table book.
We congratulated and thanked the actors for their work.
We drank ginger beer, not tea. We drank beer, too.
We drank tea.
We collected our things and went home.
I did a u-turn as I left. I always do a u-turn at that corner.
My friends climbed into their car where they had parked only seven spaces ahead of me, and drove off into the night.
Later on, my friend emailed me.
These, too, were parts of our reality.
Even later, I wrote down things I had observed.
I wrote about yarn, and drifts of crabapple petals, because it was spring. It is the season of extravagant entrails and the trees breaking out in outrageous green. Sticking their finger in the eye of convention that said, no more, there will only be gray cold sameness from now on; there has been winter, and there will only be winter from now on. We will be safe in our inertia and inertia states that once something starts it goes on forever. No. The trees are saying. We will live again. We will bring forth something instead of nothing.
This is a play for spring. Because it is spring and it is a play for spring, and the self-given permission of spring to give birth. And the reminding of gatekeepers this is why they got into this business in the first placet—to roll down the hill.
The gatekeeper Hamlet is indecisive but standing in the light he tests out various gestures, various things to say, various ways of making his decision. He tastes them. He figures them out.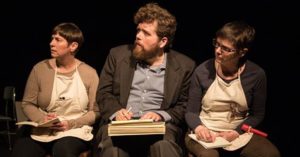 "Every single one of them wants to have sex," Miranda observed while gazing at the audience.  That felt like an authentic recognition to me.
In the final scene, a letter is read between the two role mates, and Mr. Howard's voice from the audience is like a missing leaf. He would be proud to fund them, he says, and would like to visit again sometime.
Miranda has been working on a love letter, in case Mr. Howard decides for them because then she will love him. But he has written and her love letter is unfinished.
"Permission to send an unfinished love letter as a thank you?"
"Permission granted," Helen said.
・・・
Reality is an Activity is a new play by Barrie Cole, performed by Colm O'Reilly, Diana Slickman, and Vicki Walden, with a set design by Paul Leisen, lighting design by Martha Bayne, and sound design by Scott Ramsayer.
Theater Oobleck, the incubator of the play, is an artistic collective dedicated to producing and performing original works of theater for the benefit of, and at low or no cost to, the members of the Chicago community and beyond. All their works are created and developed by members of the Oobleck ensemble, working in concert to create a collaborative vision without an overseeing director. They have produced over 70 world-premiere productions over the past 30 years, as well as 18 remounts of earlier productions.
Reality is an Activity runs through June 3 at the Den Theater. Visit theateroobleck.com for tickets and info.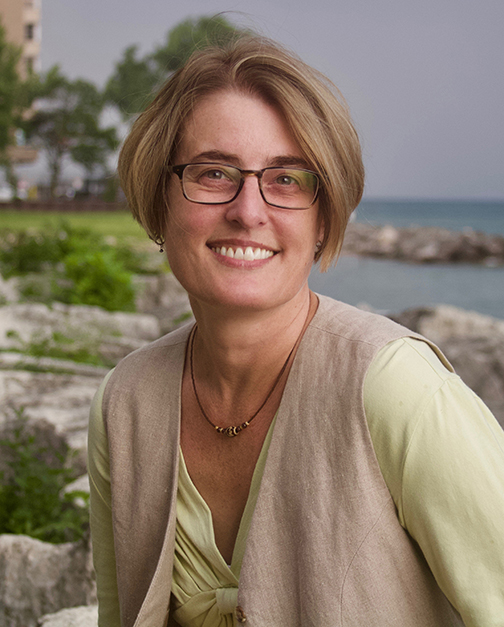 Wendy Schmidt (she/hers/her) is a playwright and the literary manager of Three Cat Productions. Her work has been seen at Three Cat, La MaMa, Chicago Dramatists, 20% Theater Company, and heard on Small Fish Radio. Learn more at www.wendyschmidt.com or connect with her on Facebook.