Photo Above: FlameCon Promotional Material
Scapi attended C2E2's Geeks OUT Panel discussion: Queer Passion to Queer Profession, Making It and You Work for Scapi Dispatch, Scapi Magazine's field recording wing.
Formed in 2010, Geeks OUT is a nonprofit organization uniting and empowering the queer geek community. The organization hosts a variety of events in five major American cities and is responsible for producing Flame Con, the world's largest queer comic convention.
The President of Geeks OUT Nicole Gitau moderated a panel of queer professionals from different backgrounds to discuss how they brought their passions to life through fulfilling and unique careers.
Gitau first asks the panelists when they discovered their true passion.
Amber Garza, a west-coast contingent of Geeks OUT, was a practicing attorney for 13 years before she began working as a translation rights licensing agent for a company called Sequential Rights.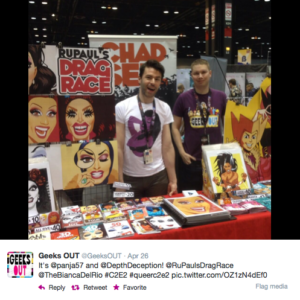 "I've been reading comic books since I was eight years old… I didn't realize that people could get paid to talk about comics," Garza said. "Because that's basically what I do, I talk about comics that I like with people who are super into comics, and we make it work."
Garza's career has brought with it a newfound set of skills: learning how to play well with others, learning how to be patient (even when people are frustrating), and understanding how to collaborate with many different types of personalities.
Chicago-based panelist Tony Breed mentions how he got started as a web cartoonist.
"I always wanted to tell stories when I was a little kid. I either wanted to write books, I wanted to make newspaper comics. I wanted to be a stand-up comedian," Breed said.
Breed was driven by his desire to tell stories. Having a day job allows him to make comics a passion project instead of focusing all of his creative attention on stories he thinks people will buy.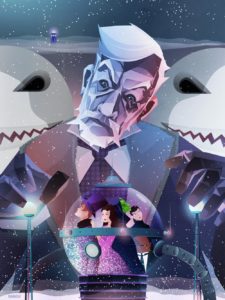 Josh Siegel, co-founder of Geeks OUT, created hundreds of superheroes as a kid. Growing up he tried his hand at a few different fine arts, but always wanted to do something more creative. Eventually, he combined all his skill sets with his love of superheroes and comics.
"I have a hard time thinking about it as a career, like, I don't know what that is. But it's been something that I've put all my energy into for many years" Siegel said.
Gitau switches gears and asks the panelists how they balance their work lives and creative lives. They speak to the construct of self-imposed deadlines and finding ways to let yourself fail.
Michelle Rose Micor, head of marketing at Geeks OUT, offers a piece of advice:
"One thing that helps me is: it'll never get done. It's never going to be done," Michelle Rose Micor, head of marketing at Geeks Out said.
Gitau asks the panel about their very first jobs. Mean-spirited coworkers, angry clients, and working several jobs at the same time led several of these artists to switch careers.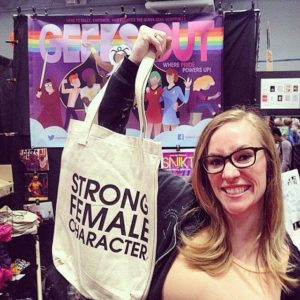 "I was in my mom's kitchen once, and she was like, 'You're so unhappy. Is there anyway you can not be this unhappy?' And I didn't see a way out really… You get to that point where it's 'I just can't do this anymore,'" Garza said.  
Gitau asks the panelists to think about some of the challenges they've faced as queer professionals in different working environments.
"It's hard, just because I don't feel like I should have to go, "Hi I'm Michelle, I'm gay, I work here now!'… I try to just make it as natural as possible," Michelle Rose Micor said.  
Organizations like Geeks OUT has allowed these panelists to build a network of supportive queer professionals.
"When I started making art, my art was very heteronormative. I wanted to just have a broad appeal, and I also didn't really feel very comfortable representing myself as a queer artist and making queer art. And then Geeks OUT started happening, and it became much more important that that was a part of what I was creating. And now I identify as a queer artist," Siegel said.
"I like the idea that community can help you see yourself in ways that you're maybe not already actively engaging with," Gitau said.
Find out more about Geeks OUT at geeksout.org, and check out their books Power (a comics anthology) and soon-to-be-released Serving Pride: The Queer History Dinner Party Handbook.