Pictured above: (left to right) Echaka Agba, Aria Szalai-Raymond and Richard Costes in the The Opportunities of Extinction/ Photo: Austin D. Oie
Editor's Note: This is an expression by Zach Barr in response to Broken Nose Theatre's The Opportunities of Extinction, in numeric form; it is followed by information about the work and process.
"How do we stay focused on love, family, and the ties that bind us to one another when our success, our security, our very survival as a species is under threat by a whole host of forces seemingly out of our control?" – Benjamin Brownson, Artistic Director of Broken Nose Theatre
・・・
Length of the average global extinction cycle: 62 million years
Extinction cycles that have happened so far in global history: 5
Visitors to Joshua Tree National Park in 2017: 2,853,619
Maximum number of humans who could theoretically fit on the planet: 10 billion
Number of characters in The Opportunities of Extinction: 3
Number of characters who might be the one dreaming the dream sequence: 3
Rock formations in Devon Green's set: 3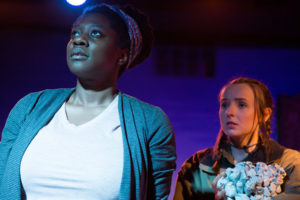 Days since Broken Nose Theatre Company was named  the recipient of Broadway in Chicago's Emerging Theatre Award: 47
Number of performances The Opportunities of Extinction will play during its run: 18
Number of people who will see The Opportunities of Extinction during its run: not enough
Times Arden checks Twitter during the show: 14 (approx.)
Hours it took me to check Twitter after The Opportunities of Extinction shamed me into avoiding it: 14 (approx.)
Verified accounts on Twitter: 150,000 (as of 2015)
Stories in the anthology book Mel is writing: 62
National Parks in the United States: 60
Size of Joshua Tree National Park: 790,636 acres
Amount of forest that is demolished globally each day: 80,000 acres
Size of the stage in Theater 2A at the Den Theatre: 240 sq. ft. (approx.)
Age of an infant Joshua Tree: 10-15 years
Age of Georgia, the Park Ranger: 20 years
Age of Aria Szalai-Raymond, the actor who plays Georgia: 21 years
Chances that Aria Szalai-Raymond will find work in Chicago after she graduates from UIC: 100%
Chances that humans will go extinct in the next 100 years: 9-40%, depending on who you talk to
Years until humans are predicted to go extinct: Anywhere from 100 to 800,000 years
Chances of a meteor strike on the Earth at any given moment: 1 in 700,000
Metaphors in the play more impactful than the one that opens the play: 0
Times that Arden actually listens to his wife during the play: Between 0-1
Number of plays that have have used the same accidentally-revealed twist halfway through the play: too many
Number of plays that have followed up that expected twist with the unexpected follow-up double-twist: comparatively fewer
Tweets sent each second: 6,000
Wildfires in the United States each year: 60,000
Blocking notes in the play's best scene, between Georgia and Mel: 0
Times that writer Sam Chanse worried that the play was too much conversation and not enough action: >5, probably
Times when The Opportunities of Extinction is too much conversation and not enough action: 1, maybe
Chances that this play will cause someone to change their patterns of life: 50%
Chances that director Jen Poulin will have a lasting legacy in Chicago's storefront theatre scene: 100%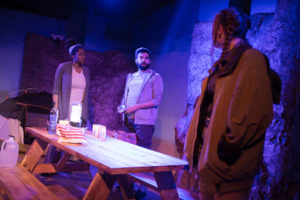 Chances that director Jen Poulin will have a legacy in the Chicago theatre scene that lasts forever – even after the city crumbles to the ground, the air growing acidic with pollution, the fields barren as the farmers have moved to a more hospitable climate, the shores of Lake Michigan rife with the wrecked remains of people's lives, when only the lockboxes that have forever lost their keys contain the final reminders of a once-thriving city on the river, to be found (or not) someday by whatever comes after us – which hopefully, God willing, some future creature will find a method of opening and will stumble across a chipped, yellowed, but readable copy of Sam Chanse's script for The Opportunities of Extinction: >0.001%
How overdue the Earth is for another extinction event: 4 million years
Chances of that event happening in the next hundred days: <0.01%
Chances of that event happening in the next hundred years: <0.01%
Chances of that event happening eventually: 100%
・・・
The Opportunities of Extinction is a world-premiere from Broken Nose Theatre, their first mainstage production since receiving the 2018 Broadway in Chicago Emerging Theatre Award. The author, Sam Chanse, is a resident playwright at the New Dramatists and a member of Ars Nova's Play Group and the Ma-Yi Writer's Lab. Chanse has been recognized by the Kilroys, with Opportunities appearing on—and her play The Other Instinct shortlisted for—the 2017 Kilroys List.
The play is almost devoid of action, with the characters cutting straight to the bone and discussing the issues on their minds. It's a talkative play, with conversations that suck you in and leave you questioning your positions on the issues that the characters are dealing with. While the metaphor the play runs on is fairly obvious, the transparent veneer of narrative is all that's needed to adapt this fascinating debate over impact and legacy to the stage.
The Opportunities of Extinction performs until June 30 at the Den Theatre, 1331 North Milwaukee Avenue. Tickets are pay-what-you-can, and can be found at brokennosetheatre.com/opportunities-of-extinction/ or by calling (773) 697-3830. More information on the company can be found through brokennosetheatre.com.
Zach Barr (he/him/his) is an arts writer and critic, as well as a director, playwright and stage manager. He wears, both figuratively and literally, many hats. He has contributed everything from season previews, to theater criticism, to angry rants, for Newcity Stage Chicago and Scene+Heard Magazine, as well as developing his own narrative-driven critical style via his blog The Hanslick Girls. Zach serves as Literary Associate at Sideshow Theatre Company and consistently advocates for more asexual/aromantic narratives in media. Learn more about him at zach-barr.com.