Pictured above: What About Chicago?! recorded a live podcast episode with Pretty Pit Skill Share Cooperative at the Canvas Chicago office in January 2017/Photo: What About Chicago?!
Ben Moroney and Rahim Salaam met through Earphoria Chicago, a hostel and performance/event space in Logan Square, over five years ago.
Moroney, who is a musician, arts advocate and audio/sound engineer, had been living at Earphoria on-and-off since 2012. He was used to different folx coming through the space for live DIY performance events, the shared dormitory room, audio services and the community garden. During that year, Moroney went to see local shows almost every weekend and was performing/helping out with a number of live events.
"[Salaam] was always the mayor of seeing all the shows, so he'd hit me up and come by sometimes," Moroney said.
Salaam, who is an emcee, musician and arts advocate, lived down the street in Logan Square, and would often come by at midnight or 1:30 AM to Earphoria after getting off a late-night work shift.
"[Moroney] was always kind. He said, 'Yo brother, if you wanna come and chill for a second, come whatever time," Salaam said.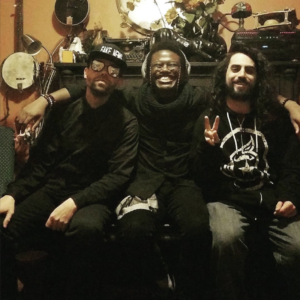 "Yeah, he'd come whatever time and take a couple of stragglers along with him," Moroney said. They laughed at the memory.
Later in 2012, Salaam and Timothy Rogers, also known as the emcee/musician Drama Fox, wanted to start a small podcast about local live performance and Rogers recruited Salaam, knowing how often he attended local shows, promoted local artists and advocated for them on social media. He suggested they get together every week to talk, hang out and talk about what shows folx could see around town.
When Salaam was younger, he attended local shows in Chicago. The DJs who were spinning records would invite and host their artist friends, who were spending money independently to make their own records. And yet, the DJs would often play popular music.
"You do have to involve and support those who support you when you make art," Salaam said. "I would always be like, 'yo DJ, What About Chicago?!' So it did start off as a heckle."
Salaam later played in a group called Blunt Crew and had long been known for his tagline in the spirit of being a fan and supporter of local art and events.
"One of the crowd participatory things we would say was 'we love you, wherever you are, but Chicago is great, we love it, What About Chicago?!' and the crowd would respond 'yeah, what about it!'" Salaam said. "I was always trying to support that in everything I did. It became a natural name for the podcast."
Eventually, Rogers would leave What About Chicago?! because of time allowance, but Salaam stayed on.
Mother fuckers in a stairwell
At the podcast's beginnings, Salaam, Rogers, Corey Anderson and other local friends, musicians and artists would get together at Salaam's former place in Logan Square once a week. Anderson, who was a producers and co-host for many years, lived at Earphoria and would invite Moroney to come out every week for several months before Moroney agreed.
"[Anderson] would come home and say 'yo, come on!' and I'd be like, 'ehh…'" Moroney said with a laugh. "I'm a serious dude, and I didn't need to go over there and get day drunk, shoot the shit and smoke 15 cigarettes."
Moroney was working as the "sound guy" at Earphoria, and Anderson kept encouraging to come on the podcast because it would be fun and he may be able to help out. Moroney came over twice to record the podcast, then recommended that they move recording the podcast to Earphoria's studios.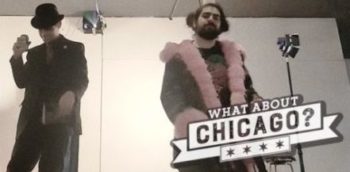 "I went over there and these mother fuckers were in a stairwell, smoking cigarettes, with six people around one mic!" Moroney said, laughing. "It sounded like shit!"
"It was this chill, $30 USB mixer thing," Salaam said, laughing as well. "We were just passing it around."
Despite the initial sound quality, Moroney saw the potential within the show and how he could contribute his own meaning and ideas to it.
"I really caught the bug, the format and the meaning of the show," Moroney said. "Shortly after I started working on the show as a producer and co-host, I had a lot of time on my hands and I think doing the show—not just recording it, but the editing, camaraderie and the research—and I really got into the idea of building it up."
"That's why What About Chicago?! is what it is," Salaam added. "It's kept going and gotten better, because of the leadership of Mr. Moroney."
The DIY family
In 2013, Salaam moved into a room in Earphoria right next to Moroney's room, so they shared a doorway. The two friends, musicians and art fans shared a connecting doorway, so they'd often get together to make and sketch out music.
"We'd knock on the door, say 'what's good, check out this track," Moroney said. "That's around the time when we started our band Sex No Babies."
Working on the podcast and playing in a band together has brought Moroney and Salaam closer to Chicago's art and music scene, specifically its DIY scene. Salaam even developed the nickname/reputation as 'the Uncle of DIY' in the Chicago DIY community.
"It's fun, because I'm a little older; even though it's kind of ageist to call me uncle, I also kind of made that a thing," Salaam said.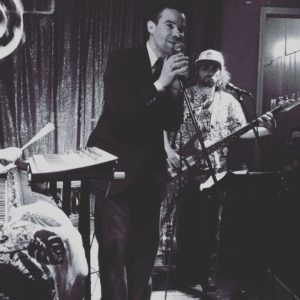 Acknowledging the prevalence and history of discrimination and violence within the DIY community, specifically coming from men, has been important to him.
"There's a lot of stuff that's happened in the past with DIY, with everything we see in the news today," Salaam. "I want to let it be known that I love what everybody's doing. That said, I have skepticisms of all men. I think men really need to checking themselves and have some disclosure and accountability."
Salaam also acknowledged how 'the Uncle of DIY' nickname has morphed into him being perceived as "the wise art guy."
"That's just perception!" Salaam said. "I don't consider myself a leader, but folx say 'yeah, it's cool because [Salaam] is doing it.'"
Moroney sees the nickname as an interesting character within the structure of family itself.
"It's a figure of respect, but not too serious," Moroney said. "It's a figure of fun, who is distant but still involved. Related, but not central."
Regardless of others' perceptions and ideas behind their identities and What About Chicago?!'s influence, Salaam and Moroney are "fans first."
"I've always been coming up," Salaam said. "We all listen to popular music, but it really opened my eyes when I hear my comrades' music."
When Salaam was 16/17 years old, local graffiti artist, writer, emcee and producer Damien Perdue, known also as Demonology, came out with a tape with his own cover art.
"It blew my mind," Salaam said. "And it sounded great. And I was telling people about it."
Moroney, too, is a fan that wants to learn and promote local artists' works.
"We have a saying on the show: that in music and in our lives, we pray to art," Moroney said. "Praise art. We take it seriously. It's not silly to us."
"Not as silly as to praise anything else!" Salaam chimed in.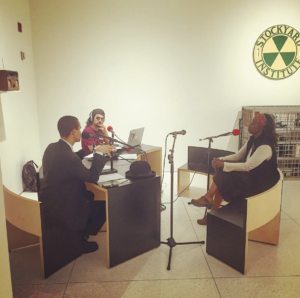 "As much as we want to listen and share all the artistic disciplines, we still go back to the roots of What About Chicago?! With Drama Fox," Moroney continued. "It turns out so good because we meet people, we make new friends. It is more important to see the art, to understand it and to also hang out with the artists."
Labors of love
Over the past five years, their work as musicians and promoters of local art on What About Chicago?! has allowed Salaam and Moroney to build a pool of artists from which they draw support. Their challenges have been mostly technical.
"There's so many broken cables!" Moroney said. "So we're digging through hostel cables, sometimes people arrive late. It's all pretty miniscule."
"And in the five years we've been doing this, we don't get paid for it!" Salaam added and laughed. "In fact, we lose money."
From their records, there has only been one week in the past five years in which they did not air a show.
"That was on my account," Salaam said. "This is the only thing I've done consistently because we care about it so much that it's guaranteed to happen. We love this. We love art. We love to be a part of it, we love to advocate it. To talk about it. Support it. Do it."
In terms of challenges with guests coming onto the show, they usually address any issues or disagreements right away. Once an artist asked them to take a song down that they played without permission. A few times they've had to ask guests to leave halfway through the show because they were too intoxicated. Or, if there's someone in the community doing something negative, they call it out on the podcast and try to get to the bottom of it.
"There's critics of everything!" Salaam said.
"And good!" Moroney chimed in.
But first and foremost, What About Chicago?! is here for arts advocacy.
"The interview is an opportunity for the artist to talk to people who may not be aware of who they are," Moroney elaborated. "It's a chance for us to paint the full picture as the artists they are, the art they make and where people can get it."
"I like podcasts that dive into things deep, but I just don't think we would be the best vehicle for that," Salaam added. "This is us—fans, advocates—trying to be in tune, constantly searching for more."
The past five years have seen many highlights, but Salaam tries not to get wrapped up in those moments.
"I might even dismiss moments like that," he said. "I think the encouragement is great and the reason [What About Chicago?!] has kept going. It's a labor of love. We're all great. All doing great things. All doing better. This podcast has given me an opportunity to meet people of all walks of life. That wouldn't have happened otherwise."
For Moroney, some of his opinions changed on certain art forms and mediums.
"There's some interviews I remember feeling very enlightened and engaged as a host," he said. "Being so fanboy status and so amazed at the history or the thought of what was going into the art."
He's also enjoyed being able to host podcast episodes outside of their normal operation at Earphoria.
"I really enjoy being able to go do something at the Smart Museum, the Overlook Gallery, Comfort Station," Moroney said. "Going out and having these unorthodox—in terms of our show—guests, in these unorthodox locations, is really cool."
And overall, Salaam and Moroney have gained a greater appreciation for community.
"We did a couple of fundraisers where venues donated their space to us and different bands and artists gathered to rally around the mission," Moroney said. "That was really touching to me."
What About Chicago?! is a weekly podcast show exploring live art, music and culture in Chicago. A new episode is released every Friday on soundcloud.com/whataboutchicago and on iTunes. Learn more about them on Facebook at facebook.com/whataboutchicago or on Instagram at instagram.com/whataboutchicago.To hear what they've been up to lately, listen to our conversation with Ben Moroney and Rahim Salaam on our podcast episode at scapimag.com/2018/06/14/scapi-radio-06-14-18-what-about-chicago. Stay tuned for Scapi Magazine to be featured on an upcoming What About Chicago?! episode, as well.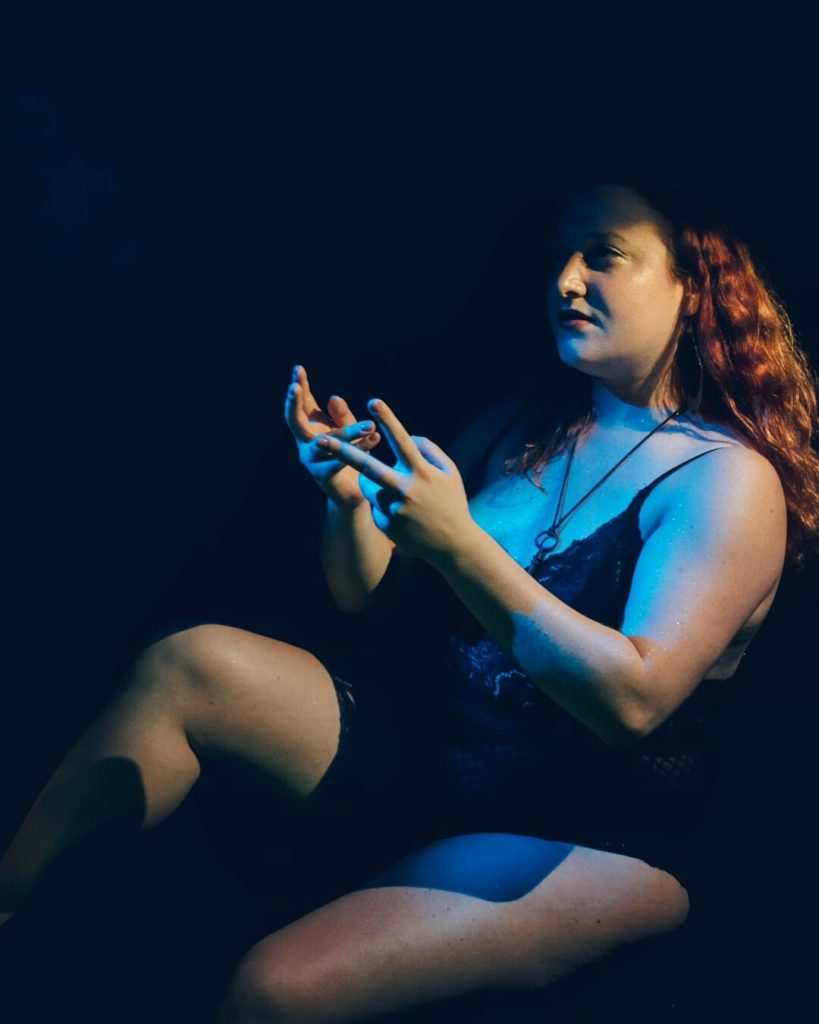 Danielle Levsky (she/her/hers) is the Theater Editor of Scapi Magazine. She is a feminist, Jew, poet, essayist, performance artist, and instructional designer. In addition to her work at Scapi, she has covered community news, arts reviews, lifestyle editorials, and cultural events for several publications. Between February 2018-2019, she completed a fellowship where she wrote a collection of community-engaged essays about her identity and heritage. She also writes typewriter poems on demand with Poems While You Wait. Follow her on her poetry Instagram to read some works in progress.