Pictured above: Olivia Sieck spending the day at Lake Michigan/Photo: Olivia Sieck
This is an expression by Olivia Sieck in response to De Troya in a poetic form; it is followed by information about the work, process and Halcyon Theatre's Radical Hospitality program.
On a late Sunday afternoon, I walked into Christ Lutheran Church, in which Halcyon Theatre resides. I saw De Troya, an alluring feminist fairy tale that tells the story of two families that struggle with trauma, magic, faith and dark secrets in the underbelly of the city of Detroit.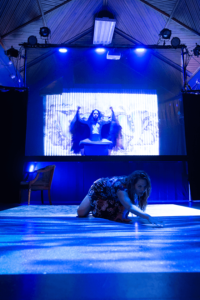 ・・・
The lake and I have a mind of our own.
We go when the wind takes us.
It connects to us to other places on Earth
and other humans who live on this planet.
Strangers, relatives, old friends, ancestors.
We have good days.
We have bad days.
But in the end, we always go back to our roots and remember who we are.
・・・
Before, during intermission and after the show, ensemble members of Halcyon Theatre and the cast of De Troya break the boundaries between audience members and cast by getting to know them and why they came to the show. They formed a bond with them before the show began to ease any tension and create an open environment for everyone.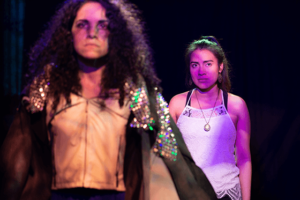 A character that kept my attention the entire time was Raya, who was played by Isaly Viana: a river spirit who in their previous life was a victim of gender violence in the urban jungle. It felt like she came from a modern D. Francisco de S. Maspons y Labros fairytale.
The majority of the female characters in the show had a connection to the river. For me, water has been the element closest to me as well. Since I moved to the city, I've always felt a closeness to Lake Michigan. My poem expresses how we are both alike.
Audience engagement and involvement has been central to Halcyon Theatre's work. Since 2012, they have implemented Radical Hospitality, a program that is a core part of the theater's mission and values.
"For Radical Hospitality, we were inspired by the work Mixed Blood is doing up in the Twin Cities," Artistic director Tony Adams said. "As part of our Equity, Diversity and Inclusion work, we had been talking about the idea of Radical Welcome and how economic access has to be tied to anti-racist work. We're always looking for ways to eradicate borders and borrowing their model was one of the ways we have been working on that. "
Economic barriers are tough for members of the community when they want to go see art, including myself. So Halcyon Theatre provides a no-cost access for all of their productions, for any audience member, no matter what background they come from. A third of the house is set aside for their radical hospitality program. I love that they created this program. It shows that to see art is not a privilege, but a right for every human.
De Troya performances occur Thursday through Sunday at 8 PM and 6 PM on Sundays, at Christ Lutheran Church, 3255 West Wilson Avenue through June 30. For performances, use the side entrance on Spaulding Ave. More information can be found through halcyontheatre.org or by phone at (773) 413-0454.
Olivia Sieck (she/hers/her) is an actor/writer who is very excited to delve into the world of DIY theater in the Chicago community. She's currently the Literary Manager at PS…Burlesque.