Pictured above: David Goodloe (left) and Chad Bay (right) in Two Gentlemen of Verona/Photo: Zack Whittington
Editor's Note: This is an expression by Olivia Sieck in response to Two Gentlemen of Verona in a monologue form; it is followed by information about the work and process.
I haven't been in touch with William Shakespeare since I was grueling through an Introduction to Shakespeare course during my senior year of college. Seeing Midsommer Flight's Two Gentlemen of Verona at Gross Park in Lincoln Square was such a nice refresher—minus the stuffy July weather.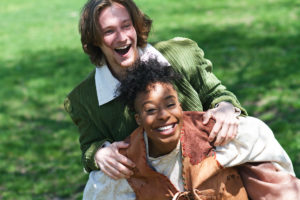 My favorite bit in the production was the Launce, played by Stephanie Mattos, and his dog Crab, played by the adorable Fawkes. According to The Oxford Shakespeare, Crab is known as "the most scene-stealing non-speaking role in the canon." That's a huge honor, but I believe that he deserves what to do say during the show below:
・・・
I can't believe I'm stuck on this adventure with this dum dum.
He called me sour because everyone in this crazy family is over dramatic and I'm the positive one in the bunch. My gift to the world is my bright and loveable eyes. I get no respect from it.
I'm not a negative person.
Not one bit.
Apparently, they love the cat more because she was angry when everyone else was mad. She was angry at the right moment because she was mad no one fed her twice this morning.
I can't believe the CAT—THE FREAKING CAT—gets more love than me.
COME ON!
UGH!
Maybe I'll change my attitude about life and make myself more like my emotional family. Then I'll get some love…
Nope; I can't.
These previous eyes will stay and I won't change them one bit.
I guess I'm stuck on this adventure with him. He'll spew lies about me. I can take it.
Also, I can talk, you nitwit! You just don't listen!
・・・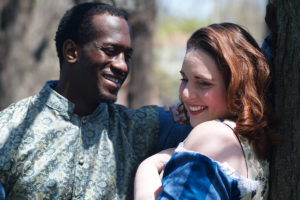 Going to see Two Gentlemen was such an entertaining experience. Although the weather was humid at the beginning, I believe that Shakespeare's ghost came to us during the middle of the show and provided much-needed wind, so everyone could have a fun time.
Every show, there will be pre-show music at each production by local Chicago performers. I had the opportunity to watch Mike Felten, a local blues singer.
Since the show is free, there is no need to reserve a ticket ahead of time. It's highly encouraged to bring chairs, blankets and food before you fill yourself with so many witty jokes that have been universally loved for centuries. People also came late, or just walked by to see what was going on, as one of Midsommer's missions is to make Shakespeare accessible to all.
But honestly, my favorite thing about the production is that Crab is played by multiple dogs—and they are all adoptable. Midsommer is partners with two organizations: The Masonic Association of Service and Therapy Dogs and New Leash on Life. They feature their sweet dogs as Crab.
Two Gentlemen of Verona performances occur Saturday at 6 PM through Sunday at 2 PM. On July 21 to 22, they will be performing at Gross Park, 2708 West Lawrence. On August 4-5 and 11-12, they will be performing at Chicago Women's Park and Gardens, 1801 South Indiana Avenue. On July 28-29 and August 18-19, they will be performing at Touhy Park, 7348 North Paulina. On August 25-26, they will be performing at Lincoln Park, 2045 North Lincoln Park West. More information can be found through midsommerflight.com. If you are interested in more information about being a volunteer or adopting a dog, you can visit The Masonic Association of Service and Therapy Dogs at mastdogprogram.org or email Megan at volunteer@nlolchicago.org for New Leash on Life.
Olivia Sieck (she/hers/her) is an actor/writer who is very excited to delve into the world of DIY theater in the Chicago community. She's currently the Literary Manager at PS…Burlesque.