Pictured above: Elliot Taggart (left) and Tim Campos (right) in Keep Your Guard Up, Smitty Harbinger/Photo: Juan Fernandez
Editor's Note: This is an expression by Olivia Sieck in response to Keep Your Guard Up, Smitty Harbinger in a list form; it is followed by information about the work and process.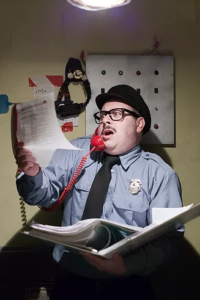 I'm not really familiar with silent film and physical comedy, except for a few film study classes at Second City and watching The Artist in theaters. But when I watched Keep Your Guard Up, Smitty Harbinger, it had me laughing throughout the entire show. Since writing down the perfect review for physical theater is often difficult to put in words, I want to present the emotions that I went through while viewing the show.
・・・
joy
delight
great pleasure
glee
bliss
enjoyment
pleasure
delight
・・・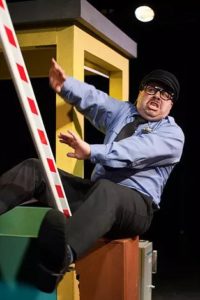 I thoroughly enjoyed Keep Your Guard Up, Smitty Harbinger; the audience seemed to enjoy it as well, according to their bellowing laughter. I laughed even in response to the childrens' laughter. I could see that this silent play was inspired by the slapstick comedies of the 1920s, with a modern twist.
Watching Tim Campos as Smitty Harbinger was like watching Buster Keaton or Charlie Chaplin live on stage. I loved watching Campos interact with the booth—designed by Grant Sabin—and go to the physical extreme to reach the absurdity of the silent films.
Keep Your Guard Up, Smitty Harbinger performances occur at Den Theatre, 1331 North Milwaukee Ave through July 22. More information can be found through silenttheatre.com/main-stage, via email at contactus@silenttheatre.com or by phone at 773-544-1749.
Olivia Sieck (she/hers/her) is an actor/writer who is very excited to delve into the world of DIY theater in the Chicago community. She's currently the Literary Manager at PS…Burlesque.