Capture from the 2018 International Chicago Underground Queer Transcendance Symposium (ICUQTS)/Photo: Colectivo Multipolar
A cubist dance floor. Hybrid-genre, meaning many points of entry—a collision course of queer and trans music, films, visual art, performance, fashion, ideas, flirting, dancing and other shenanigans. Here are some variegated glimpses and lingering afterimages, 13 ways to see a party.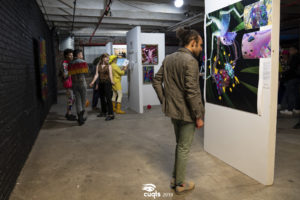 The International Chicago Underground Queer Transcendance Symposium: a catch-all name, a mouthful to spell out. But the memorable acronym "ICUQTS" (sound it out)  captured the convivial atmosphere. Attendees flocked out in looks (oh yes, I see you), buzzing around the performances and interactive art.
The symposium was crammed with emerging and more established queer and trans artists, local and international. Under TRQPITECA's curatorial purview, the work was universally strong. Within the walls of 2134 South Troy Street roared a whirling world, if only for a weekend.
     3.
Nothing fit in tidy boxes. Queering conventions, performance spilled into party; art exhibition blended into fashion boutique. Outside the status quo, the artists in the show imagined art outside the lines, as if loosening the strictures of social norms. This art was intentionally intersectional; it was hybrid-formed; it was porous. A glamorous slippage.
What were we seeing? Hereclitus Vernon's performative lecture/manifesto proposed we were getting a privileged peek into "The New Queer Spirit." Doing the time warp again, they compared ICUQTS and TRQPITECA to the Armory Show of 1913, which had radically expanded the horizon of what was considered art.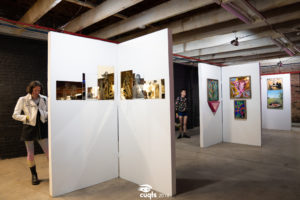 A paradigm shift: nightlife as a conceptual space for queer underground art. The narrative potential of nightlife was on full display:  "a time for storytelling, a place tucked away from the spotlight, and where fantasies and unknown desires come to fruition," as nightlife scholar Madison Moore suggests.
6.
A number of performers convincingly made use of nightlife as form. That is to say, nightlife wasn't only a topic performances touched on, but an integral part of how they unfolded.
For instance, performances would use mixing to juxtapose sonic moods as subtext to stories. Moreover, ambience and body language jumped to the fore, sometimes taking precedence over narrative.
"Queerness is not yet here," José Estabon Muñoz provocated in his last book Cruising Utopia: The Then and There of Queer Futurity.
Perhaps she'll arrive late to the party. After all, it's never advisable to arrive too early, before things have begun to stir.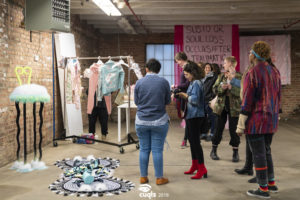 Sara Goodman and Sasha No Disco's VJ/DJ set, titled Cruising Utopia in homage to Muñoz, attempted to build a portal to that not-yet-here queer utopian ideality. Nightlife was not only the subject of story but also crucial to their form of storytelling, which eagerly embraced ambience, body language, distortion and genre dissonance (everything from disco to M. Lamar's implosive operatic goth gospel) as much as narrative.
"I charge this space—it's my city, it's my place," Jared Brown asserted in their performance Views from the 12th House.
Their radical reterritorialization comes from a critique of racism in the club, on dating apps, and elsewhere within queer "communities." Who gets to declare a space "safe"—for whom (who is excluded)? A manic staccato "HA HA HA HA HA" punctuated a series of microaggressions: "White gay moves my girl out of the way / HA HA HA HA HA / Club kid flicks his cig my way / HA HA HA HA HA." An aria calling out entitlement, racial dating "preferences,' ghosting… all drawn out over a vulnerable heartbeat sound.
The idea of underground dance culture as collective liberation has deep queer of color roots, a history that has been whitewashed and gentrified. ICUQTS decentered whiteness, reclaiming these roots. Keijaun Thomas literalized this decentering by instructing white people to turn around during her performance My Last American Dollar.
11.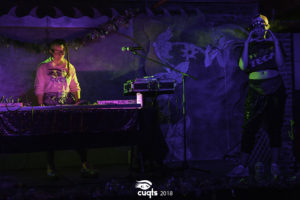 The imaginative world-making of queer undergrounds could also be a spur for lasting social change. This was evident in the keynote, delivered by Ingrid LaFleur, a recent Detroit Mayoral candidate and  AFROTOPIA founding director. Imagining alternative models to our exhaustively consumptive and violent economy, LaFleur explored how the principles of Afrofuturism and new technology like blockchain could create more liberating economies .
Of course, so much of the symposium's joy also exists outside the structured programming: the side conversations, the gossip, the new connections. ICUQTS provided the frame to facilitate community-making and community-deepening.
Audience seats were often disregarded and performances gave room for dancing along. There was no easy binary of audience and artists; we all participated in co-creating the space.
Reader, we danced. To TRQPITECA. To Zemmoa. To Ariel Zetina. Then we danced even more at the After Party.
The International Chicago Underground Queer Transcendance Symposium (ICUQTS 2018) took place September 29-30, 2018. Read our interview with organizers TRQPITECA (CQQCHIFRUIT and LA SPACER—who will be next performing at GRL PWR Presents Sweat! Halloween on Friday, October 26 at 10 PM at Compound) here. You can find additional documentation, including the full artist lineup and festival schedule, at icuqts.com.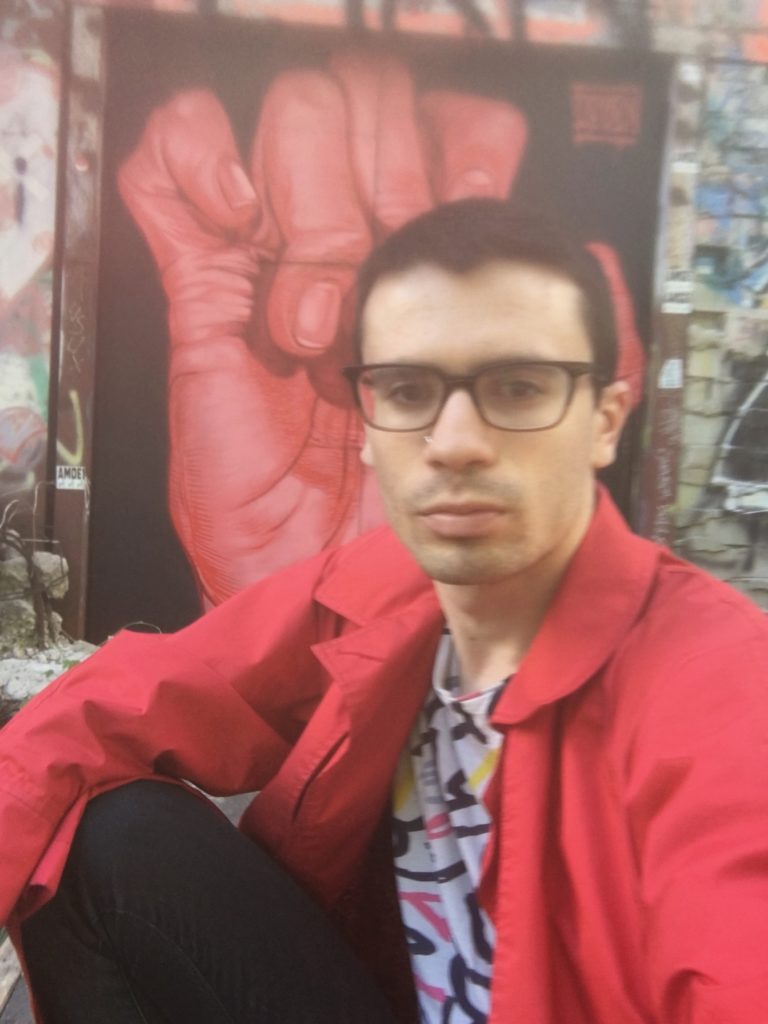 Noa/h Fields (they/them/theirs) is a genderqueer poet and performance artist from the West Side. They have written for Anomaly/Drunken Boat, Telekom Electronic Beats, and Bluestockings Magazine, among other online publications. Their first poetry book WITH is out from Ghost City Press. They are fond of techno and avocados.