Pictured above: Joe Johnson, Katie Ruppert and Billy Ferguson in a February Improvised Dungeons & Dragons performance/Photo: Out on a Whim Comedy Facebook page
Editor's Note: This is a D&D character expression by Olivia Sieck in response to Improvised Dungeons & Dragons.
Every week, at Improvised Dungeons & Dragons at Otherworld Theatre Company, a new Dungeon Master guides the cast into an adventure created by their own, collective design.
After the show, I was inspired to create my own character sheet and attacks. Please forgive me in advance, seasoned players; I haven't played D&D before, so my sheet might look a little inexperienced.
・・・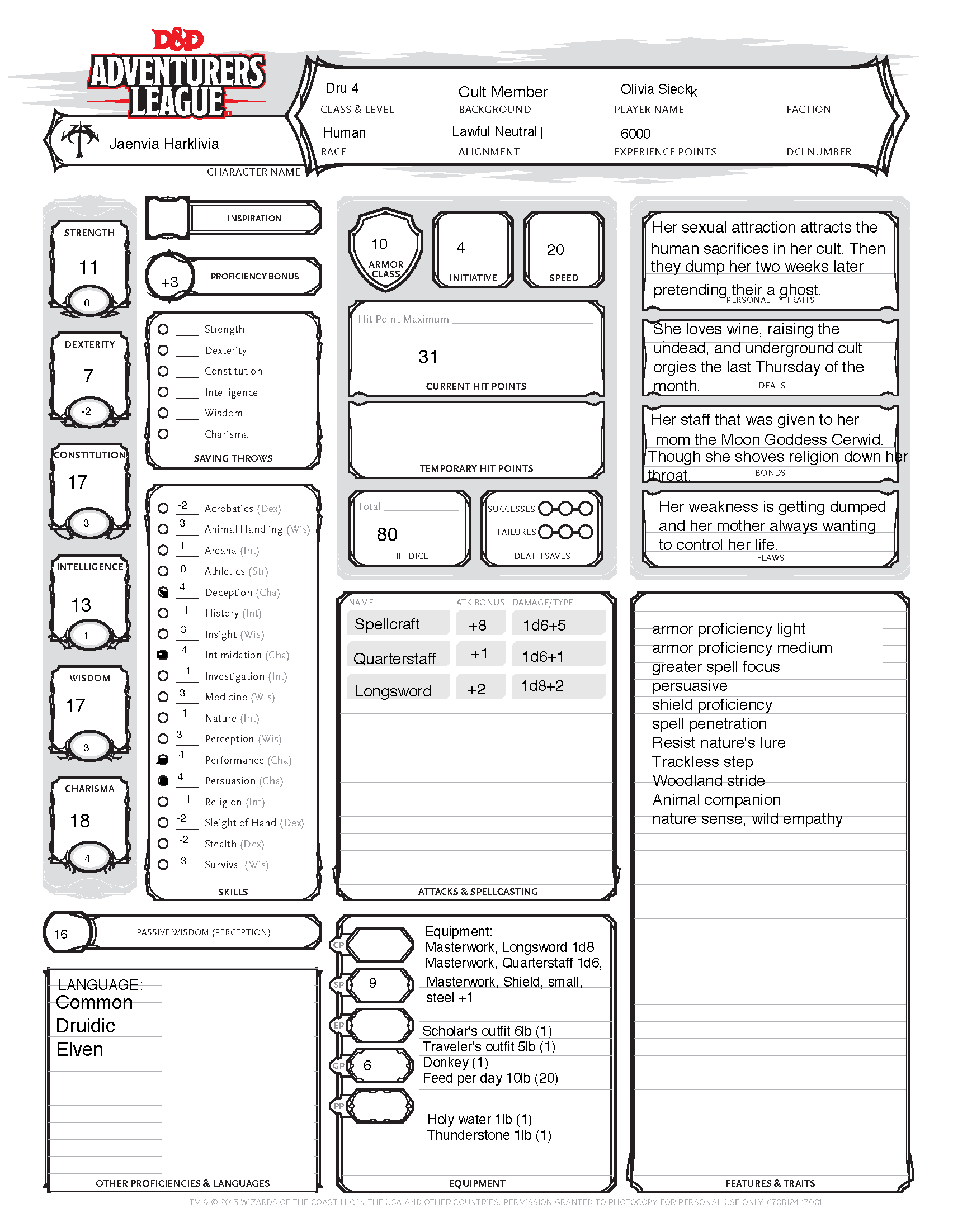 Jaenvia Harklivia is a half wolf druid who got kicked out of her group because she fell in love with her human sacrifice and they ran away together. Unfortunately, two weeks later, he ghosted her because he tricked her into thinking he was really a ghost. Now she roams the realm howling at her mom Cerridwen, the Moon Goddess, for pushing religion down her throat. She loves wine, eats, scratches and underground cult orgies the last Thursday of the month.

Her main attack is her piercing howl that's always in tune. She's also good at finding boys and questioning them as to why isn't she a good girlfriend. Her weakness is getting dumped and her mother always wanting to control her life.

・・・
Each performer in Improvised Dungeons & Dungeons has a fully fleshed character that they create with attacks, as well as new abilities when they level up. These actors do their research to make this a fully fantastical show. My favorite dynamic is the beautiful relationship between Neb, played by Lauren Kincaid, and her dead cat Butters, played by a skeleton cat. During the show, Butters died and came back to life a few times. You might think that was an obscure reference, but that kind of encounter can be relatable to folks who may have lost a pet, then suddenly get the opportunity to be with them again due to unexpected circumstances.
This show is a mix between improv and staged theater, where the performers create a new adventure with the dungeon master, so the audience can easily follow along.
Improvised Dungeons & Dragons performances occur Sundays at 7 PM Otherworld Theatre Company, 3914 North Clark Street and the First Fridays of every month at 8 PM and 9:30 PM at Blue Box Cafe, 176 East Chicago Street in Elgin, Illinois. The next performance will take place on November 11 at 3914 North Clark Street. Tickets for shows at Otherworld Theatre Company can be found at eventbrite.com/e/improvised-dungeons-and-dragons-tickets-47049806237. Tickets for shows at Blue Box Cafe can be found here: eventbrite.com/e/out-on-a-whim-presents-improvised-dungeons-dragons-at-blue-box-cafe-tickets-51515859322?aff=affiliate1&fbclid=IwAR1Iq5kwLtI02-rDMgMM4iOe9A4gHHlqpisTo_MZ25XLFXbmNVJZE34Lw0U.
More information about the performance and the company can be found through outonawhimcomedy.com or via email at outonawhimcomedy@gmail.com.
Olivia Sieck (she/hers/her) is an actor/writer who is very excited to delve into the world of DIY theater in the Chicago community. She's currently the Literary Manager at PS…Burlesque.