Pictured above: Photo of Melissa DuPrey mid-performance/Photo: Provided by Melissa DuPrey
When I sit down with Melissa DuPrey, a modern-day renaissance woman of the arts, I realize this is the first time I've actually seen her stay in a chair. She's a one-woman, Afro-Latina powerhouse of energy and resistance—an actor, activist, producer, playwright, comic, recent emcee of the Chicago Woman's March, a musician and Director of Production of Free Street Theater, where we meet to talk about her upcoming solo-show SEXomedy 2.0.
DuPrey is a Chicago native of Humboldt Park, a product of a single mother and a genre-defying mover and shaker of our city.
"It's really hard to carve out a space when other people don't even know what box to put you in."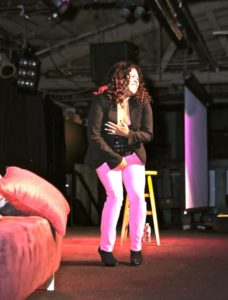 Growing up, DuPrey loved the arts, but also had a knack for the math and sciences. With the rise of gang activity in their neighborhood, her mother felt unsafe and so they packed their two-door hatchback and hit the road. They drove and drove, finally landing in Houston where DuPrey finished high school and college.
"My GPA was stellar, so I got into Ivy League schools, but I had no money,"  DuPrey laughed. "I did all my courses in community college and then I decided to switch my major and pursue acting. Nuclear science just isn't as fun."
So she found her way back to performance and Chicago. It is here where she workshopped and later produced her first round of SEXomedy in 2012, a solo performance piece that deep dove into sexuality, pleasure, consent and self-acceptance. In 2018, SEXomedy 2.0 aims for a more inclusive war on self-empowerment. As DuPrey reflects on her growth as an artist, she notes that she has "grown in [her] vocabulary and in [her] realization of how [her] binary language of the first version wasn't inclusive."
DuPrey's first artistic home was Teatro Luna, where she gained a foundation in devising and authoring autobiographic and ethnographic work that specifically amplifies stories of the marginalized. But it was two steps forward, one step back, as DuPrey grappled with re-learning what she had studied in undergraduate university. Her original training was "not hyper-politicized" and "not as aware of how race, gender, and class [function] in some of these pieces."
As DuPrey struggled to book work in Chicago, SEXomedy helped her launch her solo career. It gave her a platform where there wasn't one for Black Latinas. When she spoke of how she started writing, DuPrey lit up.
"I would tell people 'I'm not a playwright. I don't write, I tell dick jokes. I'm an actor; you give me something to do.'" she said. "But I was given the opportunity and a lot of faith. You can do a lot with just those two things."
DuPrey rose to the occasion as Teatro Luna was down performers for a particular set.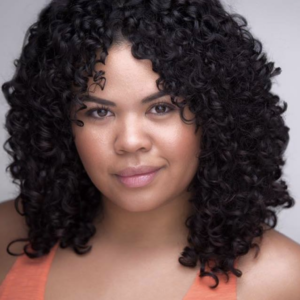 "It was hard because I was resting on my own experiences and not knowing whether or not there was content there," DuPrey said. "It was taboo at the time, about 10 years ago. It was challenging, but also very frightening because I was talking about nipple hair, stretch marks, booty and things that I've been challenged with as a woman my entire life."
SEXomedy 2.0 is now produced out of a sense of an urgency and frustration with how little our culture has shifted to accept what is natural, healthy and consensual.
This reclamation of space that is the stomping ground of patriarchy—in and out of bedrooms—is very much in line with DuPrey's activism. Back in October, the Chicago Women's March hoped to turn out a more intersectional crowd of young people and people of color. The organizers turned to DuPrey, known for speaking up and out on platforms of intersectionality, accessibility and inclusion.
"I don't think a lot of people really knew who I was and about me at all," she said. "But the minute I started talking about some basic rules around brave space, like no transphobic, racist, ableist, sexist behavior/language–everybody was like, 'Okay, got it.'"
Naturally, DuPrey is not one to shy away from the problematic history of the march and its lack of partnership with POC-centered organizations. So she utilized this platform to uplift organizations doing radically intersectional, inclusive work.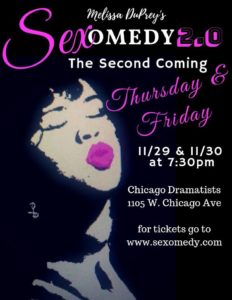 "As an artist, I was honored to have vesselled everything that I've learned from Black and Latino feminist communities here in Chicago," she said. "I was an entry point for them and I was able to bring with me those representations that they wouldn't have otherwise."
DuPrey admits her time management is not the strongest, but that's difficult to believe when she jumps so flawlessly from project to project. From the screen to the stage to the streets, DuPrey is uncompromising of herself and her values.
"I believe in being present for all of it as yourself," she said. "I don't often find myself code-switching and that's on purpose."
As we finished up our conversation in the soon-to-be-bustling Free Street Theater, DuPrey leaned in.
"I think being able to be my one true self has been crucial for me to navigate all of those worlds at once." she said. "I would be exhausted if I had to do anything otherwise. I'm literally showing up every day and that's all I can do."
Melissa DuPrey's SEXomedy 2.0 will take place November 29 and 30 at Chicago Dramatists 1105 West Chicago Avenue. Find more information and tickets here.
Yasmin Zacaria Mikhaiel (she/her/hers) is a dramaturg and oral historian based in Chicago. She is a mixed-Persian girl, lover of writing, reading and listening. She consults for many arts and humanities organizations on the art of oral history interviews and prioritizing narrator agency in community-based projects. Yasmin also writes for other arts/culture publications, crafting reviews and pushing for POC representation and equity in theatre. Learn more about her and her work at her portfolio, or follow her on Instagram.