Pictured above: Kiayla Ryann and Jyreika Guest in In The Blood/Photo: Austin D. Oie
Editor's Note: This is an expression by Danielle Levsky in response to In the Blood; it is followed by information about the work and process.
I witnessed Red Tape Theatre's In the Blood by writer Suzan Lori-Parks, a play inspired by Nathaniel Hawthorne's "The Scarlet Letter." Chika Ike's direction of this story focuses on Hester (Jyreika Guest), a deeply impoverished mother with five children with five fathers (who are mostly played by the same actors as the children). The story revolves around the horrible and presumptuous myth of "pulling yourself up by the bootstraps," especially in the context of a single, homeless, Black mother, who must navigate anti-Blackness, anti-womxness, medical malpractice, sexual exploitation, forced sterilizaiton, systemic poverty, and homelessness.
・・・
I saw the performance on January 27, just days before temperatures in the Midwest plummeted to temperatures colder than parts of Antarctica and Siberia. Exiting the theater, I thought about the importance of this story, of the skill and subtlety applied by each performer, of how systemic injustices keep the homeless without a home.
And I thought about my own position of privilege, how I wanted to help, the persistence of the white savior complex, what it means to listening. How could I be helpful?
On January 30 in the Chicagoland area, forecasters said that the temperature would fall to minus 22 degrees Fahrenheit and windchill readings would go as low as minus 50 or 60. Officials warned Chicagoans to not step outside because of the dangers of frostbite, which could set in within eight minutes outdoors.
In preparation for January 30's life-threatening weather, Chicagoans asked each other to look out for others who did not have a safe, warm place to be, to call them a ride share to a warming center, to call 311, to provide them with access to call 311. Lyft offered free rides to warming centers, up to $25, through February 1. Chicagoans warned each other that landlords must heat residential buildings to at least 68 degrees during the day and 66 degrees overnight, and to call 311 if they were unable to resolve a heating problem with their landlords. Chicago publications listed warming centers and emergency shelters throughout the city.
These words and calls may have all felt like acts of service, but watching this unfold and participating in a desperate attempt to help only reminded me of In the Blood, as well as documented accounts of people staying in shelters.
"You don't understand," Tony Neeley said in the New York Times article "'I'm Cold and I'm Afraid': Across Midwest, Homeless Await Deep Freeze," "A lot of us don't go to the shelters because of bedbugs, we don't go because people steal from you, we don't go because you can't even really sleep in the shelter. But my feet are cold, and these clothes are all I've got."
Guest's performance as Hester reminded me, too, of the other danger of shelters, of the specific maltreatment of people of color, womxn, and children.
The Chicago Coalition for the Homeless estimated that there are roughly 80,000 homeless people in the Chicagoland area.
On January 30, warming shelters opened, extra beds were prepared, teams of people worked overnight all week to urge homeless people to take shelter. Libraries, police stations, and community centers were utilized as warming centers, as well. The homeless shelter the Pacific Garden Mission filled beyond capacity to 800 people on the evening of January 29, according to CBS Local.
According to the Chicago Tribune, a good Samaritan paid for hotel rooms for 70 people who were displaced from a homeless tent camp. Almost 12 tents had been set up on a vacant lot in the Central Loop, many of them heated with portable propane tanks on January 30. After noon that day, one of the tanks exploded. The 70 people in the homeless camp were removed from the area and the tanks were confiscated. Time Magazine spoke with Tom Gordon, a 60-year-old homeless person in Chicago, who said that making it through winter was easier when he would sleep in a tent with a donated propane tank. The heater, Gordon said, would take only 15 minutes to warm a tent. The tanks are hazardous and are confiscated when found, as in the Central loop explosion incident. City officials have also reportedly been removing more tents and tent camps by citing them as blockages to construction and pedestrian thoroughfares.
Doug Schenkelberg, the executive director of Chicago Coalition for the Homeless, told Time Magazine that most Chicago shelters require people to leave in the morning. This adds another element to the complicated nature of homeless and warming shelters; in addition to fearing for their safety and belongings, they are also often asked to leave in the morning. Sobriety is also a requirement in many shelters, but without adequate treatment and programming to combat addiction, people are not able to fulfill that requirement.
I think about all of this and consider it because I don't have the answer to this systemic horror. But I am open to learning, open to understanding, and open to acting on multiple perspectives on how we can best serve each other and humanity.
・・・
Watching In the Blood and ruminating on it after had me wondering: who was this play written for? And how does witnessing Hester's existence help us go beyond performative social justice? I watched audience members—a mostly white, upper-middle class audience—cry and react in horror as each scene unfolded. But what do they, what do I, take away from this experience other than our own thoughts?
In the Blood performances occur Friday through Monday by Red Tape Theatre at The Ready, 4546 North Western Avenue through February 23. More information can be found through redtapetheatre.org.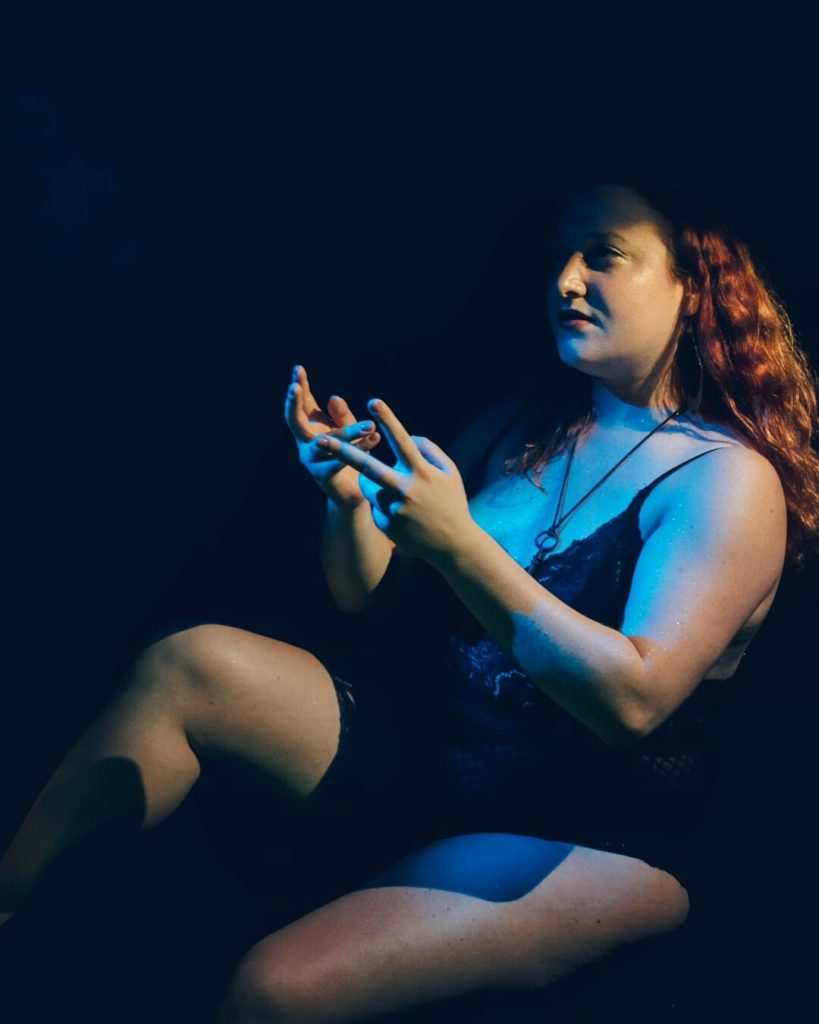 Danielle Levsky (she/her/hers) is the Theater Editor of Scapi Magazine. She is a feminist, Jew, poet, essayist, performance artist, and instructional designer. In addition to her work at Scapi, she has covered community news, arts reviews, lifestyle editorials, and cultural events for several publications. Between February 2018-2019, she completed a fellowship where she wrote a collection of community-engaged essays about her identity and heritage. She also writes typewriter poems on demand with Poems While You Wait. Follow her on her poetry Instagram to read some works in progress.