Pictured above: Liz Falstreau and the company of Iron Irene by Iron Woman Productions/Photo: Darren Stephens Photography
"Whenever you're talking about DIY sort of stuff, you find that the people involved are sort of like a small family together, because you're doing it for no other reason than because you just love it," Liz Falstreau said. "You naturally will surround yourself in people who support and believe in it."
Falstreau's words echo the backbone that holds up the Chicago Musical Theatre Festival, a developmental lab run by Underscore Theatre Company and currently running at Greenhouse Theater Center.
Falstreau knows much about this familial atmosphere. She co-wrote the musical "Iron Irene" with Ashley Flanagan, a close friend with whom she shares a "sisterly bond."
After a steamboat trip with her father led Falstreau to wonder who the first woman steamship captain was, Falstreau and Flanagan developed the initial ideas for the musical together. With an American West setting on her mind, the duo improvised songs together before Falstreau sat down to formally write the musical's book last January.
Family first
Other musicals in the festival were developed alongside family as well. Musician and bandleader Vi Tran was on a Megabus, discussing his next album with his wife, Mackenzie Goodwin, when she suggested he switch mediums.
"I've been carrying with me the two albums of my life," Tran said.
Born in Vietnam and raised in Kansas, he expressed his "love letter to America" first, in the 2013 album "American Heroine" by the Vi Tran Band.
"The Spiritual companion piece to that was going to be an album about my parents' story," Tran said. "And my wife, she's like, 'You're a theater artist, why don't you write a musical about it?'"
Goodwin took up the directing position on the project, entitled "The Butcher's Son," and Tran enlisted friend and band member Ben Byard as music director.
"There was no one else I would have wanted to collaborate with than these two," Tran said. "They're the only ones I would entrust sharing ownership of this story with, without getting in my own way."
The trio staged two independent productions of the musical in Kansas City, Missouri in 2014, before touring the piece around the state of Kansas. They visited many meat packing towns, not unlike those his parents escaped to after leaving Vietnam. Now, all three team members have returned for the run of "The Butcher's Son" in Chicago.
Chicago talent for a Chicago production
Not every production in the Chicago Musical Theatre Festival retained its original team. While that was initially the plan for "Liberators," a rock musical about the African-American soldiers who helped liberate concentration camps during World War II, writer Eric Jones wanted Chicago talent for the Chicago production, so Jones brought on Allison Heinz.
"I actually didn't get ahold of the script until after I had signed on with the project," Heinz said.
She confessed that she was compelled by a conversation on the musical's subject matter with Jones and composers Bradley Dean Whyte and Alex Winkler.
"It was something that needed to be done," Heinz said.
After Whyte stepped back from musical direction, the position went to Samantha Westlake, rounding out a creative team comprised of 90% women.
"I think it's better, personally," Jones said. "I think their talent and their gifts brought a lot of heart to the story. I don't think that a man could have translated [the story] that well, better than a woman would."
As for actors, the Chicago Musical Theatre Festival did hold a general audition, which both "Iron Irene" and "The Butcher's Son" took part in. Others, including "Liberators," held auditions via video submissions.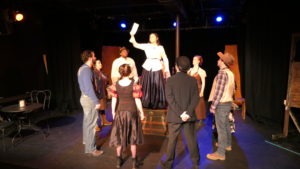 Although a concert performance of "Liberators" took place in Houston, Texas last November, "we wanted to showcase the talent here in Chicago," Jones said. This included roles for many performers of color–a casting choice that was also necessary for "The Butcher's Son."
"We put out the call," Goodwin said. "We need specifically, if possible, API actors who also can sing, who also can play instruments. We were crossing our fingers."
Out of the ten performers who responded to that call, each seemed to match exactly what the team was looking for.
"One after another, all of our boxes were checked, as far as the characters we needed, and the instruments we needed for the band," Goodwin said.
With Chicago talent in place, Goodwin and Tran were able to experiment with musical storytelling–each musician plays a role in the story and each actor picks up an instrument during the performance.
The band also helps out in "Iron Irene"'s story. For most performances, the piano leader is composer Flanagan herself, who happens to be a renowned jazz pianist.
"If she finds a moment, she says 'oh, actually I want to add that right there,'" Falstreau said, describing how Flanagan's improvisation keeps the show fresh each night. "It colors the scene. She just has a mind and an eye for that. Really, the piano itself is its own voice in the story."
Both writers, in fact, have a voice in "Iron Irene" performances–Falstreau herself is a member of the 12-person cast.
The strategy in staging
Despite these complexities in the score, "Iron Irene"'s staging is simple.
"We had one rehearsal at Greenhouse for tech," Falstreau said. Beyond that, the show rehearsed over six weeks at rented spaces at About Face Theatre, the Unity Lutheran Church, and Chicago Theatre Works.
"We had a lot of schedules to work around," she said with a smile.
Other projects had more stable locations.
"We rehearsed at Compass Creative Dramatics' basement space," Heinz said of the "Liberators" process. "We got lucky to stay in the same place, and Compass is super generous for letting us use their space as long as we did."
For "The Butcher's Son," which written to be "as producable as possible," simplicity suits the narrative.
"Spectacle is great, if you can get it, but it shouldn't be dependent on that," Goodwin said. "For this story, which is so much about the people involved, it's important that it really be focused on the talent of the actors, their abilities, the words and the music."
Chicago Musical Theatre Festival 2018 performances occur every night at Greenhouse Theater Center (2257 North Lincoln Avenue) through February 25. "The Butcher's Son" performs February 23 at 7:30 PM. "Liberators: An American Musical" performs February 24 at 3 PM. "Iron Irene" performs February 25 at 8 PM. The complete performance schedule can be viewed at cmtf.org. Tickets can be purchased through the website, or via the Greenhouse Theatre website at greenhousetheatre.org. For more information, visit cmtf.org or underscoretheatre.org.
Zach Barr (he/him/his) is an arts writer and critic, as well as a director, playwright and stage manager. He wears, both figuratively and literally, many hats. He has contributed everything from season previews, to theater criticism, to angry rants, for Newcity Stage Chicago and Scene+Heard Magazine, as well as developing his own narrative-driven critical style via his blog The Hanslick Girls. Zach serves as Literary Associate at Sideshow Theatre Company and consistently advocates for more asexual/aromantic narratives in media. Learn more about him at zach-barr.com.