Photo by Ray Goldberg. Pictured: Emilie Modaff as Bree and Grace Hutchings as Ana
On November 21, 2017, Maureen and Daniel sat with Shae Boyd and Anna Rose Ii-Epstein from Nothing Without A Company to talk about their run of Bobby Pin Girls. Bobby Pin Girls was written by first time playwright Janey Bell. The play is about two roommates, Ana and Bree, who bond with each other after experiencing some difficult events in one night. It features local bands post, pre, and during, the production. The play was well reviewed and was nominated for a Jeff.  
"The Jeffs are the Tonys but Chicago. So it's like it's a thing to get a Jeff," Boyd said " I think that it [,the Jeffs,] does bring in audiences and when we are recommended there are like 50 Jeff members that have to come to see the show to see if we are recommended for this or that or whatever."
Shae mentions that although Jeff members do not purchase tickets when they attend a Jeff-nominated show, they sometimes donate to the productions they attend. Also, some bring people with them; thus, participate in increasing audience size. Also, a Jeff nomination can lead to more people reviewing the show and reviews can impact an individual's decision to attend a show. Anna and Shae read the reviews they received.
"I really liked that, in two of the reviews that we received for Bobby Pin Girls, I loved how both of them mentioned Broad City," Ii-Epstein said.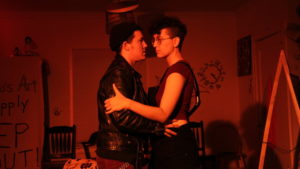 Although Anna loved that the reviewer noticed similarities between Bobby Pin Girls and Broad City, she also notes that Bobby Pin Girls is not solely a comedy. She explains how nothing presented in the media can exist in a category of its own; no media is alone in its own vacuum.
"Even in the media and all forms of media right now, I think that the lines are crossed all the time," Ii-Epstein said.
Continuing the conversation about the reviews Bobby Pin Girls has received, Shae talks about a reviewer who mentioned that nothing changed during the course of the play for the characters of Bobby Pin Girls. Shae mentions that aspiring playwrights are told that change needs to occur at some point in their play. The reviewer thought that the lack of change presented in the play was valid.
"I think there's some validity to the character's not changing because it's literally a night in the lives of two roommates and the situation that happened," Boyd said. "And people don't change overnight. You can acknowledge what happened to them and the situation that just happened, which they do, but the change, I think, is more internal and you're not going to see that."
Bobby Pin Girls carried a Trigger Warning for drug use, mentions of self-harm, and flashing lights. Although the production presents topics that can be difficult for some people to tolerate Anna and Shae do not want the Trigger Warning to be a reason why people choose to not attend the production. Both Shae and Anna believe that attending Bobby Pin Girls can be a beneficial decision for those who choose to attend. 
"Art is Therapy," Boyd said. "Art can be therapy."
Using a diverse cast and crew was important to members of the production. This is something that has also been of high importance to Shae and Anna.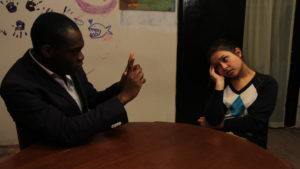 "We've always been aware that casting people of color was important." Ii-Epstein said.
"At least 50% POC and gender non-conforming artists, and trans-artists. But we were already doing that. But we were like we have to do at least 50%," Boyd said.
Related to issues of diversity and representation, Shae and Anna mention that they are working on a future show that is expected to premiere in the summer of 2018. This show will present eight characters, seven of which will be portrayed by Pacific Islanders.
Nothing Without a Company just announced their next show Cornerstone, written by NWaC literary Manager Kevin Sparrow. The production will take place at ArtSpace 8 in the 900 N. Michigan and will feature an ensemble cast of eleven. 
Cornerstone was originally conceived by Company Ensemble Member Jake Fruend, is written by Literary Manager Kevin Sparrow, and directed by Company Ensemble Member Rose Freeman. Sessions (aka tickets) go on sale March 5th and will be available on their website NothingWithoutaCompany.org, you can read the full announcment here.
To listen to the entire conversation with Shae Boyd and Anna Rose Ii-Epstein click here. To learn more about upcoming productions from Nothing Without A Company visit their website at http://www.nothingwithoutacompany.org/, or click here.