Pictured above: Tyler Zencka/Photo provided by Tyler Zencka
Imagine stepping into a found space, and not knowing that you're in the right place until you see a wooden podium and a person taking tickets. After you ramble to the kind fellow taking and handing out tickets, he smiles and introduces himself: Tyler Zencka, playwright of "God of Bears." He thanks you for coming to his production. From what you know of his play, it focuses on a man who is alone in a basement and yearning to do something out of the nothing he feels. The man hopes to go somewhere better than the places he's been before.
The experience of the actual performance is difficult to articulate. "God of Bears" is a one act play that spans 27 years and touches on complicated themes and questions.
"There's a moment in the play when a character comes out of a sensory deprivation tank and he vomits just before the lights go out," Zencka said, highlighting his favorite moment of his play. "It's a gag, but it's a fun moment for me because it elicits a slightly different reaction each time: sometimes surprise, sometimes disgust, sometimes laughter. I love seeing how different audiences react."
・・・
What led you to playwriting?
Zencka: I'm fairly new to writing plays, as I wasn't a theater person growing up. Theater wasn't really on my radar. I wrote short stories. But, when I was getting my MFA from Northwestern, I studied under incredible playwrights like Rebecca Gilman, Thomas Bradshaw, Zayd Dohrn, Brett Nevue and Zina Camblin. So, I started reading and seeing more plays. The more I saw of the storefront scene here in Chicago, the more I wanted to figure out how to write for the stage.
What made you decide on "God of Bears" as your introduction to the Chicago theater scene?
Zencka: I wanted to write something for the Lincoln Loft stage, and I'd written a couple of plays last year that for one reason or another were a little too big. "God of Bears" was the right size and speed for this space.
Where did the idea for "God of Bears" come from?
Zencka: I've always loved stories about evangelists, snake-oil salesmen, characters like Harold Hill, Elmer Gantry, and Jake & Elwood Blues. Characters that are scary, but goofy. I wanted to write a story about more innocuous versions of scam artists—regular people who maybe aren't even totally aware that they are scam artists. I started brainstorming potential scam therapies and the play naturally followed.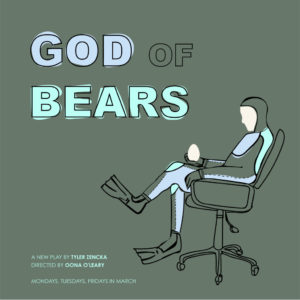 What do you want audiences to take away from this play?
Zencka: Audiences are so varied, and I can't say what experience or emotional place they're coming in with, so their takeaway has to be their own. For me, I came at the story trying to find a different way to narrate the experience of dealing with malaise. There's lots of quick fixes offered when you're struggling to get yourself going, and many scapegoats as well, like laziness, depression, denial and more. I guess I wanted to say that there's no perfect answer, but we gotta keep working at it anyway.
How did you find out about The Lincoln Loft?
Zencka: My friend Hope Rehak performed stand-up at "No Shame" at the Loft, so when I was close to finishing grad school and looking for a place in the city, the Loft was on my radar.
How did you acquire all of this local talent?
Zencka: Oh, round the way, you know. I went to grad school with Oona O'Leary, the director. I was turned onto Rachel Rauscher's set designs through a production she did at the Den Theatre for Haven Theatre Company. Shannon Lauzier and Ron Hale came through personal references. David Mehrer was spearfishing in Hawaii when, I can only assume, a cosmic connection formed between our two souls, beckoning him to Chicago.
For the cast, Ross Compton has a role in everything I write. The rest of the roles we filled through blind auditions. I'd seen Carter Petray and loved his work, but we hadn't met prior to auditions. Morgen Kerian, who plays Rory, was a particularly fun find because the role was re-written a bunch of times, and at the time of casting, we were looking for a late 20s/early 30s male to play Jansma's cousin, but the minute Morgen stepped onstage for us, she was perfect, so we changed the character and let her run with it.
Did you find it hard serving as a producer of your own work?
Zencka: I found it difficult to be a producer period, as all the outreach that's required is a little outside my comfort zone. But the insight into every aspect of a production that being a producer afforded me will be extremely helpful to me as a writer moving forward.
Do you think Chicago's DIY scene is easy to get into?
Zencka: Theoretically, there is no barrier to entry, but it's always more complicated than that. Luckily, Chicago has lots of resources, especially when it comes to people. You need good people who are enthusiastic about putting on a show.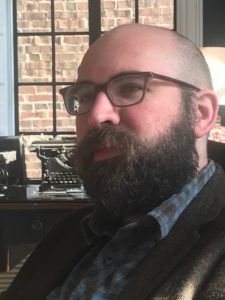 Could you please elaborate on the work history in your bio? Especially what it was like to be a private investigator in DC and how we can all become craft beer brewers in Bejing?
Zencka: Anyone can brew beer in Beijing. I worked long days after a 3-hour commute at an isolated mountainside brewery (because the water is cleanest outside the city). It was a two-mile walk to the only restaurant or store, and my only companion was a chicken farmer with tuberculosis named Yao. Good dude. But when you see a new Chinese beer drinker take that ice cold glass of brew and pop it in the microwave for 90 seconds so that it's perfectly lukewarm, that's the real reward.  
As for my time as a public defense investigator, I worked parole cases, so even being arrested triggered an automatic violation of my clients' parole, so my first contact with them was always in the visiting room at the jail. On pickup days I'd meet four to six new clients, back-to-back. Kinda like speed dating, but more fun.
Where can we find some of your other work?
Zencka: New Play Exchange. I'm not active on social media, outside of Facebook occasionally. Keep checking in at the Lincoln Loft and I'll be there.
What's your next project?
Zencka: I'm working on a documentary play for Theatre Above the Law in Jarvis Square about being a transplant to Chicago. If you've got a good story, email us at transplanttheplay@gmail.com!
・・・
God of Bears performances occur Friday through Tuesday at The Lincoln Loft, through March 27.  The Lincoln Loft address is only shared with those reserving tickets. For more information and tickets, visit godofbears.com.
Sharai Bohannon (she/hers/her) is a playwright who is pretty excited to write about DIY theater and performance in Chicago. She has a background in journalism and is excited to see what all she remembers as she begins her freelance career with Scapi Magazine. Get to know some of her work on her page at the New Play Exchange.