Pictured above: Anita Silvert and Vinny Greco in "Coffee Against Capitalism" at Factory Theater/Photo: Vanessa Buholzer Photography 
When Rachel Silvert first moved to Chicago, she knew very few people within the theater community. But that changed when Silvert was invited to participate in one of Bring Your Own Theatre (BYOT)'s 24-hour theater events.
Signing on to make theater in 24 hours with a group of strangers was "antithetical to [her] very being," Silvert said. But to her surprise, she felt completely at ease. Years later, Silvert still calls BYOT home. She currently serves on BYOT's advisory board, after stepping down from her previous role as BYOT's managing director. And still, Silvert continues to act in BYOT's productions.
Each 24 hour theater event that BYOT produces involves five playwrights, five directors and 12-20 actors. 24 hours before the audience arrives, the participants gather in a central location to learn about the theme for the month. Then, the directors, playwrights and casts are assembled randomly by lottery. Each team meets briefly and then the actors and directors head home to get a good night's sleep.
For the playwrights, however, it's off to the races. They only have until the morning to write their one-act scripts. At 10 AM, the directors and actors return to bring those scripts to life.
"There's no time to be nervous or to second guess," Silvert said. "Everyone's hands on, boots on the ground. We're doing it because we have an audience coming in 12 hours. That takes away the trepidation of going into a group of people you don't know."
An inclusive environment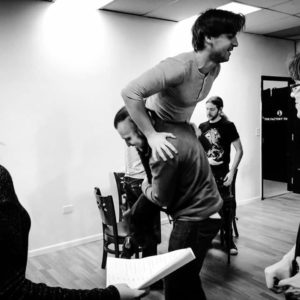 Creating theater from scratch in 24 hours is not a new concept. But BYOT is unique in that they have been producing 24-hour theater events on a monthly basis for four years. Over those years, BYOT has involved participants of all ages, from high school seniors to parents of company members. Megan Richards, the artistic director of BYOT, said that BYOT prides themselves on their inclusivity.
"For people who don't usually do theater, it's a great introduction to what it is," Richards said. "It's all about the fun of creating something, without having to jump through any hoops."
But 24-hour theater isn't just for novices. For theater professionals like Silvert, the monthly events are an opportunity to further develop their acting technique.
"I've been able to hone so many skills that I thought I learned in college: line learning, character building, world building, teamwork, improv, and getting rid of my jitters," Silvert said.
Richards added that for theater professionals, doing 24-hour theater is "trial by fire." The time pressure is an opportunity for even seasoned veterans to learn where their strengths and weaknesses lie.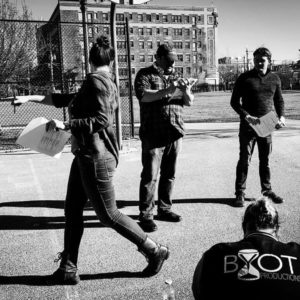 DIY design
BYOT is currently without a permanent home, which means that they use found space for their 24-hour productions. They've performed in apartments, bookstores, bars, vacant storefronts and backyards.
With just 24 hours to mount the plays, there's little time for complex theatrical design. Silvert described BYOT's dominant aesthetic as "cardboard and blue tape." In the end, the realm of possibility for the design is determined by the skillsets of the people involved.
"Sometimes, we get a grandiose set or an intricate lighting design," Richards said. "But If I'm involved, you get a cardboard box with a note on the side that says, 'This is a computer, go with it.'"
Jason Roe, BYOT's current managing director, handles all the lighting and sound for the shows. Before joining BYOT, Roe had never worked in theater.
"I understood the idea of what I was getting into. But there was nothing that could prepare me for being part of the process," Roe said.
Most theatrical productions involve a week of technical rehearsals (tech) before opening. During tech, lights and sound are integrated into the production. But with the time pressure of making theater in 24 hours, BYOT doesn't have the luxury of an extensive tech; sometimes the actors and technicians have to improvise.
"Our unofficial motto is, 'Fuck it, we'll do it live,'" Richards said.
While BYOT tries to produce work that is as polished as possible, they recognize that the product simply can't be perfect with only one day to prepare. When something goes wrong, Roe said he reminds himself that the show must go on.
"We'll laugh and drink about it later," Roe said.
Putting storytelling first attracts audiences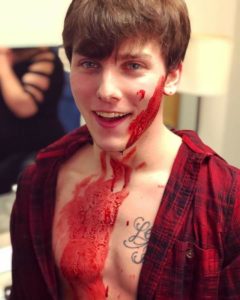 BYOT has an audience of regulars who return time and time again each month, a devoted following that many theater companies in Chicago would envy. And it's not hard to see why. BYOT's swift process results in bold, unpretentious theater.
"The audience is here for the story," Richards said. "Plus, it's fun [for them] to see what happens."
BYOT recruits many of their participants from audience members who see the work and want to try it themselves. Silvert's parents have been fans of BYOT for many years, and recently, Rachel's mom, Anita, joined the fray.
"It was fantastic," Silvert recounted. "She was a lizard pretending to be a person, because that's a totally normal thing to happen at BYOT."
Looking ahead
BYOT may be scrappy, but the fact that they've been doing this work for four years indicates that they're here to stay. As the company plans for the future, Richards hopes BYOT will become an educational resource to aspiring theater-makers.
"We'd like offer free workshops on all the aspects of the [theater-making] process and become a resource for people who haven't had a lot of theater experience," Richards said.
Bring Your Own Theatre holds their 24-hour events on the last Friday and Saturday of most months. To get on their roster, e-mail byotsignup@gmail.com. For more information about BYOT Productions, visit facebook.com/byotproductions.
Bex Ehrmann (they/them/theirs) is a theatre-maker, teaching artist and writer. Since graduating from Northwestern University, Bex has worked with a number of theatre companies including Chicago Shakespeare Theater, Imagination Stage, Washington Improv Theater and About Face Theatre. In their spare time, Bex enjoys doing improv, interpreting their friends' dreams and going outside.