Photo by Eric Formato
Scapi Radio sat down with J.D. Van Slyke and Tamale Sepp from Chicago's own Center on Halsted back in February. The center is located in the heart of Lakeview and does crucial organizing work for the LGBTQ community in their area and throughout the city.
"We are the midwest's largest LGBTQ community center, so about 1400 people come through our doors every single day," Van Slyke said.
The Center on Halsted provides a variety of resources ranging from cooking classes, shows and performances, as well as therapy and health services.
"For the first 12 years, back when we weren't even Center on Halsted, we started in 1973 as Gay Horizons," Van Slyke said. "For the first 12 years we were completely volunteer run, and now we have over 80 people on staff. Last year we had 583 brand new volunteers, so it's a huge part of how we advance health and well-being in the LGBTQ community."
Maureen asks: "What kind of education do those volunteers go through?"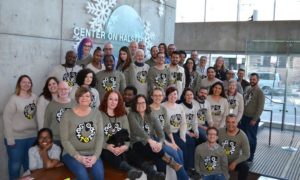 "Really we want to make sure that we're spending time with our volunteers so that they're connecting with other people in the community," Van Slyke said. "A lot of times people will move to Chicago, and they're looking for a way to plug-in or get to know people, and they come to Center on Halsted and they come to volunteer. We have an orientation that lasts about 2 hours, and then a training where we'll bring in people from our community to talk a little bit about the issues specific to the LGBTQ community."
Director of Community and Culture, Tamale Sepp, introduces the Center on Halsted's round table, an effort to use focus groups to find out where The Center is needed most.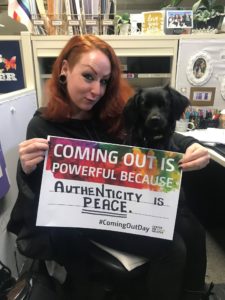 "There are certain groups that they run pretty frequently, and 'coming out' is a big one, as you might imagine," Sepp said. "It's really interesting to see how intergenerational that particular one is, you know? Actually Dr. Ashley Molin runs those groups, and it's really interesting, she talked about how people always think they're going to be the oldest one in the group and they rarely are, right? Because it's a personal experience for everybody. But that's how we know we're doing our job."
Van Slyke adds, "Every single week we will have people come to us with ideas about what different, new programs that we can provide."
"They really do," Sepp said.
They agree that strategizing and prioritizing is key to implementing these ideas. When an individual presents Tamale Sepp with a new idea, they are offered the opportunity to serve as a leader at the Center on Halsted roundtable. Then they are asked to produce two programs every six months, one program focusing on the needs and wants of their specific community and one program that is social and visibility based.

"It's interesting to watch people shift as well, because when they feel like they're actually in charge of something, and they're able to ask their community members to step in, we all learn," Sepp said. "We all grow. We all get better, stronger."
How has the Center on Halsted evolved? J.D. Van Slyke charts its growth:
"We started as Gay Horizons, and then later we became Gay and Lesbian Horizons, and then we dropped all that and we were just Horizons, and then we became Center on Halsted," Van Slyke said.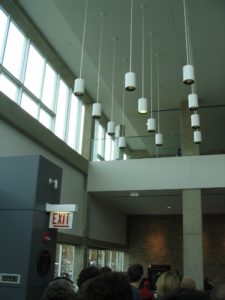 Center on Halsted originated as a safe-space were people could meet others, look for basic services, and get LGBTQ-friendly healthcare.
"We started with a referral hotline, that people could call in to and get services that were safe and welcoming," Van Slyke said. "From there we started working with young people, and opened up the Youth Coffee House Shop. And then another pretty early program was a group of medical students getting together to provide health services for LGBTQ people, and that later became Howard Brown Health Services."
Daniel mentions the new Netflix reboot of Queer Eye, an Emmy award-winning reality show in which five queer men give participants a complete life makeover. The contemporary Queer Eye emphasizes the transition from nationwide LGBTQ tolerance to total LGBTQ acceptance. Van Slyke believes this change can be reflected in the Center on Halsted's new building, constructed in 2007.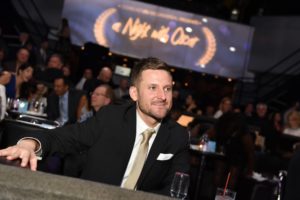 "When we became Center on Halsted, you walk into our building, we're at 3656 N. Halsted, one of the first things that you notice is the floor-to-ceiling windows," Van Slyke said. "And when we were talking with the architect, we wanted a symbol of showing that no longer do we have to hide behind doors and walls. That we are here and we exist and we deserve to be accepted."
The design of the building is significant. For those who are not able to be "out," there are other, more discreet entrances. The building also houses a gym for recreation, a theatre, a kitchen for culinary programs, break-out rooms, and other versatile spaces and features.
"I think that when people walk into our doors, and see the work that we're doing, it speaks in a whole different language than what we could say on paper or on a podcast" Van Slyke said.
To close out the episode, Sepp reflected on what she loves most about the Center on Halsted.
"The basis of what I love in the work that I do at Center on Halsted, and for Center on Halsted, I would have to say is the changing of hearts and minds and the way that the community is able to circle back and contribute and be engaged," Sepp said. "Because we all win, we all win when that happens."
Listen to this episode here, and learn, volunteer, and donate at centeronhalsted.org.