Pictured above: Capture from Ordinary Peepholes/Photo: Glitter Guts
After the success of his production #thegrelleyduvallshow, Alex Grelle has been exploring and discovering new mediums within the Chicago DIY performing scene. When he's on stage, his eyes teem with focus, his acts are riddled with imaginative elements and his outfits scream punk rock—but always with a hint of glamour. Audience members witness his style of singing, performing and—most importantly to him—his dancing.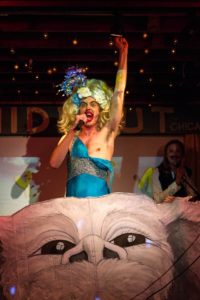 I sat down with Grelle to discuss his new show, Ordinary Peepholes: FÄSHION. Each month Grelle and the Beauty Bar staff collaborate on specific themes. May 2018's show will focus on fashion. Although, after our discussion, I suspect there will be additional themes, like his own input on gender in society. Grelle spoke with a fearlessness, a palpable energy about the world around him and the theater community he is apart of.
・・・
Who are you and where are you from? What got you to where you are now?
Grelle: I come from a small college town called Warrensburg, Missouri. Growing up, I watched a lot of movies, played with my Mighty Max and did a lot of community theater there as well in its surrounding cities. I started acting when I was seven in a college production, a gig my dad got me (because he knew I liked to perform). My dad's great. So nice to his little Mary. Time moved and I studied theater in college and met my great friend and one of my favorite collaborators, Tiffany Smith. I followed Tiff [Smith] here to Chicago the week after I graduated college and have been here since the spring of 2009. I did the storefront theater scene for about six years and then decided to work more independently.
Has working independently worked more in your favor as opposed to working commercially?
Grelle: I've never worked commercially so I don't know if I have anything to compare it to at the moment. Although, working commercially seems fun. Granting all this, I was given a residency from Salonathon at The University of Chicago Performance Lab through Heidi Coleman. That was when I decided to allow myself more artistic control. I created a big production in which I added the magic of MUSIC at the 1700 Steppenwolf Theatre Company space. That led to a couple of residencies at the Hideout and now I'm 100% consumed by it all. I'm excited about the future.
I see you cover many different forms of mediums. Do you have a favorite? Singing, writing, directing, performing, etc?
Grelle: I'm offended you didn't ask about dancing. (Laughs)
Let's go back to your past. What struggles did you face in your career that prolong today? What struggle are you most proud of surpassing?
Grelle: Myself. I've just recently felt like I'm comfortable with being an artist. Thanks to people like David Cerda of Hell and a Handbag Productions, Jane Beachy of Salonathon, and Erin Kilmurray of the Fly Honey Show who all helped me finally feel like myself and love what I create. Don't mean to sound like Katy Perry, but self-love is a powerful thing.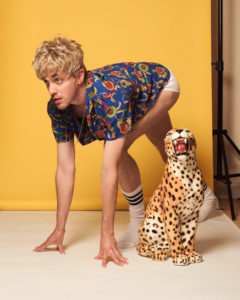 What are some things you would change about the theater industry?
Grelle: One thing I would love to change within the theater industry is paying artists MORE. I know that idea is unreasonable due to storefront theaters and art in general not receiving any money, to begin with, but the artists I've seen work in this town bust their balls for nothing. Including ME! MEEEEEEE!
Who are your heroes? Who inspires you artistically? Who inspires you morally?
Grelle: Recently, music has been the most inspirational component to me. I belong to the church of David Bowie and Kate Bush. Theatrical artists who could/can sing, act and emote are obvious icons for me. I love women in the film industry, too. That's always the category I hope they have on Jeopardy when I watch that show once or twice every two years… Gena Rowlands in Women Under the Influence, Mary Tyler Moore in Ordinary People and Geraldine Page in Interiors are some standouts for me. Waspy dysfunctional family dramas are where my heart is, I guess. The new Grace Jones documentary (Grace Jones Bloodlight and Bami) blew me away. The fact that she is still going strong and doing it so well, this specific endurance she carries, is incredibly inspirational to me. I'm also all jazzed up about Cody Critcheloe's new album. I've been following SSION for over a decade now and the content that he produces never fails to get me going creatively. Also, what a stud. Sigh.
And what's inspiring you here in Chicago?
Grelle: Locally, I love what that Sarah Squirm and company over at Helltrap Nightmare are up to. It's great what they are doing with comedy. They're also taking it on the road AND that they're five years younger than me. That impresses me much. They are all some cool cats.
Why pick Chicago to reside in?
Grelle: WHY NOT CHICAGO?! (Clown Whistles) Sorry. I don't know how to answer this question without a joke. I love it here. I also am starting to feel really cozy here, which worries me. I feel like I'm better when I'm intimidated, but maybe I've changed? To be able to work with the people that I work with isn't motivating me to move anywhere else soon. I'm lucky.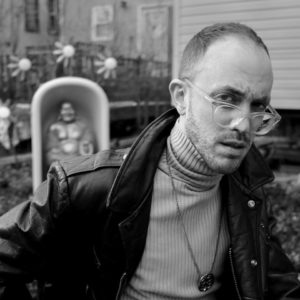 In regards to your history and art, what part of your career has made you the happiest? Most excited?
Grelle: Getting to collaborate with the people I love. Catching up with them. Laughing. I just want to create things that people can laugh and cry along to and distract them from all the non-stop bullshit that life creates. Be it heartbreak, politics or social networking for more than five minutes, my goal is to be the people's little vaudevillian-faggot-prancer-dancer. HATCHA! WHOOPIE!
Can you tell us about your most recent project? What tails your inspiration behind it?
Grelle: Ordinary Peepholes! I like to call it an absurd comedy show from hell that I host with the sensational Kaycee Conaway (who I think is one of Chicago's funniest performers). The show focuses on having a real hoot and holler. It's also a giant f.u. to the heteronormative narrative that we're all used to.
・・・
Grelle's newest production aims to highlight nuance and fun within fäshion for the Chicago DIY performing community.
Ordinary Peepholes performances will occur every third Monday at Beauty Bar at 1444 West Chicago, starting on May 21 at 7 pm with Ordinary Peepholes: FÄSHION. More information can be found through thebeautybar.com/home-chicago or by phone at 312-226-8828.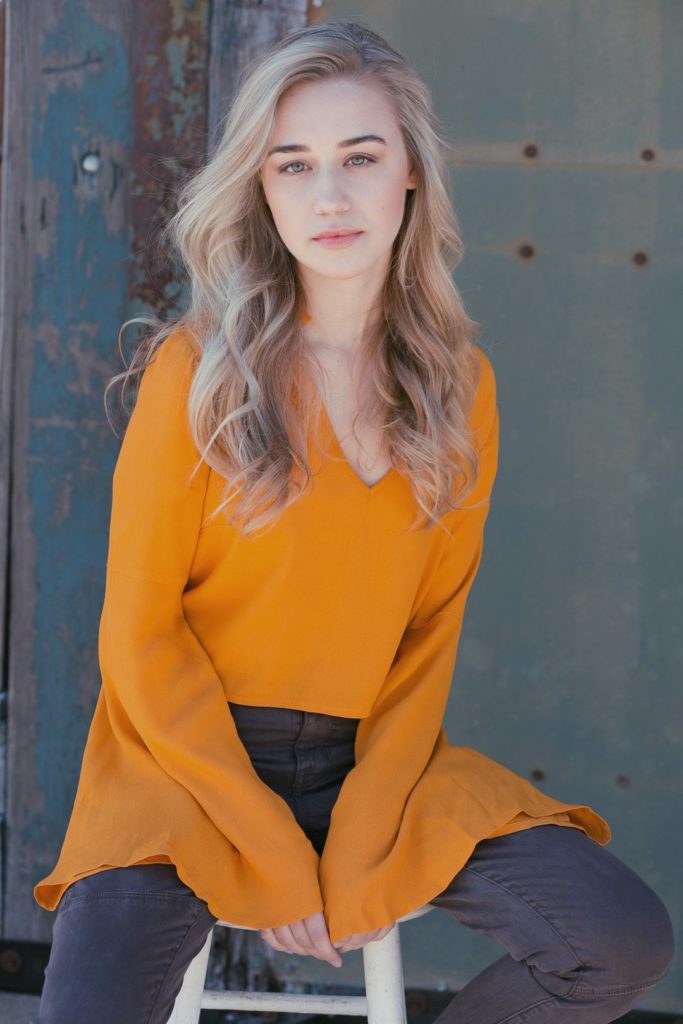 Ellie Danisch (she/hers/her) is a native of Chicago. Born and raised around the world, she found a home in the theater industry and has been enjoying the business ever since. She has previously worked for The Odyssey, where most of her work focused on politically-based issues and social injustice. Catch up with her at iamelliedanisch.com or at her Instagram @huefuldreams for more of her work.