Pictured above: The Nest/Capture: Google Maps
Playwright and actor Jillian Leff seems like your run-of-the-mill audience member whenever you encounter her at a theater event or show. She usually has a friendly smile and a generally helpful attitude. Nothing would suggest that she just did a run of She Kills Monsters as Tilly—by kicking butt and slashing her way through mythical creatures at the Prop Thtr. Leff is one of the many Chicago theater artists juggling multiple shows and projects at multiple theaters, while also navigating all that life throws at her. Also, as one of the Cuckoo's Theater Project (CTP)'s company members, Leff has grown with the team to produce productions that show the darker side of humanity. With the CTP's recent renovation of their space just completed, I caught up with her to talk about her time management skills and the CTP.
・・・
You work in a lot of various capacities but do you have a favorite area? If so, why?
Leff: Well, I don't dislike marketing, but it is definitely my job, where acting/writing is my career. So, I guess the acting/writing part wins?
How long have you done theater? What made you decide to pursue it as a career?
Leff: I started doing theater in high school. I played a newsboy in Guys and Dolls my freshman year. I feel like pursuing it as a career developed gradually over time. First, I was going to minor in theater, then I was going to double major in it, then I was going to major in theater and minor in something else. I ended up getting a BFA in Acting. Writing came my senior year of college. I always thought writing was fun, but I thought I wouldn't be considered a "serious" actor if I also enjoyed doing something else. Then, as I feel a lot of people do, right before graduating college, I said fuck it and did what I want[ed].
What makes the CTP stand out from other local theaters in Chicago?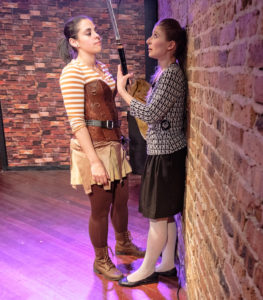 Leff: Our goal is not to just become another theater company. We want to be a fixture in the Rogers Park community. We hope that The Nest can become a community center as much a theater venue.
How long has the CTP been using The Nest?
Leff: Since 2016. We've been using it for rehearsals, auditions, and storage.
What sparked the restoration of The Nest? What is the main hope of renovating the space?  
Leff: I know it was purchased with the intent of renovating it. The hope is for it to be a full performing arts venue with two performance spaces, rehearsal space, and offices.
What was it like to act in the recent production of She Kills Monsters while also marketing it and having to take care of your non-CTP stuff? How do you juggle everything?
Leff: I didn't sleep a whole lot. Hah. But. I also admitted when it was too much and asked for help with little things and delegated when I could. Also, setting deadlines and making sure priorities are done when they need to be.
The CTP Mission Statement reads, "The CTP produces plays that show the darker side of humanity. By doing so, we seek to find light within the darkness in the hopes of a brighter future." Does the CTP's mission statement make it harder or easier to find scripts to produce? Why?
Leff: Both? Our mission statement centers around producing plays that are darker, which is easy at first glance, but then sometimes you find something you really like, but it just doesn't work at all. We normally have a theme for a season, like this past one is Choices and Consequences. We can all pitch shows to Marc that we think are good for the company and/or theme, but Marc ends up compiling the season.
She Kills Monsters is a funny action/adventure play about grief. What drew you to the script personally when it was time pick this season and then again when it was time to audition?
Leff: I actually pitched the show to our Artistic Director Marc [James] almost two years ago. I've loved the script ever since I read it in college, and knew it was something up the CTP's alley. Also, [I] totally wanted to play Tilly. I just love that it shows women being badass AND still having feelings and emotions. Because humans can do both!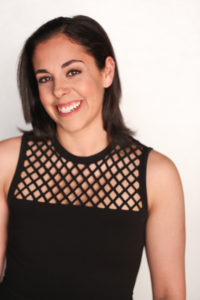 The fights during the play looked really awesome. Was it hard getting all of that choreographed in a storefront space?
Leff: That's more a question for Kai [Young], our amazing fight choreographer. And the fighting puppets was a big idea of Director Angela Forshee. But I can say that yes, doing massive group fights in that tiny space was tough. You just have to find what works and what doesn't, and sometimes you have to do things that don't make perfect sense martially, but it's because of the tiny space you're working in.
Do you personally find it more fun when a team has to figure out how to work in spaces similar to the Prop Thtr? Why, or why not?
Leff: I mean, luckily, I'm not really the one that has to do that, when I'm acting I'm just like "tell me how this works." Or when I'm writing, I just write what I want, and then think "I hope this works." The only time I've really contributed to that kind of conversation is when Marc is in season picking mode. We'll talk about shows and whether they can logistically fit in a storefront space.
What's your advice to other people who want to get involved with Chicago theater?
Leff: Don't be afraid to jump in! Also, see a lot of plays.
・・・
Barbecue Apocalypse performances occur Friday through Sunday at Prop Thtr, 3502 North Elston Avenue through July 21. More information can be found through thecuckoostheaterproject.com or by phone at 312-882-8201. Send inquiries regarding how to get involved with the CTP to info@thecuckoostheaterproject.com. If you would like to contribute to the Nest Fund, contact Leff at j.leff@thecuckoostheaterproject.com or managing director Bart O'Toole at botoole@thecuckoostheaterproject.com.
Sharai Bohannon (she/hers/her) is a playwright who is pretty excited to write about DIY theater and performance in Chicago. She has a background in journalism and is excited to see what all she remembers as she begins her freelance career with Scapi Magazine. Get to know some of her work on her page at the New Play Exchange.