Pictured above: Installation at Pop Magic Productions' first birthday party Nightfall/Photo: Aliza Feder
Founded on June 1, 2017, Pop Magic Productions celebrated its very first birthday June 2: Nightfall: A Birthday Party.
Mary Kate Young hosted Nightfall in character as Sybil Vane, reprising her role from an earlier Pop Magic show, an adaptation of Oscar Wilde's The Portrait of Dorian Gray.
Young wrote the concept of the party to show how one could marry or accept the darker parts of themselves, "those parts that you don't like to look at or shine a light on."
"I was thinking about that and looking at my own shit," Young said. "When you decide you're going to do that, you start looking at yourself honestly. That night was meant to be a healing ritual of accepting parts of yourself that you are afraid of, or it would be looking at parts of yourself and saying 'you are not useful to me you; I'm living my life right now.'"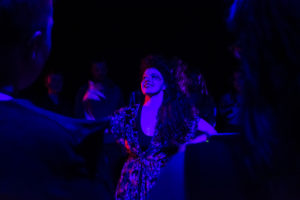 Young credits Pop Magic creative director and co-founder Olivia Lilley for taking this idea and "making it real."
"We manifested some shit," Young said. "We wanted to create more opportunities, to put the power back in artists' hands. Because sometimes we just feel like chess pieces."
On July 4, Pop Magic launched a Match Campaign, wherein if they are able to raise $10,000 independently, their major investor will provide another $10,000 for their season of programming. With this potential budget, Pop Magic plans to create an incubation series and a showcase series.
Breaking theatrical cycles
Lilley has been growing Pop Magic as a production company looking to support a specific type of work.
"We're looking to support work that challenges audience expectation and appeals to those who aren't frequent theater attendants," Lilley said.
After a few years of building an audience base "off the blue line, in DIY spaces", Lilley came to realize that devised projects needed a more sustainable way of continuing to live past their initial performances.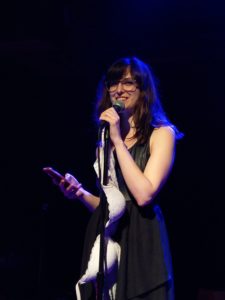 "The way that Chicago sustains itself is that things will do that for a while and die and then other things will do that," Lilley said. "And essentially, Pop Magic is trying to break that cycle."
Lilley realized the potential of theatricality outside of designated performance spaces.
"There are ways in which modern theater can translate into businesses that do make money," Lilley said. "There are ways in which you can have lots of people come to theater performances and not be turned off by their preconceived notions of theater."
Illustrating this philosophy, Pop Magic, in collaboration with the Runaways Lab Theater, put on an adaptation of Oscar Wilde's The Portrait of Dorian Gray in the summer of 2017. Performances took place in the basement of a children's theater company. The show sold out for its entire run.
"We turned the setting into a queer nightclub where Peter Wilde [as character Lord Henry], would come at you offering shots of gin with Tori Amos playing on loop singing She's Your Cocaine for twenty minutes," Lilley said.
Next came In Sarah's Shadow: The Eleanora Duse Story, a collaboration with the Prop Thtr (where Lilley currently serves as artistic director) and choreographer Kelly Anderson. The story of a lesser-known but prodigious actress of Sarah Bernhardt's day, In Sarah's Shadow was an ensemble-devised piece, with Lilley writing and devising drafts throughout the rehearsal process.
Heart and soul
A big part of achieving Lilley's goal to stretch the boundaries of both theater and its sustainability is Pop Magic's newly launched incubator series, "the heart and soul" of what Pop Magic strives to accomplish.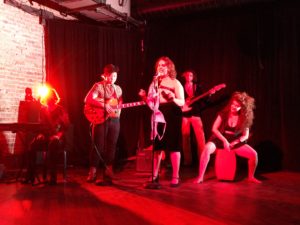 "The idea is that we're always trying to create stories or experiences that can really be related to everyone," Lilley said. "And magic being like, how can we dazzle you with an innovative way of showing you this that you've never seen before?  So our mission is to create and incubate projects and concepts that have that potential to live in the world."
The incubator series is Pop Magic's way of creating space for projects to have a trajectory; a life beyond one-night-only or limited run experiences.
"We want the space and time to develop an organized approach to this," Lilley said.
In addition to full shows, they are looking to take submissions for one-off events that fall at the intersection of the arts. They are looking to support work that challenges audience expectation and appeals to those who aren't frequent theater attendants.
"We'd like to attract people who enjoy going out to bars, restaurants and dance clubs, as well as those who like to travel and are hungry for unique experiences," Lilley said. "We'd also like to create environments in which people from different industries would feel comfortable networking and mingling without it being forced or awkward."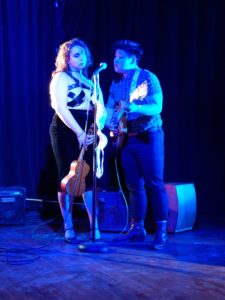 Most recently, this past May, Pop Magic presented The Barback Daddies, which was the first iteration of the incubator series. It was a devised musical with an ensemble Lilley described as "actor-composer-writers." The interdisciplinary ensemble of six wrote original, rock-centric songs that told the story of a Logan Square Riot Grrrl punk band confronting its own evolution after an unwanted outing of its trans lead guitarist.
"I'd done some devising in school, but nothing since I left college," Young said, who played Donna, the new drummer. "It was this breath of fresh air. I thought, 'Oh! I have a creative mind and someone actually gives a shit about it.'"
Pop Magic presented the musical as a staged reading workshop, with talkbacks following each performance. At these talkbacks, the ensemble encouraged an open discourse with audiences as they continued to shape the project.
'What is a Pop Magic event?'
Pop Magic organized the birthday party event Nightfall on June 2 at the Prop Thtr to showcase the range of performances it is intended to foster through the incubator and showcase series.  
"The birthday party is the fifth version of 'what is a Pop Magic event'?" stated Lilley. "A birthday party is a new medium. We haven't tackled this scale yet." Citing that the feel of the birthday party was supposed to be that of "an extravagant evening" at a "queer local nightclub." "I want you to feel like you're stepping into this other world that's a ceremony you're welcomed into."
Nightfall culminated as a night filled with performances that blended ritual and ceremony with exuberant celebration and radical self-love.
As soon as the doors opened at 7:30 PM Saturday night, two immersive experiences awaited partygoers. On the first floor of the theater, Cassie Bowers carved out an intimate space in a corner of the Prop Thtr building's foyer to offer personal tarot readings from her ongoing performance series, Arcana Obscura. Many people experienced tarot for the first time.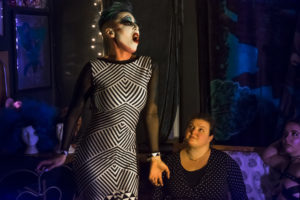 "It's not predicting the future, like 'you will meet a dark-haired man in seven days'" Bowers said. "It's more of a creative prompt for self-introspection."
A floor above the Prop Thtr was Sunset Season: an affectionate lip-sync portrait of Norma Desmond, an immersive performance by Gina Hayes. In character as drag person Lucky Stiff, Hayes lip-sang to several songs, changing costumes and headpieces before the audience for each one in "a bedroom, a dressing room, an intimate dreamscape" according to Scapi Magazine DIY Theater and Performance Editor Danielle Levsky. Lucky Stiff's repertoire spanned '20s style jazz to a moving interpretation of a Regina Spector song.  
"To me, the performances were about transformation, longing, hope, sadness and melancholy," Levsky said. "They were about the darkness of dawn and the darkness of dusk."
Bridging the gap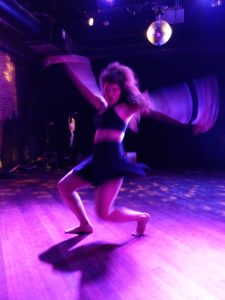 Amidst all the performances, Nightfall included open submissions for the incubation series and other short-form, one-night-only projects and held a raffle as part of their Match Campaign campaign efforts. In addition to the Incubation Series, Lilley hopes to curate a showcase system, forged on relationships with theater companies who might pick up any of these projects as a full production.
"We feel there are not enough Chicago-based projects being produced in Chicago," Lilley said. "We'd like to change that in a big way."
Lilley has been creating space for new, Chicago-centric work with the Prop Thtr in their Church of the New Play program, which has framed itself as a one-stop shop for new work development, accepting all methods and experimentations within it.
Pop Magic's goals to bridge the gap between the underground and the commercial, while highlighting experimental and multimedia live performance, is coming to the fruition.
"I'm really excited for Pop Magic to grow as we start articulating where we want things to go and how we want to expand," Young said. "For this fundraiser, all of that support is going to go to creating opportunities for artists to have the same thing that I've had in the last year, working with and for Pop Magic."
The Pop Magic Match Campaign launched on July 4, 2018 at 12 PM and runs through August 1, 2018 at 12 PM. More information can be found through popmagic.org, via em
Aliza Feder (she/her/hers) is a DIY theater/performance contributor at Scapi Magazine. She is a director and makeup artist. In a previous life, she was the artistic director of Fermat's Last Theater Co in Madison, Wisconsin. She currently serves on the board of Chicago Mobile Makers, a nonprofit with a DIY soul that seeks to make architecture and design accessible to everyone. Learn more about her makeup work at her portfolio or connect with her on Instagram.