Pictured above: Andi Aguilar, Jenny Munson, and Olivia Moeschet in the audience of Karaoke Storytellers/Photo: Ken Czechanski
One night, a few years ago, Connor Gorman accompanied some coworkers to Brando's Speakeasy for an evening of karaoke. He watched as one of his friends got up on stage and began tinkering with the mic.
"He was like, 'Mic check! Can you hear us in the back?'" Gorman said, laughing. "There was no one sitting in the back! There was this comedic dissonance between, you know, the general conception of [karaoke] and [his] individual perception."
It was a lightbulb moment for Gorman. In the subsequent months, he launched a show called Karaoke Storytellers and began to develop a film entitled The Art of Karaoke.
The meaning behind the music
At every Karaoke Storytellers show, seven performers take the stage to tell a story inspired by a song, which they then sing with a karaoke backing track. The majority of the performers are average people who Gorman and his co-host, Steve Searles (who uses the stage name DJ Stephen Alec), meet on the karaoke circuit. And at every show, one audience volunteer gets to take the stage.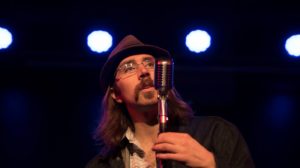 At the June 24 show, the performers included Searle's teenage daughter, a software engineer on a cross-country road trip, a photographer, and a paralegal. The audience volunteer was Searle's nine-year-old niece, Aliyah. The performers told stories about wide-ranging topics, from femininity to masturbation. They sang songs that included "Before He Cheats" by Carrie Underwood, "Creep" by Radiohead, and "Hold on Loosely" by 38 Special.
"It's one thing to know that a song means something to someone, but it's another thing to listen to them talk about the song and then sing it," Gorman said.
Gorman realized early on that they had something special. At the second show, a performer shared a moving story about surviving an abusive relationship, and then sang "She Used to Be Mine" from the musical Waitress.
"It felt like, this is exactly what this show is." Gorman said."We don't always have to go to that place, but there's room for it,"
"There's nothing like a good story," Searles added. "In every culture, storytelling is a staple."
The world of karaoke
Since January 2017, Gorman has been going to karaoke nights two to five times each week. Spending so much time in karaoke bars has given Gorman a deeper understanding of what makes a karaoke performance compelling.
"Karaoke is about commitment and vulnerability," Gorman said. "That's why people get so drunk to do it, because those are two scary things. It's unforgiving to false confidence."
Much like death or education (in theory), karaoke is a great equalizer. Gorman admitted he finds it entertaining when certain people flounder at the mic.
"It always happens with one sliver of the population," Gorman said. "Straight, white men. You see them come in, and they're well dressed and successful, and then their confidence evaporates when they get on stage."
However, those who are brave enough to take the stage gain access to a welcoming community. David Woulard, who promotes Karaoke Storytellers, knows this intimately. After coming off active duty in 2013, he went on a different kind of tour: a karaoke tour. Woulard drove from Illinois to Florida and tried to hit three venues in every state.
"I came across some really weird places in the middle of nowhere," Woulard said. "I never thought I'd be accepted, but I was. It gave me an opportunity to really connect with people."
The man in the mirror
Woulard always appreciates when a performer at Karaoke Storytellers takes him by surprise. He recounted a story from a storyteller who defied his expectations.
"He got into the wrong crowd, and his aunt got him into Michael Jackson, and it made him want to be a better person," Woulard said. "He was totally into the song. He was sliding and kicking and moon-walking."
"You can be anyone you want to be onstage," Gorman added. "You can be a telemarketer for nine hours a day, and be Aretha Franklin at 11 o'clock."
Gorman hosts the Karaoke Storytellers as Franny Giroux, his character from The Art of Karaoke. The film follows "artistic karaoke" performers in Chicago and other US cities and features footage from Karaoke Storytellers. Gorman describes Franny as earnest and optimistic; the character doesn't worry about whether people are judging his singing.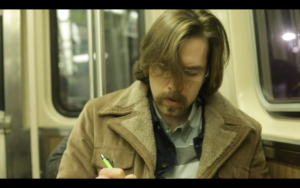 "At first there were all these times when I worried I would sound bad," Gorman said. "But then I thought, 'Connor, go away for a moment. Franny doesn't care.'"
Gorman has given a lot of thought to the ramifications of playing a character alongside people who are sharing personal stories. Although sometimes he repurposes stories from his own life for Franny's backstory, many of the stories he's told are entirely fictional.
"Some people ask, do you feel like you're lying to the audience?" Gorman said. "No. I feel like there's truth to Franny."
And besides, if a telemarketer can be Aretha Franklin and a paralegal can be Thom Yorke, who's to say Gorman can't be earnest, brave, and straightforward like Franny?
"Very deliberately at the beginning, I thought, 'Make Franny the person you want to be,'" Gorman said.
Hear my song
Karaoke most frequently happens in crowded bars. Sometimes a performer can command the audience's attention, but more often, the crowd is talking amongst themselves or planning their own set lists. In contrast, performers at Karaoke Storytellers have the undivided attention of the audience.
"We all have a fundamental need to be heard," Gorman said. "What we're doing with the show is combining two forms of being heard, [storytelling and music], and interrelating them."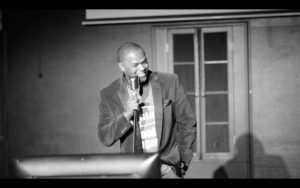 But opening up to the audience isn't always easy. Gorman found that his friends from karaoke were most nervous about the storytelling, while his friends from the comedy world were most nervous about singing in front of an audience. Beyond your run-of-the-mill stage fright, the show's construct often brings on feelings of vulnerability.
"Some of these songs have helped us through a time we felt down or less-than," Woulard said. "It's extremely personal. You're looking at the crowd and hoping that they don't know everything. But there's also a weight that's lifted off your chest, to share it with someone else who's felt that way in the past."
It's fitting, then, that Franny Giroux closed out the show on June 24 with a rendition of "The Weight" by The Band. As he rocked back and forth to the rhythm, eyes half closed, it felt as though we'd all taken a load off.
Karaoke Storytellers runs every Sunday night in the Mission Theater at iO, 1501 North Kingsbury Street. In September, the show will transfer to the Athenaeum. To sign up to perform at a future show, email Connor Gorman at karaokestorytellers@gmail.com.
Bex Ehrmann (they/them/theirs) is a theatre-maker, teaching artist and writer. Since graduating from Northwestern University, Bex has worked with a number of theatre companies including Chicago Shakespeare Theater, Imagination Stage, Washington Improv Theater and About Face Theatre. In their spare time, Bex enjoys doing improv, interpreting their friends' dreams and going outside.