Pictured above: Carolyn Molloy as Bernadette in TUTA's 2016 production of The Edge of Our Bodies/Photo: Anthony LaPenna
On July 7, TUTA offered a workshop in clowning called Building Physical Characters. I've noticed that clowning has played a huge role in the experimental scene in Chicago, both as an acting methodology and as a source for subversive styles and material.
For example, in early 2017, I saw Trap Door Theatre's production of The Resistable Rise of Arturo Ui, a play about a Capone-esque gangster, written by Bertolt Brecht and directed by Victor Quezada-Perez. The play was performed with the exaggerated gestures, bits and costumes of clowning, including red noses.
There were a lot of funny moments, but the overall effect of the clown elements was to appall. This contrast corresponded perfectly with the playwright's depiction of the gangster as cheap and useless, when they are often portrayed as gritty and noble. It was so effective and surprising. I wanted to understand where this style came from.
According to Trap Door, Paris-based Victor Quezada-Perez incorporated European clowning techniques to create his style "la mise en clown." Paris is also home to Ecolé Jacques Lecoq, the mime, clown and physical theater school instrumental in disseminating these techniques globally.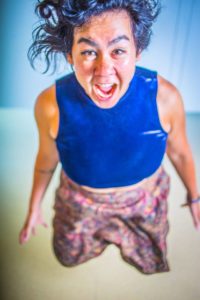 Aileen McGroddy taught the July 7 workshop. McGroddy is artistic director of Forks and Hope, and a freelance movement director, director and teacher. TUTA's workshop began with an exercise to help participants trust our physical impulses by walking and responding to prompts like "Jump." Then, McGroddy introduced an exercise called The Ministry of Silly Walks (after Monty Python), which took the impulse one step further to create a character.
Our job was to enter; make eye contact with the audience; make an extreme physical choice on impulse,—such as wrapping one arm around your neck—and approach center stage using the walk that physical choice required.
McGroddy said she adapted this exercise from Alex Balestreri of Redmoon, another Chicago theater that drew heavily on clowning. These techniques are shared from artist to artist as much as through any formal training, as each adds to their toolbox.
Another exercise, material work, was adapted directly from L'École Internationale de Théâtre Jacques Lecoq, where McGroddy trained. In it, we held a light bulb and considered all of its characteristics. It's round; it's hard; inside is a vacuum; it's fragile; it can be dark or illuminated. It has one end that connects to an energy source to cause this transformation.
Then, she asked us to physically become a light bulb—whatever that meant for us. We moved around the room, each of us a light bulb. Gradually, she had us interact and become more human in increments. We found ourselves at a singles mixer for light bulbs. She asked us to now become only 10 percent light bulb and 90 percent human.
According to McGroddy, Lecoq was interested in the relationship of the performer's body to objects in space and as an object in space.
Of course, the secret to taking cues from objects was to approach them metaphorically, not literally.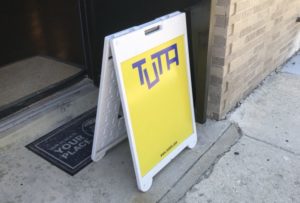 "Paper is the most tragic material because it bears the scars of everything that's ever happened to it," McGroddy said, referencing Lecoq's research. "Foam is a comedic material because you can abuse it and it just pops back."
Techniques that explored physical extremes could be used for performances in any style.
"The activities we did in class are primarily designed to force the imagination to work with the body to generate something new," McGroddy summarized. "Performers, as you know, are people, and people are made of habits that are baked deeply into our bodies. By placing impossible rules onto the imagination ("be a tennis ball") you are also asking your body to reconsider its habits. [This] engenders a literacy of the body while demanding generation of material."
When asked to become only 10 percent light bulb, one actor discovered he had retained a habit of rubbing his hands. It was extremely specific and evocative—but also very human. It would have made sense in any Ibsen production—not just the circus version.
I didn't take the class to apply clowning to naturalistic performance, but the fact that you could, gave me unexpected insights.
One insight was that clown and naturalistic behavior are points on a continuum—and where they're located depends on what society expects of us. McGroddy relished pointing out how the exaggerated behaviors acceptable in class would not be acceptable riding home on the train.
The second was that clowns and naturalistic characters are both expressed with physical choices. The only difference is in the level of exaggeration. It reinforces the notion that naturalism is not more realistic than more experimental styles, but is just one style among many.
TUTA is committed to producing theatrical and educational events that bridge all forms of cultural and geographical divides. On July 25 and July 27 at 8 PM, TUTALab 2018 will present Hedda: SOUND & SPACE (An Ibsen Experiment), based on Henrik Ibsen's Hedda Gabler, at TUTA Theatre, 4670 North Manor Avenue, in Ravenswood Manor. Learn more about the event at facebook.com/events/278037392760392. TUTA also periodically offers acting workshops; learn more at tutatheatre.org/classes.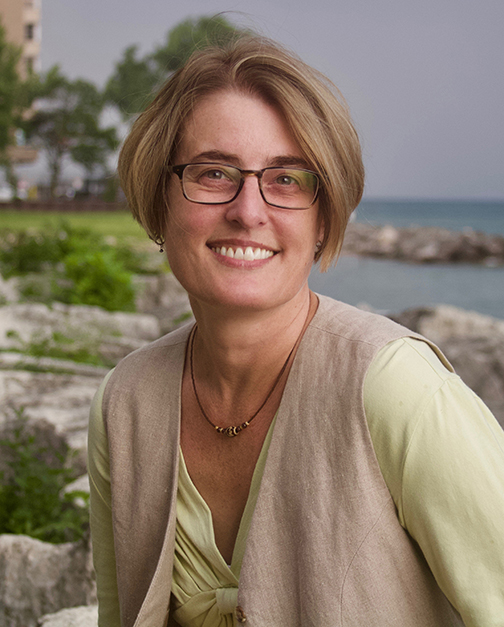 Wendy Schmidt (she/hers/her) is a playwright and the literary manager of Three Cat Productions. Her work has been seen at Three Cat, La MaMa, Chicago Dramatists, 20% Theater Company, and heard on Small Fish Radio. Learn more at www.wendyschmidt.com or connect with her on Facebook.