Pictured above: A photo from Peeling the Onion: a Basement Series Event, featuring four, ten-minute plays written by current, former and future playwrights collaborating with The Agency/Photo: Katie Reynolds & Cristian Esparza
"My day job is in a typical high-rise office building with giant windows, and in April, I found a dead bird on my car," Regina Linn, a Chicago-based film critic, playwright, and actor, wrote to me about the inspiration for their one act play The Wren, which is to be featured in the July 27th installment of The Agency Theater Collective's Basement Series.
The image upset, stirred and inspired Linn. And, it is no wonder. The image must have been a shock; a hiccup in a pattern of visual monotony. One can easily imagine the movie montage version of this story: views of the city through the car windshield, glimpses of the city through the "giant windows" of the office, images from the internet seen through the window of computer screens, and then… Pause. Pan Down. Zoom in. Focus. A dead wren.
The moment provided Linn with a fortuitous—if not depressing—meeting of form and content. This kind of visual surprise is exactly what they are after in their artistic and critical work.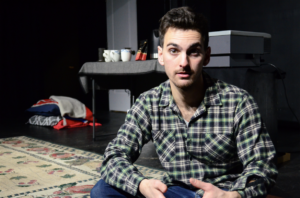 "The camera gives an experience that enhances our natural gaze, but the tradeoff is that it's a fixed experience," Linn wrote, discussing the differences between film and live performance. "What's happening outside the borders of the camera is lost."
And, what is more, what's happening outside the borders can sometimes be magical.
"I saw David Byrne in concert last month," Linn continued. "And my nosebleed seats didn't give me much in the way of observing his relationship with his band the way you get intimate access to the sense of playfulness on stage in Stop Making Sense, but a filmed version of [the concert that I saw] wouldn't have given me the ability to see two middle-aged guys in the row in front of me high five each other after Once in a Lifetime, which was one of my favorite moments of a pretty incredible show."
In creating their own live performance work, Linn has taken these observations to heart. They strive to create work that allows for each audience member to become their own freewheelin' camera. That puts focus on characters, images and events that are often excluded by the camera. In this way, The Basement Series is the perfect home for their work.
"The Basement Series is an experimental space for the Agency's Collective [of which Regina is a member]," Jack Schultz explained.
Along with acting as one of the Agency's "Agents," he is a head organizer of the Basement Series and a frequent artistic collaborator in the ongoing project. The Agency Collective itself formed as a new artistic ensemble in March 2018.
There is a smaller committee that oversees the creation of each Basement Series event. Each month, they examine the Collective members' submissions and curate an event based on the kinds of material that came in and the way that that material converses. Once the pieces have been chosen, there are a few points at which the artists and the committee can share feedback, but the individual pieces mostly work in a vacuum.
"Then," Jack continued. "A week before the performance we have a tech/dress."
It is then that found objects and articles of clothing come together to suggest new worlds. The whole process is simultaneously ramshackle and tight, like a rusty and overspilling filecabinet that makes complete sense to its owner. Linn fits right in, as they self-profess that they are "the kind of person who flourishes creatively within set boundaries."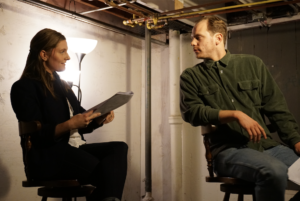 The Basement Series does not simply offer Linn a routine and collaborators, though. It offers them an aesthetic and a chance to exercise their and their audience's imaginations. "Gathering in an unfinished basement for the purpose of performance art is a really special thing to be a part of," Linn writes. "It reminds me of playing in my friends' basements when I was a little kid — letting your imagination take you wherever, improvising props and costumes, sharing your ideas and secrets with each other."
"Materially," they continue, "it's quite modest; ideally, there's infinite potential." It is, in fact, the limited quality of the space that makes it so open. The constraints force the powerful, childish qualities of the imagination out of their slumber and into full activation. With concrete floors, stained walls, and pipes hanging from the ceiling, the titular basement cannot be anything other than what it is. And, so, each audience member must use their mind's eye to collaborate with the performers in summoning the world of each piece.
Moreover, the space epitomizes Linn's interest in highlighting those things generally left off screen. It neither asks for focus or even particularly comes across as a performance space, which makes its use and the attention that The Agency lavishes on it all the more titillating.
Linn is going beyond using the disturbing bird carcass and the visual terrain of the basement to stage their theoretical interests, though. They are foregrounding bodies that are often excluded from media. Along with writing and directing "The Wren," Linn is acting in the piece alongside DeChantel Kosmatka.
Linn explains that as "someone who is fat and nonbinary," they often had to struggle to identify with what they saw in films, "a medium with which I'm in love." Through acting and creating opportunities for themself, however, Linn can assert that characters like them are deserving of focus.
When Linn moved to Chicago six years ago for a job, acting – which had been a regular part of their life – began to fall away. Then, a free Meisner class at Green Shirt Studio, which shares a space with The Basement Series, got Linn back into the habit and eventually led them to see a Basement Series event. One thing led to another, and here they are, back in the game of creating new work.
"Initially…" they explain, "[I thought] that there are no stories about me, so why waste time auditioning? But thankfully, I decided to lean into my distaste for my life choices being dictated by jerks." Pan. Zoom. Focus. Jerks be damned, the camera is looking at something new.
The Ties That Bind, A Basement Series Event occurs on Friday, July 27 at 10 PM at The Agency Theater Collective at 4407 North Clark Street. For more information, visit https://www.facebook.com/events/262362497875094/.