Pictured above: June Thiele at the event I Gotchu: Showing Up for Intersectional Women's Rights/Photo: Adam Sings In The Timber
I met June Thiele before Pop Magic Productions' quarterly salon series Homeset on April 14. While I'm usually at Homeset as an audience member or journalist, I was there that day volunteering as the sole poet for Poems While You Wait. Thiele approached my typewriter and me and requested a poem. I recognized them and asked if they were one of the headliners for tonight's show. Thiele confirmed this and warmly chatted with me about writing and the play that was going to be performed during that night's set.
Thiele described the piece as an "untitled play about identity and how identity continually changes and develops" in their pre-performance interview with Homeset co-curator/host Denise Yvette Serna.
"I'm also crap at thinking of titles for my written work, that's why it's untitled," Thiele said in the pre-Homeset interview, revealing their humorous commentary long before I met them in person.
Thiele is a Native American, two-spirit actor, writer and performance artist, who came to Chicago from their Indigenous home of Alaska in 2008. Thiele has been dedicated to furthering Indigenous culture by creating modern Native narratives through theater, performance arts and storytelling.
"I want to see more Indigenous collaboration and support," Thiele said. "I want to see Indigenous people creating stories that push stereotypes and create modern narratives."
I sat down with Thiele to discuss their art, their goals for Chicago theater and their experiences with identity.
・・・
I thought it would be appropriate to start where we left off, which was your play that was performed at Homeset. How did you feel about it after it was performed? Did it give any new insight to the piece and what you were thinking for it?
Thiele: I had just written it off the cuff. Then one day, Denise Yvette Serna asked 'do you want to do something for Homeset'? I pitched this random play I wrote. She liked it!
When I was able to see the Homeset rehearsal, I put some of my input and the direction I had envisioned for it, although I let Denise take most of that work as she is a director. That was really nice. I haven't done this all that often.
You mentioned you haven't been doing this much. By this, do you mean playwriting or having plays read/performed?
Thiele: Both, I would say. I am an actor. I went to Columbia College for acting and I never thought about playwriting. Playwriting sort of fell into my lap as I was thinking of Native narratives. They're not as readily available. Doing my own pieces lets me open it up a little. Most of my plays involve some sort of Native narrative. It's fun and it's interesting to see people's reactions to it. You're born into a world with a government that's trying to extinguish you. We're not supposed to be here. Being here is an act of defiance. That's why I like writing. It gets these stories out there, and people are thinking about it and saying 'I never had an idea that that was a thing.'
I'm thinking about this from my own identity and experiences, but I've noticed that I often have a pressure of identification, where I am forced to explain myself, explain my people, explain who I am, etc. Do you experience something like this with identity and background? Have you had moments where people expect you to be an expert on all topics related to your identity and background?
Thiele: It does happen. I'm usually the first Alaska Native person people have ever met, which most people didn't even know was a thing. There's a lot of questions… Constantly. Sometimes it gets a little overwhelming.
I feel like a lot of things are like that for me… My queer identity. The genderfluid aspects of me. It makes me have to box myself, which I don't really care for. I don't need to put myself into a smaller box. Which is constantly happening. It's interesting.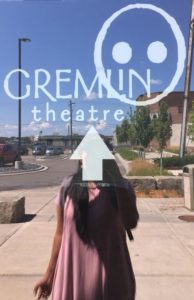 At the same time, writing about your experiences and identity, is that a type of response to the boxing moments? Is it therapeutic?
Thiele: I think it's definitely a therapeutic reaction.
When I think about my own experiences, I, too, struggle to want to explain and depict my background and identity in a way that is true to my ancestors and to me, but I also don't claim to have all the answers.
Thiele: Yeah, someone recently messaged me on Facebook about something and asked 'Is this appropriation? Is this bad? Is this weird?' That happens all of the time. I'm like 'Most of the time if you have to ask…' [Laughs]
[Also laughs] If you have to ask, probably don't do it!
Thiele: Probably don't. [Continues laughing] If your question starts with 'me and a bunch of other white girls,' don't do it! [More laughing] I'm glad people are having open conversations, that's cool! It is hard to be the person to combat everything a lot of the time though.
It's really hard in Chicago. With the Blackhawks mascot. I mean, mascots in general, but these mascots I see every day. It's constant stream of disrespect. You feel it over and over again… I see a jersey or a hat, I see it plastered over so many buildings, I see Chief Blackhawk… They think it's their tradition. I'm like '…Really?' This country is based on the death, murder and assimilation of my people. My grandparents had to live through beatings and abuse to rid them of their culture and not speak their language and assimilate… And now people go around with 'their tradition' of Blackhawks. I think, 'Seriously? How does this make sense?'
I try to put it in this way to make it a little clearer because people have a hard time understanding: If I killed your whole family and then played with their bodies in front of you, would you like that? [Laughs] You probably wouldn't appreciate it a whole lot. I grew up with my grandparents and a lot of the historical trauma we have is from what they had to endure.
Thinking about public school education, the lack of information that students receive about Native history, Native trauma, events that actually took place, unlike the mythological fairytale of Thanksgiving… It's astonishing.
Thiele: There are some really influential artists, theater makers and playwrights out there that are doing a lot of that work. They are getting recognized and it's super cool. I know theater hits a smaller audience, but it still influences, it still gets out there. And there is a broader scale, more characters in movies and television that are legit Native characters.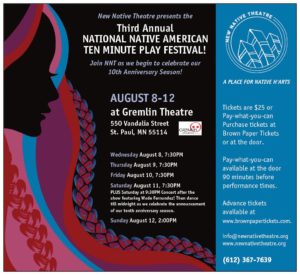 On the flipside of that, for every well-represented Native character, there is a white person portraying a Native character.
Thiele: Or you get movies that have Native people in them, stories about a Native reservation, murder and missing Indigenous women. The whole story is about these Native people and encompassing these Native issues… with two main actors being white. And I'm just like 'What the fuck is that? How did you think that was a good idea?' I can't be too down on it either, because they are also giving Native actors jobs… but it's just ridiculous.
With Scapi's focus on DIY, experimental and subversive theater and performance, resources are a big focus for us. You don't always have the resources you need, and not always the funds to have mass production budgets. You have to get scrappy and figure out what you do. What kind of settings have your shows been in?
Thiele: Most of mine have been in spaces that count as theaters. Even though Homeset was a loft/DIY space. I had a reading at the Flat Iron, too. It's been basic costumes, minimal props and minimal set. There's not a lot to go on. You don't need a whole lot to get something done. I've been doing a lot of youth theater. Most of the spaces have been smaller budget, DIY. I'm available for it. For those kinds of spaces, the biggest thing you have to worry about is promotion. If you don't have a big budget, you don't have a budget to promote either. You have to do promotions on Facebook, Instagram and Twitter. If you don't have social media skills, you will fall short.
What kind of work are you seeking out in Chicago? What kind of work are you trying to find?
Thiele: I'm looking for Native collaboration. I really want to see Native theater. This doesn't happen so often in my theatre circles in Chicago. I do have a good Native community here in Chicago, but I feel like I'm really bad at scheduling. If you want to create something, you need to schedule.
What does your writing process look like for this story? For others?
Thiele: That's what my therapist asks me. [Laughs]
Journalist, therapist… I'm multi-purposeful! [Laughs]
Thiele: If it's my own work, like a passion project, I write when I feel inspired. If I have a deadline, I wait until the last minute and think 'Fuck, I gotta write something!' Why it takes me so long to get pieces done is because I let my brain think about it and my brain continues to think about and I can't stop thinking about it for the longest time. It's great because my brain rolls it over, then the spark hits and I start writing.
It's funny; I was talking to my mom about making my wedding ring because she's an amazing artist; she does scrimshaw, which is etching on ivory. She's really incredible. I asked her to design my ring. We talked about our ideas and what each of us thought was interesting. I'm getting married in October, so I texted recently and asked if she had a sketch ready for me. She told me that she was rolling over the ideas in her brain. At that moment, I realized that was where I got it from. That's how I do my art.
・・・
Thiele and I met at The Aberdeen Tap at 440 North Aberdeen Street. It was a beautiful and windy day; we exchanged beers, chatted and laughed throughout our whole conversation. Thiele spoke graciously and empathetically about the matters important to them, always being sure to insert humor and laughter into the observations and analyses they had made over a lifetime of art and activism.
"You're born into a world with a government that's trying to extinguish you. We're not supposed to be here. Being here is an act of defiance," Thiele had said. This stayed with me.
I distinctly remember a gust of wind hitting us at the moment that Thiele said this as if to echo, empathize and respond to their story.
June Thiele's wrote Zoe What's Her Butt; it will be presented at New Native Theatre's Third Annual Ten Minute Play Festival August 8-12 at Gremlin Theatre in Saint Paul, Minnesota. More information can be found at newnativetheatre.org/in-the-news.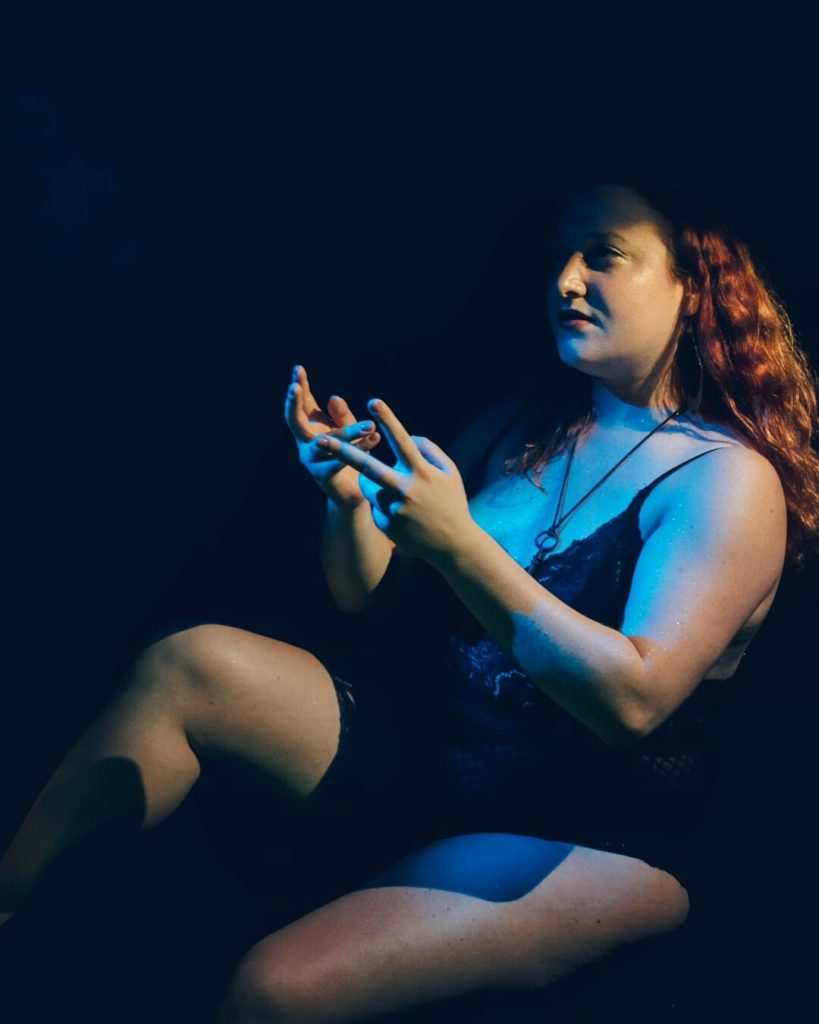 Danielle Levsky (she/her/hers) is the Theater Editor of Scapi Magazine. She is a feminist, Jew, poet, essayist, performance artist, and instructional designer. In addition to her work at Scapi, she has covered community news, arts reviews, lifestyle editorials, and cultural events for several publications. Between February 2018-2019, she completed a fellowship where she wrote a collection of community-engaged essays about her identity and heritage. She also writes typewriter poems on demand with Poems While You Wait. Follow her on her poetry Instagram to read some works in progress.