Pictured above: Frank Okay on the set of Earth Motel/Photo: Courtesy of Frank Okay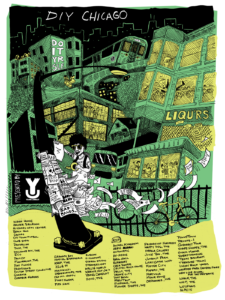 "Art Director, Touring Musician, Creative Director, Toy Store Manager, Sr. Design Consultant, Illustrator, Talk Show Host, Arts Collective Founder, Barista, Graphic Designer, Creative Manager, Video Editor, Photographer, Chuck E. Cheese Game Room Attendant, Finish Line Manager, Kid Who Works at Target and one time I dressed as Buff Andy Warhol With a Dog Face Covered in Scorpions for Halloween."
Frank Okay's description on their website is a mouthful but speaks to the multitude of their work as an artist and creator. We first learned of Okay's work through the DIY music and theater community. They designed and created posters that listed "living" and "dead" DIY venues around Chicago. The posters have since become a mainstay in the community.
They moved out to Baltimore with their fiancée in 2017,  after living exclusively in the Chicagoland area.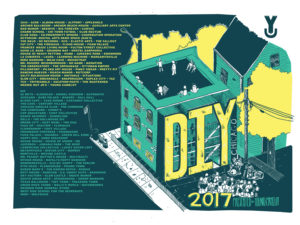 "It's a really weird city," Okay said of Baltimore. "It has a really strong personality. I'm a person who is really, really into cities and urban planning and new urbanism and all that stuff. (Baltimore) is a place with a very specific personality. A lot of times people will ask if Baltimore is like "The Wire" or a John Water movie and the truth, in my opinion, is that it's both simultaneously."
Okay spoke of the city's eccentricity and the variety of people one can meet while traveling around Baltimore. They also mentioned how nice it was to live in a place where the cost of living is drastically less than Chicago, like the warehouse space and home they found, they found where  they could build something like a "13-foot tall painting."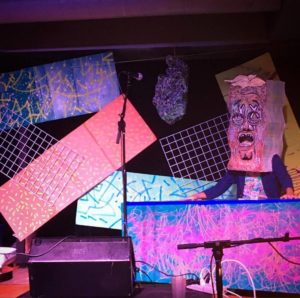 Having grown up in the Chicagoland area, it was an adjustment to move away because of how much they love Chicago. After 15 months in Baltimore, they are now returning home to Chicago. They will take on new projects and explore the possibilities of their old mainstay show. The Ghost Planet.
The DIY music scene will see Okay's posters from time to time as it is a "passion" of theirs to create them.
But in particular, Okay is elated to return to their work on The Ghost Planet, a monthly art collective/variety show. The Ghost Planet is based on a fictional version of Okay that moved away from Earth and onto "The Ghost Planet." As a cultural ambassador, they would take artists from Earth to "The Ghost Planet" to make art and help address Earthly customs, Okay explained.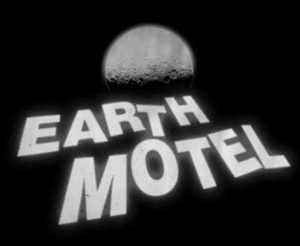 Since they aren't able to use the name The Ghost Planet anymore (The Ghost Planet, it turns out, is copywritten), Okay branched out with the idea to create something new.
"Our name is now Earth Motel," they said. "We have an entirely new show that will live online.  We're going to film that and when we get back to Chicago. We'llget a big space for the collective and do shows in the space. We'll try to go to legit, 501c3 nonprofit status and produce something similar, but hopefully better than before."
Earth Motel will star the same character from The Ghost Planet who got into some "intergalactic legal trouble" and was sent to a deserted planet. On this planet, they run an Earth-themed motel. Guests come and stay and do what they did before on The Ghost Planet.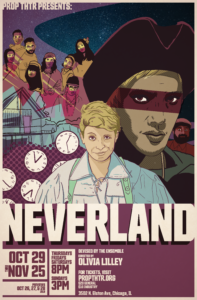 Okay will be splitting their work time between their two great artistic passions: illustrating and creating their new show, which will be both "interesting and thought-provoking."
"(The show) is the stuff I always wanted to make over the years of being an artist and musician," they said. "I wanted to create more than two-dimensional art of music or video. I wanted to do something all-encompassing and interdisciplinary. It's a way for us to share all of our creative things and offer space for others to share their creative things. It's a way for us to be creative activists."
For more information about Frank Okay and their work, visit their website at frankokay.com.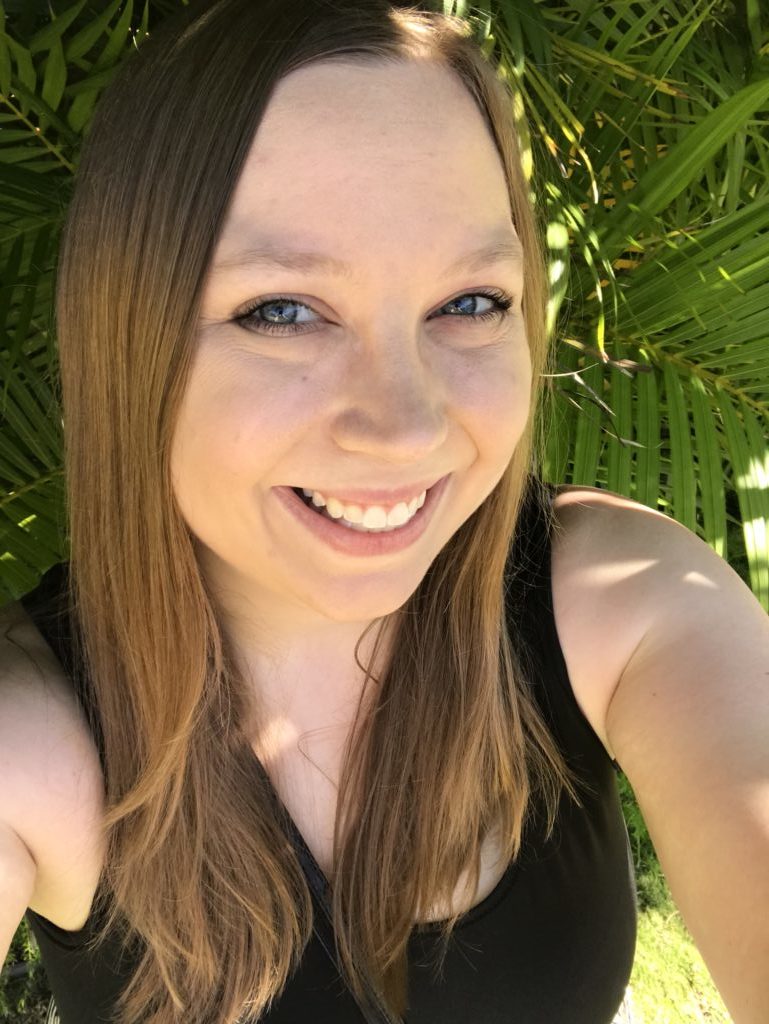 Amanda Finn (she/her/hers) is a contributing theater writer and social media manager for Scapi Magazine. She is also the Illinois editor and venue relations coordinator for Footlights Performing Arts Magazine. When she isn't writing Amanda is usually off admiring Chicagoan wildlife (yes, like the pigeons) or spending time with her husband and pet bunnies. Feel free to connect with Amanda on her Facebook, Instagram or Twitter.