Pictured above: Tulga, the strongman in MSA & Circus Arts' Fly-By-Night Circus/Photo: Angela Fernandez
Friends, families, students, professional performers and curious new faces alike gather once a month for MSA & Circus Arts' Fly-By-Night Circus. The show is like a backstage pass into the professional circus performer's process, exhibiting top-tier performers tinkering with new concepts and fresh stunts in front of a supportive community.
While the background of the space is highly informal—full of rolled up gym mats, cartwheeling children and folding chairs—the foreground hosts 10 acts of circus masters testing their skills and innovation. After leaving awe-struck by October's set of high-flyers, hilarious clowns and extreme balancing acts, I interviewed Hayley Larson, Fly-By-Night's production and social media assistant, to learn more about the show.
・・・
How did the Fly-By-Night shows get started?
Larson: About two years ago, one of the other Chicago circus communities had an ongoing show that had to move spaces, putting a stop to their show for a while. Taylor Springs (who was at MSA but is now on contract) thought, well we all need a space to practice our acts, get videoed and get feedback from our peers, so we should fill that void by having our own show. The organization that had stopped their show now opened a new one, called Sanctuary, a more formal performance. Theirs is geared to the general public as a high production level show, where the spirit of Fly-By-Night is more: "bring whatever you got, try a thing and see how it works."
How do you organize your shows every month?
Larson: We have a mixed process. Usually half of the performers reach out to Douglas or me asking to perform. We require a video to assess them if we aren't familiar with their work. And the other half are people we know and have reached out to. We also try to have half ariel acts and half ground acts.
Most of our acts are high-level performers; we limit one to two student performances per show. Usually, we're geared for professional performers who are choreographing or trying out a new act and need a place to get it on stage.
I love the informal, casual nature of it. It lets people actually try things under less pressure, which is super important for any artistic community. We create a space to just do things regardless of whether it's a final product.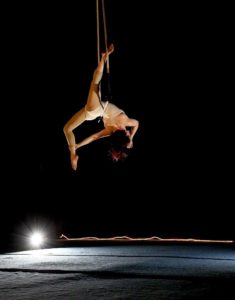 What do you think your acts provide for the performers and audiences?
Larson: Performing is both really fun to do and feels really fulfilling, especially if you're a mover, being so strong and capable of doing crazy things. And for an audience member, it's really important to have performances to help you escape the real world and believe anything is possible. It can be silly, it can be dramatic, but the overall theme is: look at how incredible human beings can be when they put their minds to something.
What's the circus scene like in Chicago right now?
Larson: The circus community in Chicago is very large and varied. There are four major places where you can train circus, but they all have their own little communities that are different.
Fly-By-Night happens at MSA and Circus Arts, standing for Meirmanov Sports Acro. It's run and owned by two Russian acrobats who bring the more traditional circus to Chicago. There's a lot of ground acrobatics, partner acrobatics and partner apparatuses that require three to four people. It's also got a really good kids program.
Aloft Circus Arts, which is in Logan Square, is probably the biggest circus school in Chicago and is geared mostly towards aerialists. They offer all kinds of aerial apparatuses and have a huge recreational program for anyone who wants to try a class. They're the ones that have one of the other circus shows currently running, called Sanctuary. They also have a professional training program, bringing in people from all over the country who are up-and-coming professional performers to train full time.
Third, there's the Actors' Gymnasium in Evanston. It's geared towards circus as a performing act from a theatrical perspective. They lace together acrobatics, clowning and traditional theater. They also have a really good kids' program.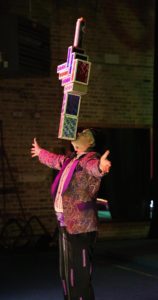 Lastly, there's Aerial Dance Chicago. They don't actually call themselves a circus, but they are aerial dance focused, which is closely related. They offer classes from a less acrobatic and more artistic perspective.
I'd say we're all just different enough that we're not in competition with each other, which is very lucky for us.
Are there any major obstacles Fly-By-Night faces?
Larson: The biggest thing is probably just logistics: getting everyone to show up at the right time, making sure there's someone to play the music, the gym is available, the lights all work, etc. Everyone involved has crazy schedules. Most of the performers work with multiple companies, are also teaching and also hold non-circus jobs. We are never all available at the same time, so the first time the whole cast is together is 30 minutes before the show starts. You have to be on your toes and fly with the punches.
What's the most rewarding part of working with Fly-By-Night?
Larson: My favorite part is seeing all the different performers come through. We have almost entirely different casts every single month, and I love being able to see what everyone is working on and how they develop. For example, someone will bring an act in May and then ask to come back in November with the same act. You'll get to see how much work they've put into it and all the ways they've incorporated the response from their audience and peers. It's satisfying to see people's growth in circus.
・・・
Fly-By-Night's donation-based performances occur the second Friday of every month. The next performance will take place on December 14 at 8 PM. More information can be found through the MSA & Circus Arts website msacircusarts.com/fly-by-night-circus or on the Fly-By-Night Facebook Page facebook.com/FlyByNightCircus.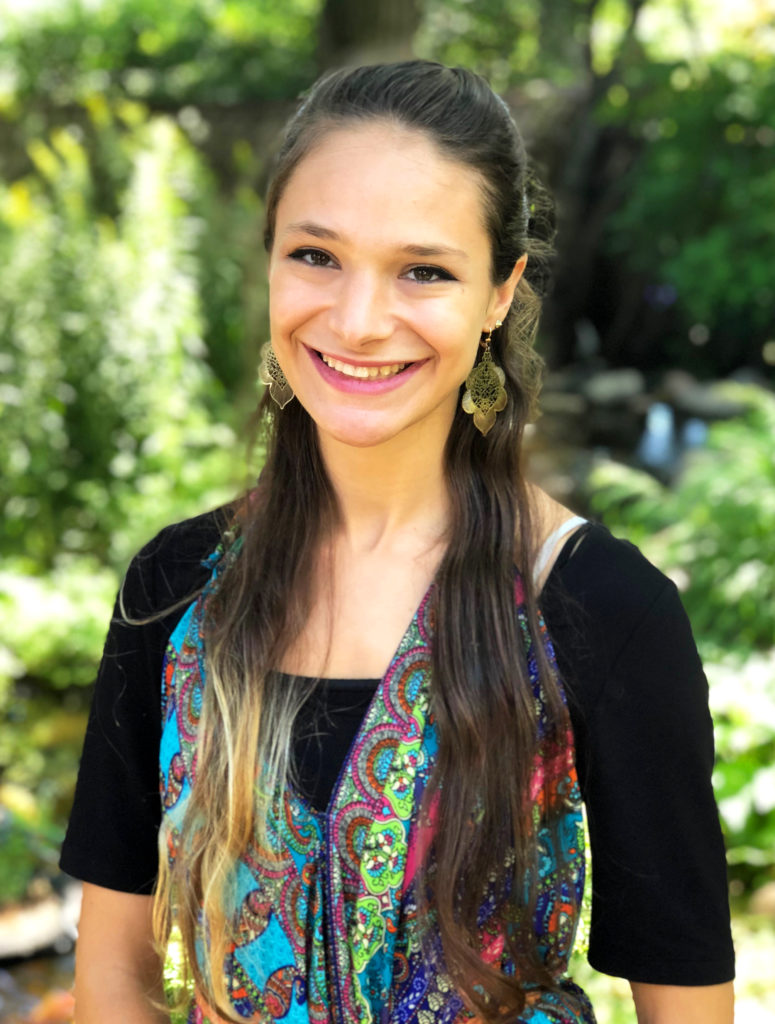 Shoshana
 Rice (she/her/hers) is a Chicago-based freelance journalist who studied English and art studio at the College of Wooster. Also a photographer, avid traveler, outdoors enthusiast and Jewish educator, she loves art of every variety and connecting people to new ideas. She has written about topics ranging from non-profits in Uganda to dance festivals in Israel, and you check out more of her work on
her website
.