Pictured above: Tommy Spears and Adam Tatum in Highstreet and Mook's Dresden Follies/Photo: Katie Ruppert
Editor's Note: This is an expression by Olivia Sieck in response to Highstreet and Mook Present: Dresden Follies in a game form; it is followed by information about the work and process.

Though Dresden Follies was chockful of improv games and vaudeville performance, my personal favorite bit during the show was when a mime, played by Danny Wightkin, created a DIY fireplace on stage. Sadly, he only had one stocking in his suitcase and then encouraged the audience to put their own shoes or socks near the fireplace. Once there were enough participants, he placed little toys in the shoes or socks like Santa Claus. I got bubbles!
Dresden Follies at Otherworld Theatre Company is about two vaudeville performers, Highstreet and Mook, who are about to perform in a German prisoner of war (POW) camp on Christmas day during World War II. Suddenly, they are swept into a time travel adventure in iconic holiday scenes from popular books like Slaughterhouse-Five and A Christmas Carol.
Since this show was a parody of popular science fiction and holiday films and books, I created a game where I mashed popular sci-fi/dystopian books with holiday phrases. The answers are down below. Don't cheat!
・・・
Go through the list of numbered titles below to determine which popular sci-fi/dystopian book has been mashed with holiday phrases. After, check your answers down below!
A Kringle in Time
Merry New World
I, Rudolph
The Stocking Stuffer's Guide to the Holidays
The Man in the Red Sleigh
Frosty 451
Candy Canes for Algernon
The Vixen's Tale
I am Santa
F For Fruitcake
Lord of the Fir
North Pole-Five
12/25/18
Do Elves Dream of Sugar Plum Fairies?
Reindeer Farm
Snowflake Troopers
The Jolly Man's Wife
Ready to see if you were correct?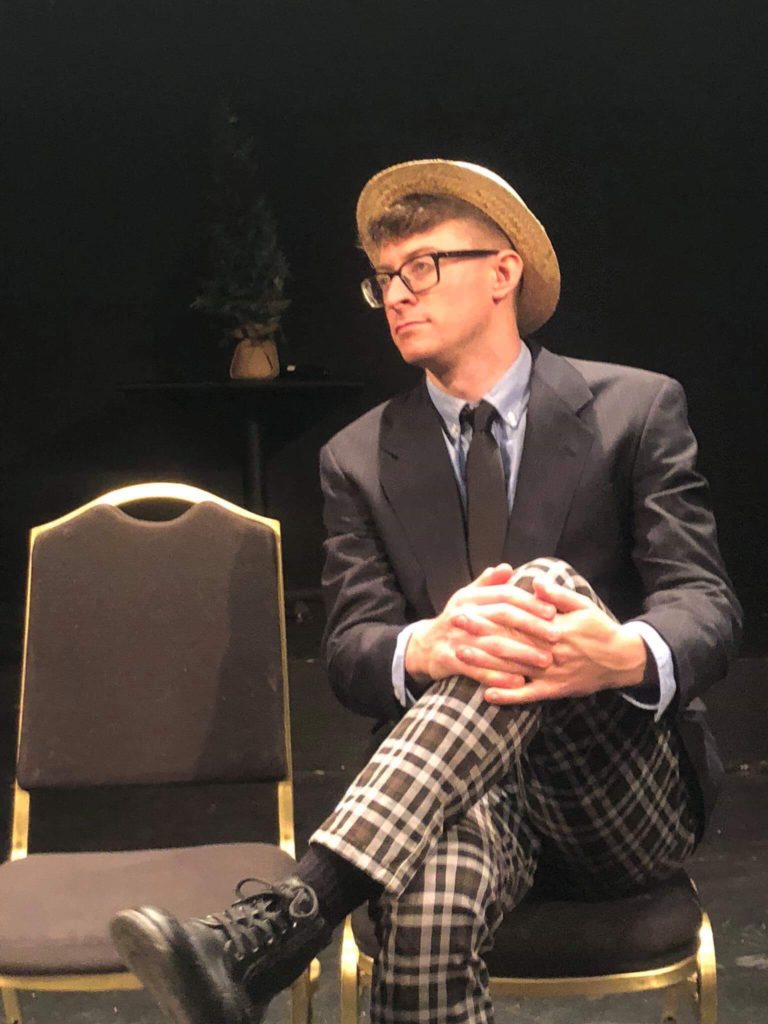 Answers below!
A Wrinkle in Time
Brave New World
I, Robot
The Hitchhiker's Guide to the Galaxy
The Man in the High Castle
Fahrenheit 451
Flowers for Algernon
The Handmaid's Tale
I am Legend
V For Vendetta
Lord of the Flies
Slaughterhouse-Five
11/22/63
Do Androids Dream of Electric Sheep?
Animal Farm
Starship Troopers
The Time Traveler's Wife
・・・
This show is perfect for folks who love the holidays, but can't stand the cheesy specials on Netflix or Hallmark. The audience participates in the show by helping Highstreet and Mook navigate the meaning of the holidays during the dark time period of 1944 to 2018.
The show remains relevant as the United States still has active Nazi and white supremacist organizations. Perhaps this makes Dresden Follies even more meaningful: Highstreet and Mook are able to find the "light in the darkness" by providing political humor during a devastating chapter of human history.

Highstreet and Mook Present: Dresden Follies performances occur Saturdays at Otherworld Theatre Company, 3914 North Clark Street through December 22. More information can be found here, via email at info@otherworldtheatre.org, by phone at (773) 857-2116, or on Facebook.
Olivia Sieck (she/hers/her) is an actor/writer who is very excited to delve into the world of DIY theater in the Chicago community. She's currently the Literary Manager at PS…Burlesque.