Pictured above: Capture from Jen Kutner's The Other/Photo: Micki Harris
What does it mean to be in a relationship with technology? Her literalized this on screen, but the artists in Her Environment Series's exhibit Entanglements posit a much messier, queer affair. Open relationships: capacious, mutual, unclosed loops. Dangling wires dared you closer, along with a throng of other part-time lovers.
Curated by Chelsea Welch and Iryne Roh, Entanglements offered an intimate evening entwined with multimedia. New media installations and time-based performance work rubbed shoulders, charged with probing technology's close (and erotically charged) presence in our lives.

Entanglements was more interactive than your typical gallery exhibit, a tactile and conversive space wherein attendees are encouraged to participate in performance and object works. Here, there was a feminist bent (fuck your all-boys club, tech culture): recurring themes of sexual violence, consent, and boundaries circulated through most of the art. The exhibit made no effort to claim technology as a refuge or safe space from systems of violence, instead of pushing attendees to lean into discomfort and examine their own complicity and entanglement within such systems of oppressions.

Brace yourself for a menacing welcome from the snowstorm: as you approached the coat closet, crude catcalls and whistles emanated from a webcam/horn speaker (Snow Xu's Perfecthuman Harasser I). What a disarming machine. A sickening simulation of the all-too-pervasive public culture of harassment many of us non-males face on a day to day basis.

Now that we're all agreed that harassment is no laughing matter, let's stop by Erin Gee's #metoo resonant Laughing Web Dot Space—a virtual "laugh-in" featuring survivors of sexual violence. Attendees were invited to don headphones and listen to an overlapping chorus of victims laughing and/or contribute (anonymously) their own laughter. The maxim "Question your laughter" came to mind, as I thought of both the violent and cathartic valences of joining in laughter. My favorite element of this installation was the way it built in consent, in the form of a STOP button.

Pillow talk: another highlight of the exhibit was Jen Kutler's The Other, an open circuit system consisting of a shovel, a pillow with copper-cloth, and an electronic synthesizer sensitive to capacitive touch. To close the circuit, two visitors had to simultaneously touch the objects and each other, which created a rumbling sonic response. This system's necessitated entanglements of self/other doubled the couple figure (is the titular Other human or machine?), creating a blurring dance of mediated co-presence. Which only rippled out further: the copper pillow, with its palimpsest of lingering impressions from previous participants' touch brought to my mind Felix González-Torres' bedroom billboards, elegant public depictions of absence and intimacy.
Kutler also delivered the evening's most bodily work, introducing the performance segment of the evening with a ten-minute noise music piece Thank You For Listening. Her body was centerpiece as instrument, as Kutler quickly slipped a pink vibrator-cum- synthesizer under her skirt at the beginning of the performance, settling once and for all that you can, in fact, have sex with your musical instrument. Though it may be painful. The synthesizer amplified the flat metal guitar body, with intense burbles.


Sasha Tycko (also known by their DJ moniker, Sasha No Disco) and Sara Goodman's DJ/VJ collaboration Cruising Utopia, a multimedia ode to queer nightlife, titled in homage of José Muñoz, brought the night to an energetic close. How does the immersive sensorial environment of the club tell the story of the night? Cruising Utopia gave life to the audiovisual technologies of the club as somatic archives, thrusting the audience into the dance floor of queer history. Performative staging of nightlife, with focus on archival videos, lights, sounds, anthropological interviews with nightlife attendees, which eventually devolved into a full-throbbed dance party. But the most memorable moment: when Tycko stepped away from their turntable and performatively danced/lip-synced to Alicia Bridges' I Love The Nightlife.

One element I would encourage Her Environmental Series to be more mindful about in the future is accessibility. Yards (the site of the exhibit) was physically inaccessible, especially in the snowstorm: guests had to to descend and then climb a flight of icy stairs just to enter the space; once inside, we had to descend a steep spiraling staircase (slipped up from guests' snowy boots) to the cold basement for performances. To be more inclusive, the exhibit could have afforded more sensitivity to the ways people with disabilities are entangled with technologies to enhance their mobility.

In addition, some of the installations were not implicitly accessible conceptually. I wish the program and wall descriptions had included instructions to facilitate interaction. I was delighted to participate in all of the artwork when I received verbal context and instructions from the curators or the artists themselves, but I would not have been able to figure out how to interact with some of the pieces on my own.

On the whole, however, as an inquiry into our relationship status with machines, Entanglements was a rousing and provocative success. Don't sleep on this exhibit.

Entanglements. The opening took place January 27, 2019. The exhibition remains open by appointment at Yards, 2028 S Canalport Ave, until February 15.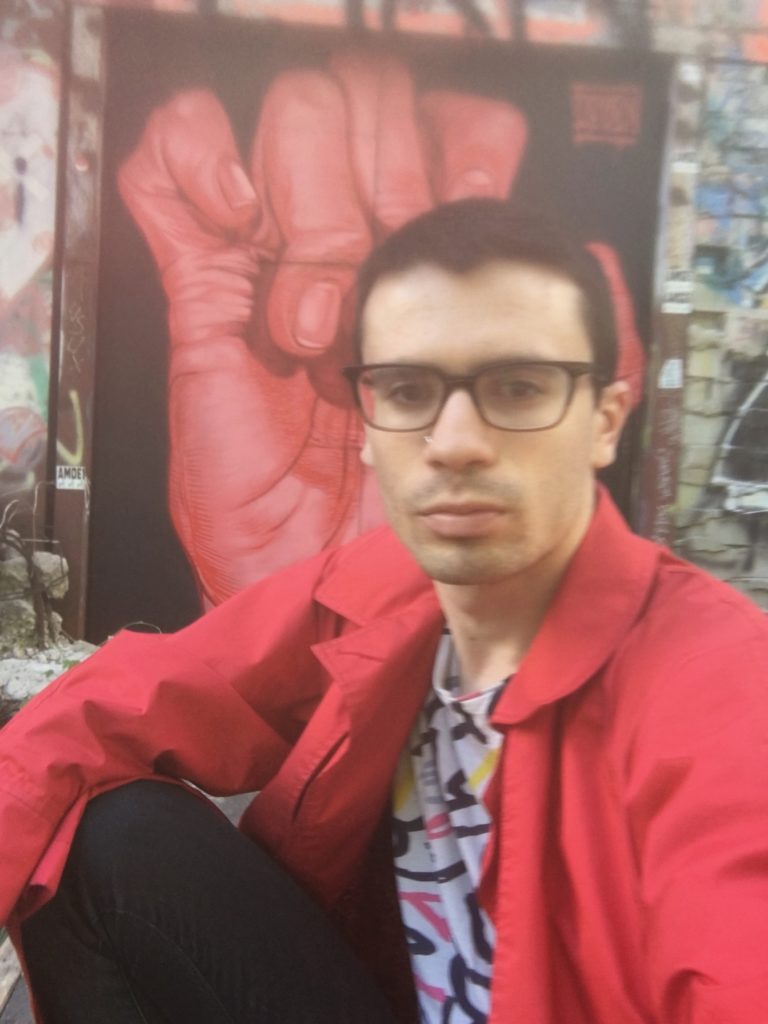 Noa/h Fields (they/them/theirs) is a genderqueer poet and performance artist from the West Side. They have written for Anomaly/Drunken Boat, Telekom Electronic Beats, and Bluestockings Magazine, among other online publications. Their first poetry book WITH is out from Ghost City Press. They are fond of techno and avocados.