Pictured above: Comic Trible Trible/Photo: Sarah Larson
As I ascended the staircase up to Mary's Attic in Andersonville, I was met by founder and co-producer of Strip Joker, Brittany Meyer. They were taking tickets for that night's show at the top of the staircase, dressed in a strappy leotard ensemble that immediately set the tone for the body positive message of the show.

Strip Joker is hosted in Mary's Attic in the heart of Andersonville, and books primarily queer comics and comics of color.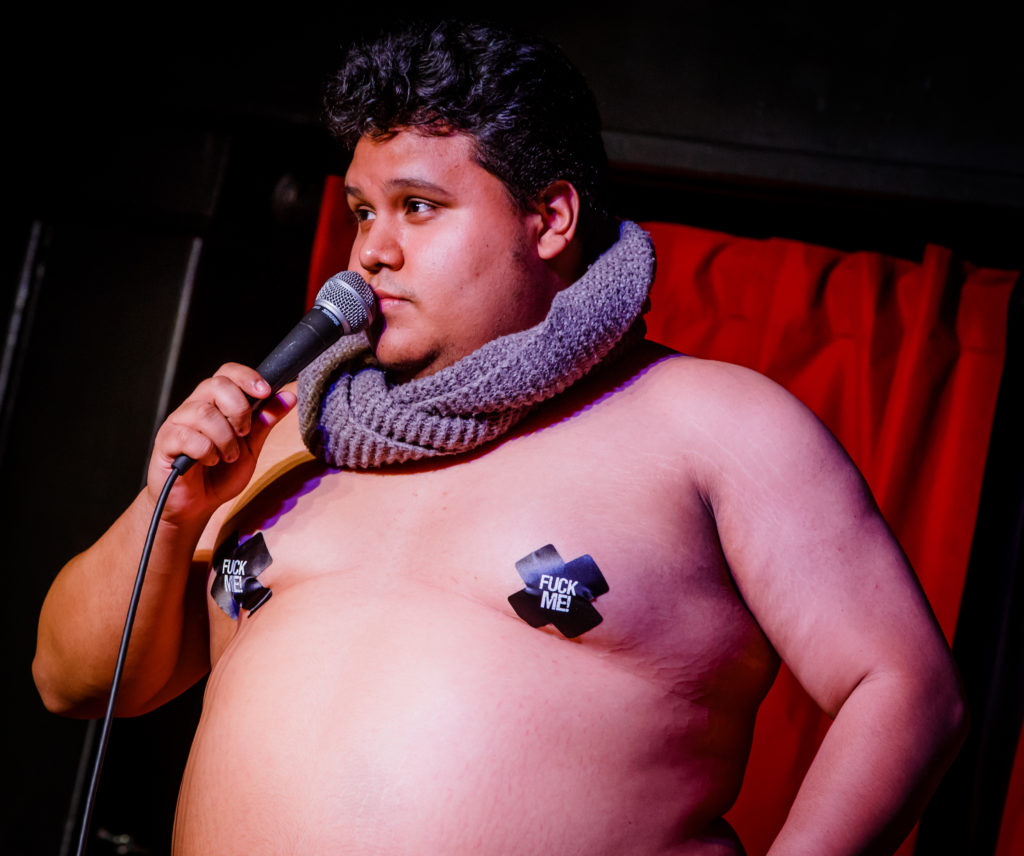 The premise of the show is simple: stand-up comics are allowed to get in whatever state of undress that they're comfortable with. Brittany's original idea came after seeing similar shows where stand-ups told jokes in their underwear, but the tone and audience felt mean-spirited.

"A lot of people involved were straight white guys," Meyer said. "And a lot of women that they booked were conventionally hot. If they ever asked me to do that show, I would never do that. So I thought, what if we made a cool, vulnerable space, for people that are not reflected in mainstream media for their body types or skin color."

Performers are given guidelines, and they are encouraged to play with, push, and reinterpret the body positive message as they see fit. Nudity does "not empower everyone" so comics are encouraged to engage on the concept of body positivity.

"Strip Joker [provides] a space where everyone is on board for you," Meyer said. "We provide a space where you can get legally naked, which is no bits or no areola. We want you to explore that. We're trusting comedians to do what they want to do. If they need any help we're also there for them."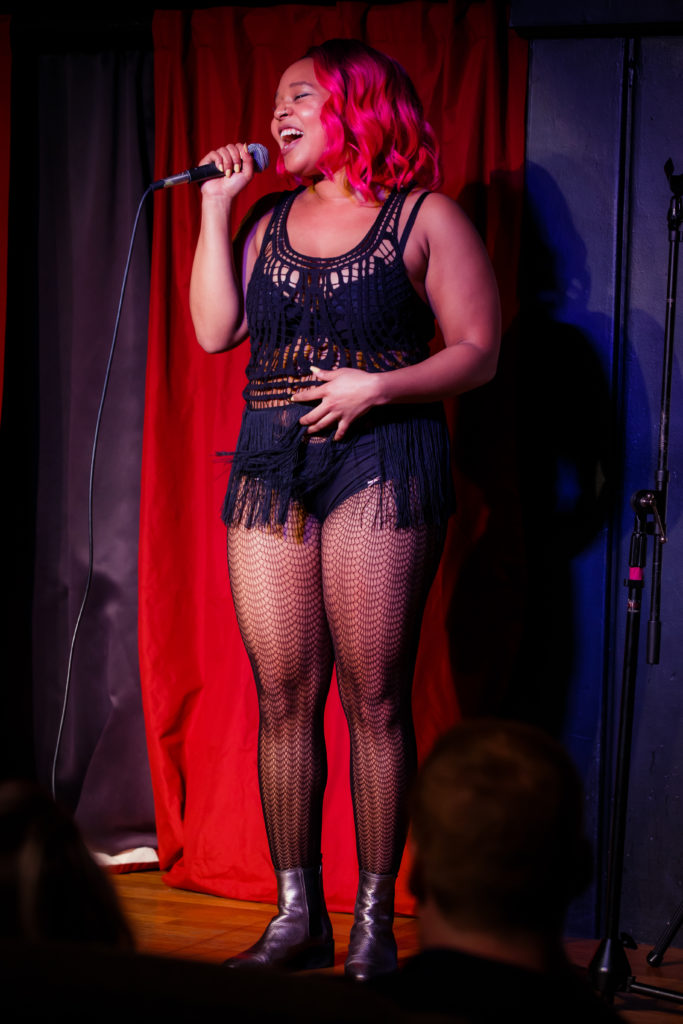 Strip Joker provides a respite from the body policing that most people, especially LGBTQIA+ individuals, face on a daily basis. By stripping away the judgement and create a safe and free space for performers, it creates a truly free environment onstage. Furthermore, it recontextualizes bodies that so often get ignored, disrespected, or exploited in mainstream, so that they celebrated alongside the jokes and voice of the performers. Bodies and jokes work in tandem to celebrate the physical and artistic aspects of the performance, fitting into the broader context of the resurgence of cabaret and burlesque that is body positive and inclusive.

This premise was reflected throughout the show I attended: Spencer D Blair stripped down to jockstrap and a T-shirt, Jayson Acevedo entered the stage in pasties and underwear, while Trible Trible was fully dressed throughout the set. Mary Zee had a bit about her Christian youth camp, where girls weren't allowed to use the bathrooms because boys could see the girls in their pajamas, thus arousing them. She deliciously played on this theme, completing her set in a corset and reverse stripping into her pajamas after expounding on the sexist assumptions of her camp counselors.

Strip Joker's previous home was Uptown Underground, and when they suddenly shuttered their doors last fall, the production team had to reassess the direction of the show, in addition to finding a new venue.

"'We have to rebrand, we have to get new producers, we have to figure out the new space,'" Meyer said, remembering their thoughts at the time. "We went through several different iterations of ideas. What if we did it in a warehouse space? What if we did it in an apartment? We did end up finding Mary's Attic. which is accessible for the most part. They do have an elevator. It meets our minimum requirement for accessibility, but it wasn't quite perfect."

Across from the stage there is a bartender that is provided by Mary's Attic. Strip Joker's production team is in charge of the rest of the logistics, including ticketing, lights, music, setting up a dressing room, a departure from their previous venue.

In this new reiteration of the show, Strip Joker now partners with local organizations. On the March 9 showing, Strip Joker was fundraising for Resilience, a local Chicago non-profit that works with survivors of sexual violence. Throughout the show, the audience was encouraged to throw money at the performers, along with vocal encouragement from the audience. At the end of each set, the money was collected by the "kitten," and all of those proceeds were donated to Resilience.

Meyer and their production team is dedicated to producing their show at Mary's Attic, and would love to produce "pop up shows in other areas of the city. Not everyone wants to go this far north, so I would love to do something on the west side or the south side. Especially working with comics in those areas."

Another partner of the show is the You Are Beautiful campaign, which Meyer said initially helped the show gain its reputation as an empowering space, especially when the show was in its infancy. Attendees were given You Are Beautiful stickers along with the programs and the sign was onstage throughout the show.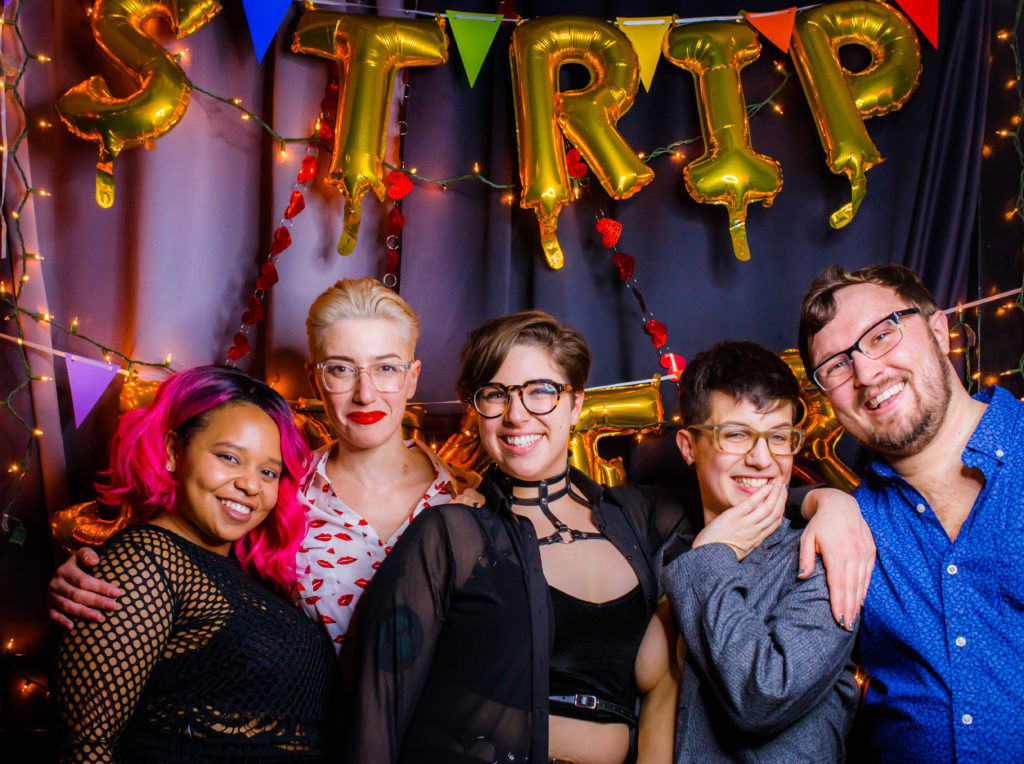 The audience at Strip Joker is truly a reflection of Andersonville. Having the show on a Saturday night makes it a popular choice as an activity for the queer community.

"It's been really nice to see queer people bring dates and they go hang out and laugh," Meyer said. "They know they're gonna see comedy and it's not gonna be homophobic. Laugh Factory and Zanies are never gonna have queer shows on the weekend, and we provide that. And we have a queer show at Saturday, instead of going to Big Chicks."

After Evan and Mary Jane finished their headlining set on March 9, an after party started for the audience and performers to mingle, bridging the gap between every kind of community.
Strip Joker is the second Saturday of every month at Mary's Attic, 5400 North Clark Street. The next Strip Joker will take place on April 13. Find out more information here.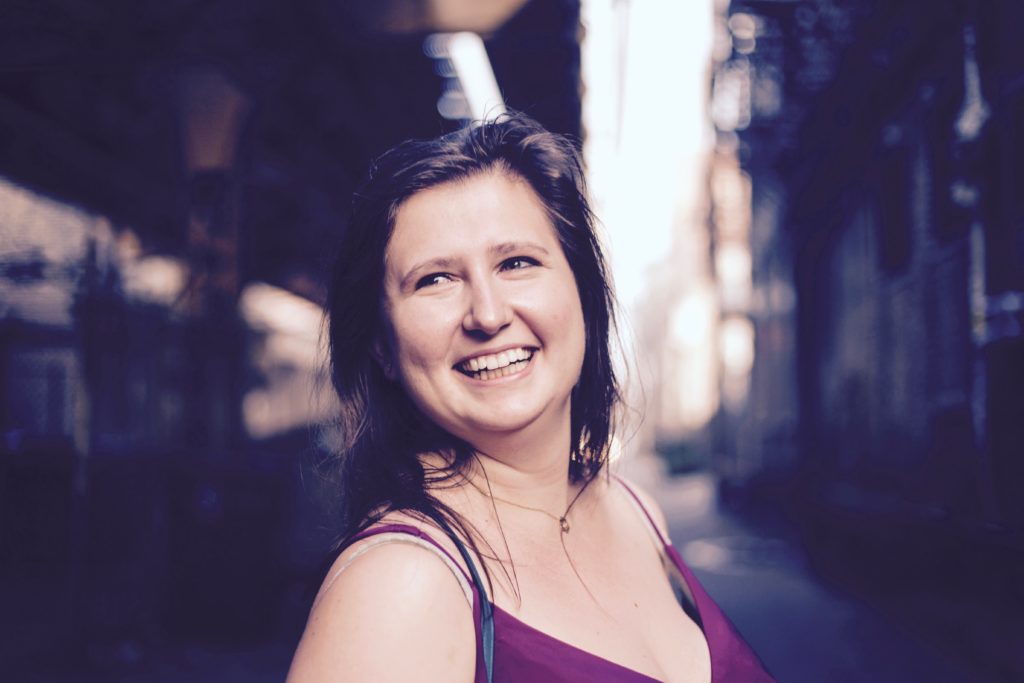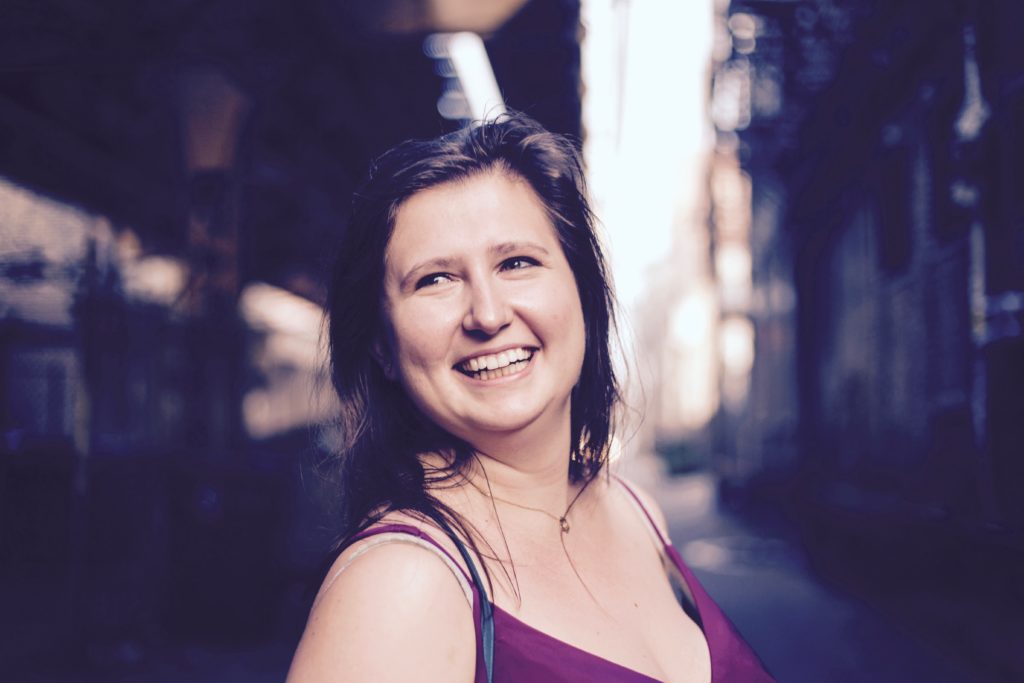 Tanya Kornilovich (she/her/hers) is a politics and art writer at Scapi Magazine. Born in Moscow and raised in Oregon, her dream job is to get paid to snorkel. During the day, she works as a recruiter and at night she does stand-up, writes, and takes bubble baths. Follow her on Twitter @tankornilo.