On June 26, 2018, Scapi Radio sat down with the founders of the zine, The Sick Muse. Much of the following article's information derives from that interview.
…
The Sick Muse founders took no inspiration from Charles Baudelaire's 1857 poem with its shared name. Co-creator Noah Jones stumbled upon the poem during an internet search when he had already chosen the title for his upcoming zine about Chicago's DIY scene.
But soon after, Jones and his colleagues found the poem's air of anti-perfectionism parallels their own creative mission. "Alas—my poor Muse—what aileth thee now? Thine eyes are bedimmed with the visions of Night," wrote Baudelaire somberly.
In reality, sick muse is a fun, backwards play on "music." Co-creator Sasha Tychoor simply likes it because "it's cool."
Since the title's conception in 2015, The Sick Muse garners pieces from writers, artists, and photographers––many Chicago residents with little to no journalistic experience––on a pitch-by-pitch and submission basis.
The zine accepts pieces that conceptualize art, theatre, and music that is hyperlocal and Chicago-specific. In written, illustrated, or photographed format, contributors strive to convey the authentic or unexplored side of the city's "scene."
"We wanted to give some kind of physical, verbal, or textual centerpiece…some kind of glue to the scene," said Jol[ene]isha, the zine's third co-creator.
The zine's editorial board encourages people within the artistic community, like musicians themselves, to put pen to paper for their publication. This adds another layer of depth and understanding conventional magazines and newspapers can't mimic, said Tycho with agreeance from Jones and Jo[lene]isha.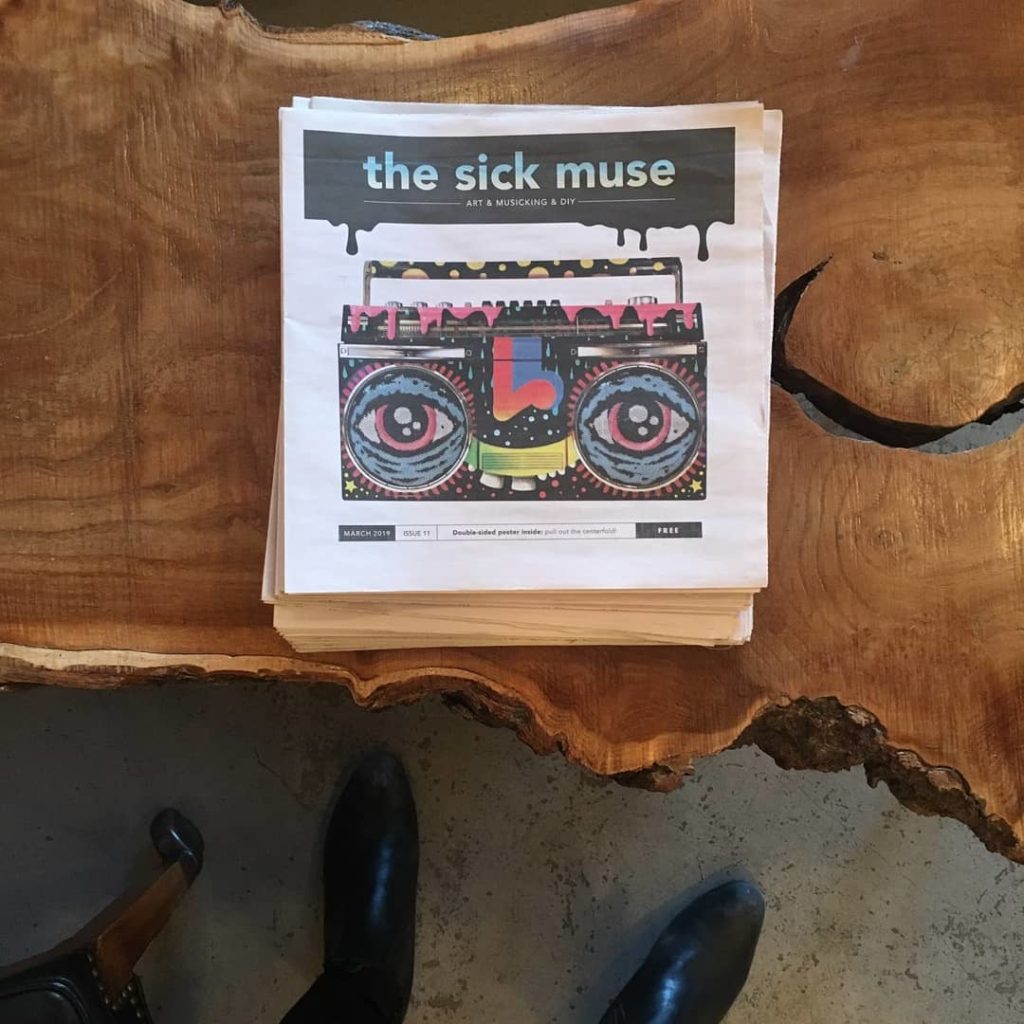 The Sick Muse even features dozens of submissions that posit musicians' lyrics as the centerpieces of their zine work. Contributors type out their lyrics, often otherwise overlooked in musical chaos, and create images to be displayed alongside them.
"What we are asking people is to do is expose what's…beyond the name and the genre. And what is unique to that person," said Jones in the podcast. "You do that convalescing the visual representation of art and media."
Zines, like The Sick Muse, differ from magazines in terms of their level of adopted formality and method of publication, according to the University of Texas library. Unlike traditional magazines, zines are usually self-published and circulate underground, adrift from mainstream culture and its restrictions.
The publications' identification as a zine allows the creators an unquantifiable freedom: the ability to fiddle with content and formatting as they continue to release more issues.
Though the trio released their 11th issue, Utopia, with the help of a growing group of staff and volunteers this March, the issue was only their second one with a predetermined theme. The founders also decided to switch to newsprint from their previous glossy copies for issue 11, while staff is free to tinker with graphic design as they please, messing with fonts and styles and unhindered by a mandatory template.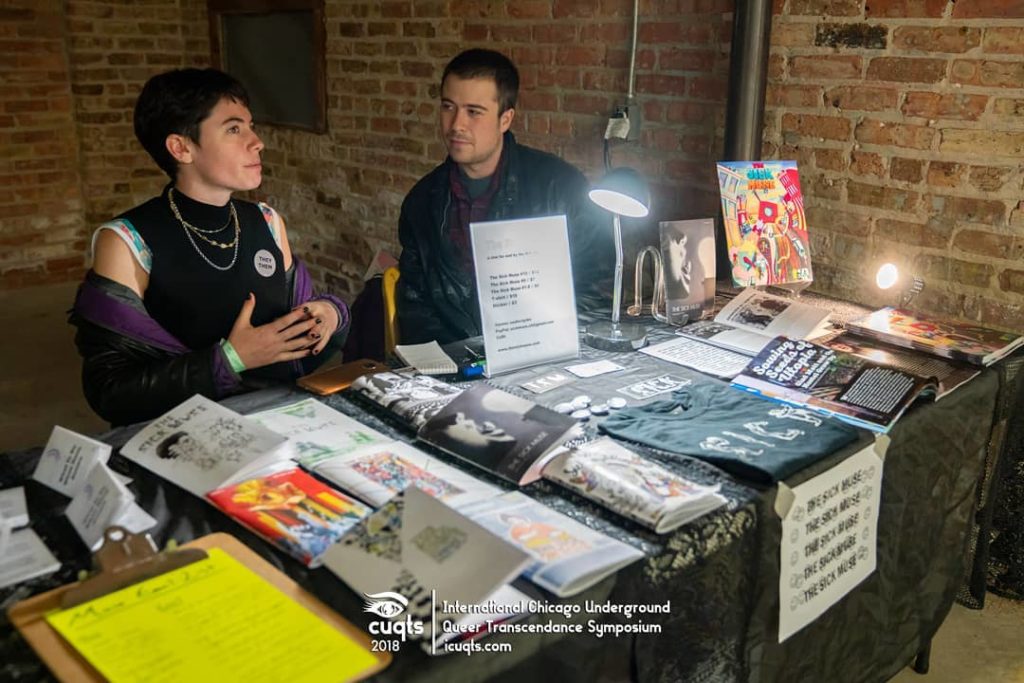 Readership of The Sick Muse climbs to over 5000 today, and more and more submissions make it into the neighborhood zine with each issue. Creators hosted the March launch at Nude Beach––complete with musical performances as well as t-shirts and copies for sale.
Other than purchase at launch, audiences can find copies of The Sick Muse nestled in Chicago coffee shops, stores, venues, and newsstands. A few clicks on the zine's website allows fans to have copies sent straight to their homes for five dollars a month. And organizers have found ways to deliver this pocket of the city's underground culture to stores in Minneapolis and New York.
If no way else, the UChicago Library houses the entire Sick Muse catalog in their Chicago zine collection––so the zine is sure to outlive us all. But before then, The Sick Muse and its staff continue to find pockets of Chicago art, intimate and informed, to showcase with the world.
"People's art has always been tied to their identity in a way," said Tycho in the podcast. "It's very personal in a way….it is in Chicago, how it's also tied to Chicago specific identity."
Find out more about The Sick Muse on their website, Facebook, and Instagram.