On July 9, 2018, Scapi Radio sat down with Kate Harrington-Rosen and K Rodriguez of Praxis Group. Some of the following article's information derives from that interview.
…
Praxis Group and its multi-racial, queer, and trans-led team offer diversity and anti-discrimination training to all spaces in Chicago, including corporate offices, schools, and faith groups.
With its official creation in April 2018, the consulting business helps lift the burden of education off of minority individuals' shoulders. Gender non-conforming, trans, and other LGBTQ folks are often left alone to fight for respect or to be called their proper pronouns. In the same vein, racial minorities too frequently fend for cultural sensitivity and understanding on their own.
The business focuses on acceptance beyond just basic tolerance. The name itself, Praxis Group, derives from the word "praxis," which means the practice of an art, science, or skill.
Kate Harrington-Rosen, Praxis' Director of Training and Curriculum, said results of their training allow marginalized community members to flourish under others' increasing understanding.
"When people feel supported and bring their true selves to work, [they] can be more productive, be happy, can sort of grow and cultivate new ideas more deeply," said Harrington-Rosen.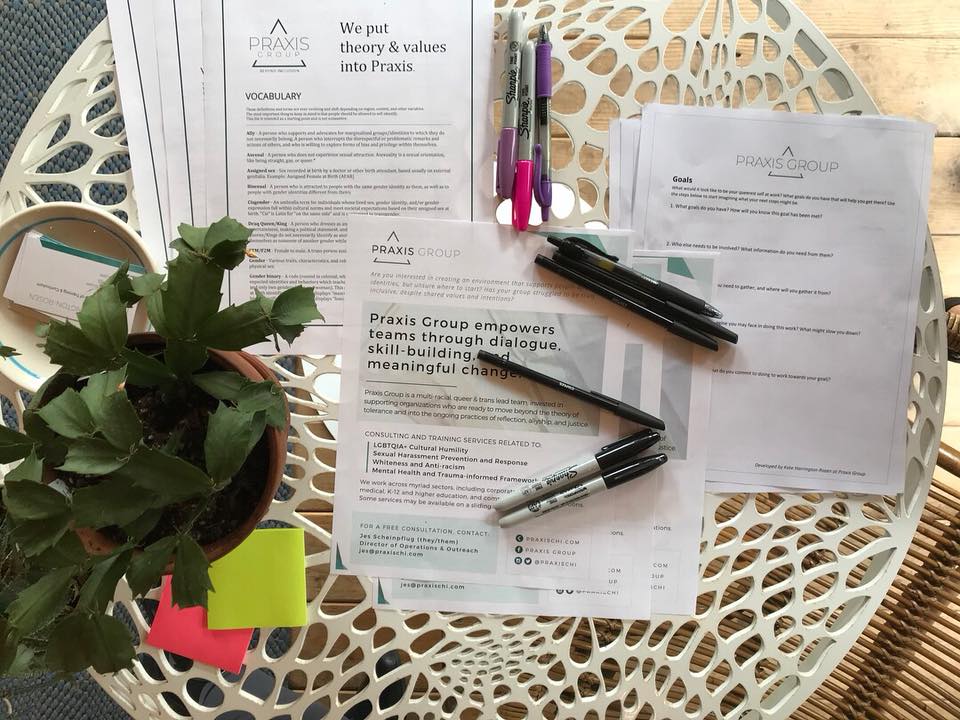 Praxis facilitators examine the needs of each customer individually. Sometimes they base their training around a controversial issue that caused the client to call the group in the first place; but other times, the visible need for cultural change guides the training curriculum.
Over half of LGBT-identifying adults have suffered as the targets of offensive comments, slurs, or harassment, according to a 2017 survey by Harvard School of Public Health. The number remains far too high in the eyes of advocates and facilitators.
The business' small staff advances the work of Chicago social justice workers who have up stepped up to combat discrimination before Praxis' creation. K Rodriguez, one of the group's founders and facilitators, said people have faced harsh judgement and even gotten removed or fired from organized groups for speaking on the same issues Praxis does today.
"I would feel wrong calling this work groundbreaking," said Rodriguez. "So much of the credit goes to work already happening on the ground in Chicago."
In December 2018, Praxis launched free Hopeful Gender cards, accompanied by the quickly growing hashtag #HopefulGender. The cards correct others' assumptions of gender and for many, serve as a saving grace after they become tired of explaining their identity choices.
Typed in soft blue ink that matches the Praxis logo, each card politely details a person's preferred greeting (ex. they/them). "Gender cannot be assumed by voice or appearance," reads the card. "Instead, ask individuals how they'd like to be addressed."
Within a day of launching the initiative, Praxis had already received 200 requests for cards from Chicago all the way to Norway.
Founders find some of the group's most impactful work takes place in faith-based groups, which are often seen as stereotypically regressive and restrictive. Though the negative experiences of some LGBTQ folk with traditional religious spaces cannot be dismissed, Praxis finds faith-based groups usually choose to be vulnerable for the benefit of their followers. In reality, Harrington-Rosen said they open themselves up to change the quickest, challenging the traditionalism that guides their formation.
Despite the barrage of work Praxis completes, each staff member holds a second day job. Facilitators work as advocates, education specialists, and psychologists outside their hours dedicated to the group, but the business shows no intention to slow down and may overtake staff full-time in the future.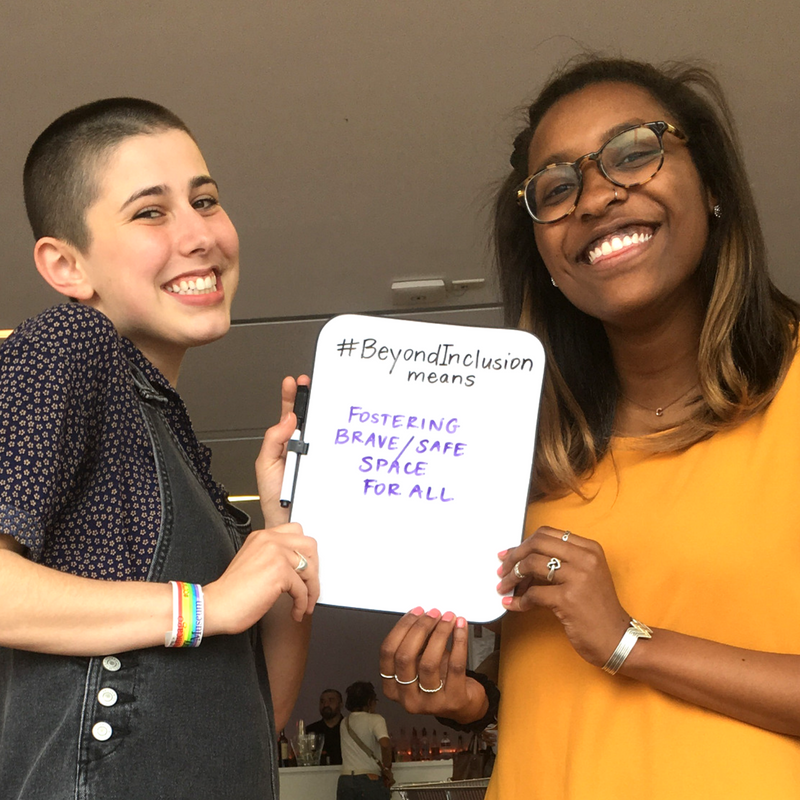 The idea behind Praxis began through a Trans 101 workshop Harrington-Rosen and Jes Scheinpflug, the current director of operations and outreach, led for three years before Praxis' creation. Though the workshop positively impacted audiences, Harrington-Rosen said the outreach needed to be formalized as it is now.
Now facilitators hold workshops, like "Beyond LGB" and "Ally is a Verb" alongside their direct consulting.
All do this work in Chicago simply because it is as good as place as any. "Any place is a good place to do work to uplift queer and trans people," said Rodriguez smilingly.
The group takes pride in initiating conversation with their work in the city. Historically, Chicago looms as a center for progress and justice––an identity that is only furthered by the work of Praxis and other LGBTQ-supporting organizers.  
"It's about teaching people to engage with you respectfully, at its core," said Harrington-Rosen. "We want to be able to create cultures and values."
Find out more about Praxis Group on their website, Facebook, and Instagram.