Pictured above: Amina Ross in ECLIPSING Festival/Photo: Ally Almore
Much of what creative and artist Amina Ross has learned about theater, dance and performance was through first encountering "weird work in basements."
Ross refers to themself as an "undisciplined creative," who has worked across different artistic mediums, most often through video installations, sculptural work and group work. Ross co-runs F4F, a black and femme centered space in the Little Village; runs Beauty Breaks, an intergenerational workshop series and participatory performance; and is co-lead artist of Teen Creative Agency at the Museum of Contemporary Art. Their most current project is working as the Curator-in-Residence for Links Halls' 2017–2018 season.
"What I appreciate about DIY and what it lends to creative practice is a grittiness, a rawness, a resourcefulness," Ross said. "It is work that is oftentimes very new. Work that is in flux. Work that requires people to actively invest movement and passion. I think that in order for DIY culture and work to exist, it needs people."
In mainstream theater companies, money and infrastructure support the productions to allow themselves to function as theater space—whether or not there are audience members sitting in their designated seats.
"But my attic is just an attic, unless there's a group of people who believe otherwise," Ross said. "I'm used to working in spaces that are not demarcated, that are not quite venues but more so like weird corners. There's something magical about being able to name and mark something."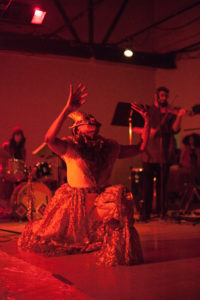 Ross also thinks there is a collective belief and effort at the core of DIY artists' work. As part of their Link Halls' residency, Ross is curating the ECLIPSING Festival, which runs from Wednesday, January 31 to Sunday, February 4 (with supplementary workshops before and after the festival). The festival showcases artists who "cross boundaries between mediums and mobilize darkness within their works," specifically in context to how "dark and night spaces provide a place to challenge dominant and oppressive systems, structures and ways of seeing."
Ross thinks about the city in Chicago in this way because of its hyper visibility to the nation. They examine what it means to be hyper visible, and how being popularly discussed in media does not equate to truly being seen.
"As a living, breathing city with living, breathing people, is Chicago really getting a chance to be seen?" Ross asks.
In evaluating Chicago's visibility, Ross thinks about the hyper visibility that black people suffer from. With an ever-increasing presence of black people in media, advertising, politics and more, Ross calls into question how that translates into the lives of everyday black communities.
"Look at the violence against black and brown folks, increasing state violence, the rapidly growing rates of incarceration," Ross said. "Clearly, our image being everywhere does not translate directly to liberation."
Four years ago, the ECLIPSING Festival was in its conceptual stages when Ross started looking up the origins of the word "eclipse" in the dictionary. The first definition presented an astronomical phenomenon that occurs when a small celestial body is passed by, floated or drifted over by a larger celestial body, which makes the smaller body fall into the darkness. The second definition spoke of the reduction of status or power. Ross saw the analogy between the two definitions and started thinking about how societal biases toward "light" spaces, the negative connotations of dark spaces.
"As it is often the goal of my work, I was not simply trying to show the positive within darkness," Ross said. "That feels very binary to only portray darkness or blackness in only a positive light or only a negative light. It is many things. It is the darkness of the sky, which reaches out infinitely. It is my body; how do I allow my body, a dark body, to reach out infinitely?"
Their first piece related to eclipsing and darkness showcase parts of their body covered by light, then obscured into the shadows. They moved light and obscured it within themself, a very exciting process for Ross as a performer.
"I continued to think about this: darkness, blackness, nighttime as marginal space," Ross said. "Then I thought, what other artists are working in this way?"
When thinking about the goals of ECLIPSING Festival, and the goals of DIY theater and performance in general, Ross found themself considering several principles. For one, pushing boundaries was priority. There was also the matter of who is being allowed into spaces and whose voices are allowed prominence and access.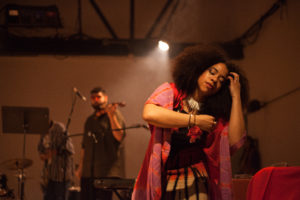 Many DIY festivals and venues exist on a certain level of generosity and collaborative energy. ECLIPSING Festival has the resources of an institution to support the energy and efforts of the artists.
Ross looked up the definition of institutions (they like to work with definitions). The definition in and of itself is not a "terrible thing." But for them it has been a new and vital horizon to figure out how a DIY space can have the support of an institution that acts as a scaffold or support system, that supports the transformation of the artistry it is trying to lift up.
The artists performing within Ross's fest are all mostly those who work in different mediums. Every artist chose a different way to approach darkness and often had their own relationships with astrology and astronomy in the festival.
Many of the artists and creative people Ross found was through Beauty Breaks, where artists are hosting different workshops through March. Joelle Mercedes, who is also performing on the second day of ECLIPSING Festival on Thursday, February 1, held a workshop on blackness in the Dominican Republic, with a specific focus on how black people fit into Latin/Caribbean identity.
Last night, Ross opened the ECLIPSING Festival with an Opening Ritual that featured the Participatory Music Coalition, a group that focuses on the importance of Black American Classical Music.
"Tonight, we are led in this effort to expand our own imaginations by Participatory Music Coalition," Ross said. "Tonight, we delve into the dark."
The ECLIPSING Festival runs from January 31 to February 4 at Links Hall, 3111 North Western Avenue. Tickets are $10-$20 per day or $45 for a festival pass. Eclipsing Workshops will continue throughout and after the festival. The performance schedule can be found below: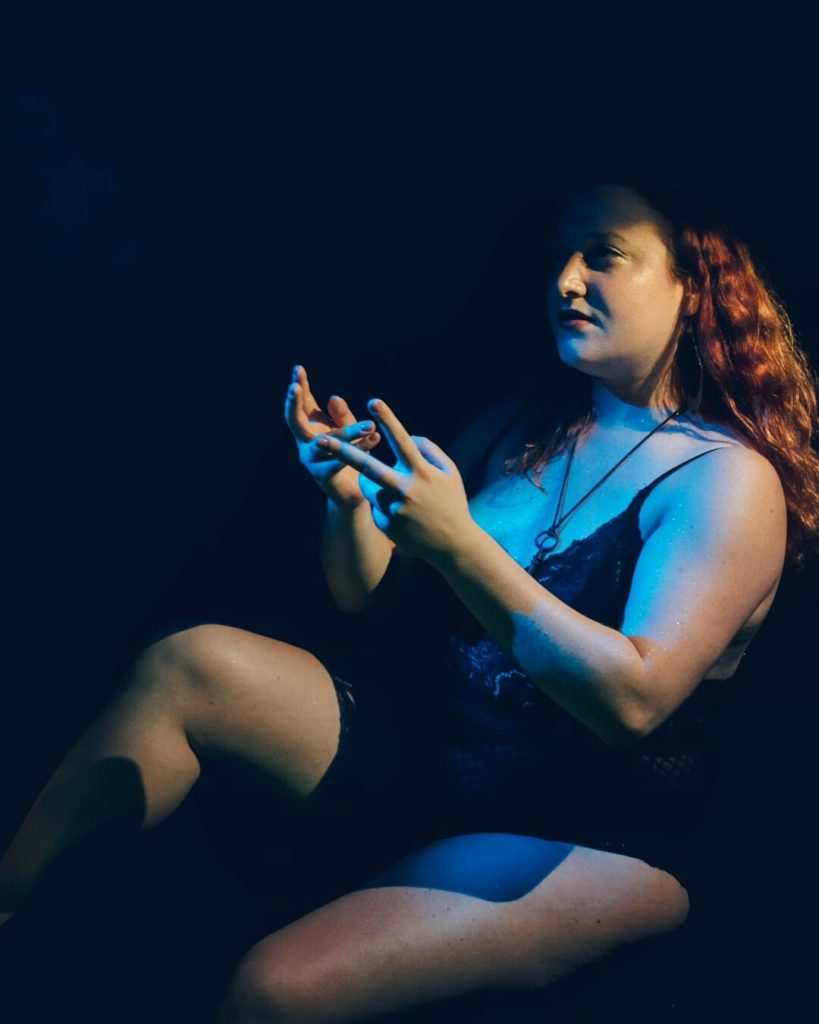 Danielle Levsky (she/her/hers) is the Theater Editor of Scapi Magazine. She is a feminist, Jew, poet, essayist, performance artist, and instructional designer. In addition to her work at Scapi, she has covered community news, arts reviews, lifestyle editorials, and cultural events for several publications. Between February 2018-2019, she completed a fellowship where she wrote a collection of community-engaged essays about her identity and heritage. She also writes typewriter poems on demand with Poems While You Wait. Follow her on her poetry Instagram to read some works in progress.