Pictured above: Lucky Stiff performs their act "All the Happy Endings We Were Promised" at the January HOMESET/Photo: Denise Yvette Serna
Drag artist Lucky Stiff entered the packed, studio apartment of writer and theater artist Zach Barr and sat at a wooden table. Their durational performance began as soon as the introductory music to Walt Disney's 1989 animated musical "The Little Mermaid" began to play through a pink laptop. In conjunction with the music, the movie itself was projected onto Lucky Stiff as they pulled out pad, pens and markers and started drawing.
Lucky Stiff's Pierrot-reminiscent, grayscale image reflected in the vibrant colors and music of "The Little Mermaid" was only one of the few contrasts they were able to achieve in their work "All The Happy Endings We Were Promised."
"Last year was the deadliest year for reported trans deaths on record, which has been largely attributed to the hostile political atmosphere, and there's an almost clinical detachment in the reporting of these deaths which I find infuriating," Lucky Stiff said in an interview before the salon. "I created [this show] in an attempt to memorialize these people in a personal, accessible way; to channel my grief into something warm and immediate."
Lucky Stiff drew, distributed images and watched "The Little Mermaid" on their computer while audience members moved around Lucky Stiff, refilled their glasses of wine and munched on popcorn.
Discussions over snacks and festivals
Lucky Stiff was one of four artists to perform on January 6 during Pop Magic Productions' very first HOMESET, a quarterly salon series bringing artists together to share ideas and showcase their works in progress, lesser practiced skills and interests in a casual atmosphere.
The series is curated by Olivia Lilley and Denise Yvette Serna, who met during November 2017 while they were working on Climate Change Theatre Action, a worldwide series and festival of readings and performances of short climate change plays presented to coincide with the United Nations COP meetings. Serna, along with Iris Sowlat, were the main coordinators of the festival. Lilley felt that Serna had set up each piece in a very natural way and had made each work accessible and engaging. In short, she felt taken care of.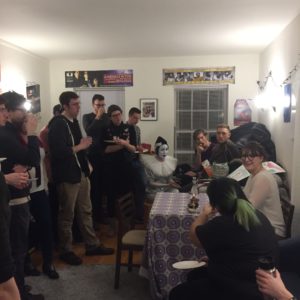 "I really loved the spirit of curiosity and community that [Serna] had imbibed in the festival," Lilley said. "But it was so much work to do for a three-day festival and Serna did so much. I told her, 'I want you to be fully happy with the entire process! I can take care of some of the responsibility, we can do it on a smaller space and maybe less frequently.'"
Serna felt that it was the time to bring about a conversation and action on the cause of global climate change from a global perspective and also recognized that artists often do not get the chance to talk to one another with the projects they're working on. She felt that the current generation of artists and makers were missing out on previous generations' capabilities of cultivating together.
"What would happen if we knew that we were mad and excited about the same things?" Serna said. "How can we create space for people to come together with no real goals but to share their ideas? If along the way, I'm writing a symphony that is about the same fear and hope and rage that your sculpture and your dance piece is communicating, what would happen? What if we all knew that?"
Over beer and cheese puffs at the Climate Change Theatre Action festival, Lilley and Serna solidified their intent for HOMESET.
"Art movements thrive on hanging out and developing interpersonal relationships between artists of different forms," Lilley said. "HOMESET is not about their bios or where that artist came from; it's about this piece, right now. We want to cultivate a non-pretentious atmosphere that is open to everyone and takes everyone seriously."
Setting up the home
The name HOMESET came from Lilley's previously curated series that would feature four poets in environments created specifically within people's homes for each poet. The current iteration of HOMESET expands the form and allows for an intersection of artists to come together. But, the setting of the home remains, nonetheless.
"In a home, it's instantly casual, instantly DIY," Lilley said. "No one can mistake what it is. No artist can come in and be disappointed. It makes you feel like you're among friends, even if you don't know anyone."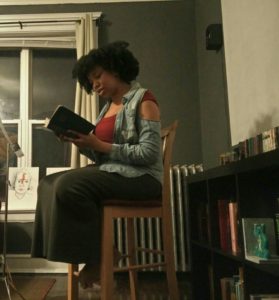 To schedule out each HOMESET, Serna contacted people whose work she had seen and liked, people she had worked with in the past and people she had been adjacent to in the community. She was open with the artists about the need for this type of space in the community and offered each of them four upcoming dates to give them a chance to work on something. Each HOMESET features specifically two to four artists to give them as much space as they want and need and to lift each artist up in a meaningful way.
"It's a great place for an artist to be, because a work that is unfinished is very vulnerable," Serna said. "We're not able to see each other's work very often because we're always working. This is the space to see each other in our 'making' stage."
Many artists that perform at HOMESET are known for or make their career off a very specific skill; this setting allows them to continue honing their specific craft or focus on another skill they'd like to develop.
"We don't need you to be perfect; we just want to see what you're growing with," Serna said. "It's a great way to ignite the community in a way that's comfortable and achievable."
For settings, Lilley and Serna contacted colleagues and friends to see who would volunteer their homes and spaces. Then, each host was asked to send a video tour of their space and share them with each of the artists assigned to each performance space to determine how the space could help them engage and what materials were needed for their pieces.
Accessibility in every crack in the floor
The curators' focus on making the series accessible is key, and it comes in many forms: conversation, space, cost, among others.
"Someone might weep and yell at the Superbowl, and someone else might want to listen to Tchaikovsky," Serna offered as an example. " We should all be part of these conversations, especially now in a time of such political and social unrest. Art is really necessary and vibrant, and really just coming out of every crack in the floor."
Both artist and audience, to Serna, need to be comfortable creating and performing in the space they are within.
"I want everybody to access the conversation at the same time," Serna said. "I want to present a piece of work but I'm going to give you 10 different ways to talk about it. If I'm putting performances in a picture frame and it's only reaching a certain type of audience, then it's not accessible."
Lilley agreed with the concept of a "picture frame" and emphasized that HOMESET is not meant to be built up in a commercial way, but rather as a greater space in the community to better the community itself. She credited Salonathon as the "great instigator of variety performance and safe space" and wants to see more salon series happening throughout Chicago.
"I hope this series inspires more HOMESET like events," Lilley said. "Someone might come to one of our series and think, 'I can do that, but better' and I will say 'Yes, please! Awesome! I love it.' I want more of these spaces to exist."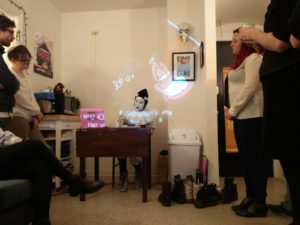 When Serna interviewed Lucky Stiff prior to the January HOMESET, Lucky said they were focused on creating an intimate, sensual and human space for their viewers and also that they want to see art bringing the community together in a non-superficial way.
"Art that makes us care more about each other is the best kind of art," they said.
HOMESET performances occur monthly; the next performance will occur Sunday, March 18 from 7 PM – 10 PM at a secret location in Uptown and will feature artists Korin Isotalo, David Clauson, Aaron Aptaker and Cassie Bowers. More information can be found through the Facebook event.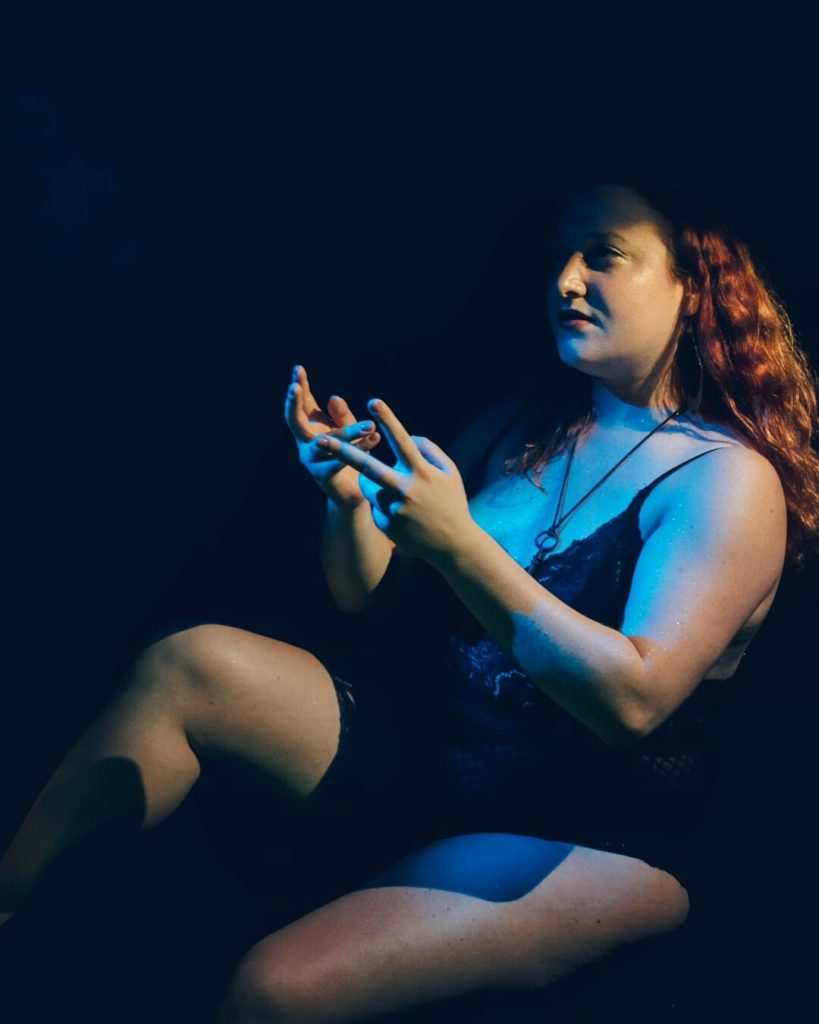 Danielle Levsky (she/her/hers) is the Theater Editor of Scapi Magazine. She is a feminist, Jew, poet, essayist, performance artist, and instructional designer. In addition to her work at Scapi, she has covered community news, arts reviews, lifestyle editorials, and cultural events for several publications. Between February 2018-2019, she completed a fellowship where she wrote a collection of community-engaged essays about her identity and heritage. She also writes typewriter poems on demand with Poems While You Wait. Follow her on her poetry Instagram to read some works in progress.