Pictured above: Ricardo Gamboa opens the episode Comedy and Revolution during The Hoodoisie/Photo: Alejandro Reyes
This article was co-written by Danielle Levsky.
In early March, Ricardo Gamboa entered the center of a Reunion Chicago (Humboldt Park) room with a microphone. They welcomed the audience members and began a live, news show podcast with a flourish.
"Ladies and gentlemen, gender non-conforming and trans beauties, welcome to another exciting episode of The Hoodoisie!" Gamboa said.
Gamboa launched The Hoodoisie at La Catrina Cafe in Pilsen on January 20. Gamboa hosts this radically politicized, biweekly live news show podcast in a different gentrifying neighborhood every month. Gamboa invites co-hosts and speakers to share the experiences and perspectives of everyday people—particularly people of color, queer people and working-class people. The show features discussions with artists, activists and comedians, as well as interviews with social changers, saboteurs, political figures, culture makers and musical guests.
This episode, in particular, was entitled Comedy and Revolution. Cheers from the audience erupted and the episode began.
An academic (PhD candidate at Northwestern University Andreea Micu, PhD Candidate at Northwestern University,), a politician (politician Sameena Mustafa), and comedian  (Felonious Munk, who regularly appears on The Nightly Show with Larry Wilmore) were the featured guests of the evening.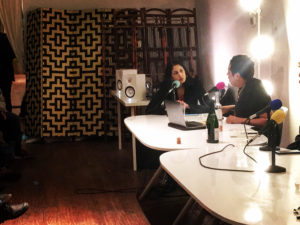 The show was divided into acts and included discussions on the definition of development, The Obama Museum, Governor Bruce Rauner's chocolate milk demonstration, gentrification and comedy being weaponized for politics.
Xavier Paul, a speaker on The Hoodoisie and former resident of North Lawndale, spoke about the issue of urban development.
"I believe housing is a human right," Paul said. "I don't believe that our government believes that. Anything that is required for the sustenance of human life should be a human right. This means that it is guaranteed by the government and paid by the people, meaning that our taxes should be going towards those things. In my mind that is health care, housing and education."
In February, former President Barack Obama came to Chicago on Tuesday to discuss and make the case for the Obama Presidential Center he plans to build in Jackson Park. Obama and others believe the complex will create more jobs, attract businesses and give more opportunities to local residents.
Many folx, including residents of Jackson Park, have concerns about increased housing costs. The center calls into question the meanings of development—the very thing that the Hoodoisie aims to discuss, debate and examine. Gamboa said that the Hoodoisie does not wish to "preach to the choir" but rather arm people with a radical education.
"I'd like to reach more people [to] use The Hoodoisie as a platform and a tool that carries out mobilization and action," Gamboa said.
Gamboa uses dialogue that exhibits a radical-political quality. As a native Chicagoan, they speak with a knowledge and certainty about the city that only comes from first-hand experience. Gamboa, who grew up on the South Side of Chicago, has produced work that is reflective of their record of attending racially diverse schools. This, in turn, led them to become accustomed to circulating between different neighborhoods.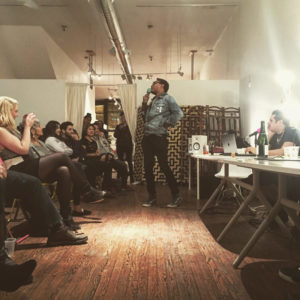 "This gave me an intersectional perspective," Gamboa said when recalling their academic upbringing.
The Hoodoisie is executed in a talk show format, but unlike the models of late-night television, its host is a non-binary Mexican-American.
"I do not represent the standard everyman in the heteronormative fashion," Gamboa said.
Several episodes have been hosted within Pilsen, a neighborhood that has seen an immense shift in the community since its longtime Mexican-American enclave began to decline. This shift triggered difficult conversations about race, identity and class, all of which are addressed by Gamboa and the other hosts of The Hoodoisie.
In Chicago, Gamboa aims to become a voice for those affected by the current political climate. Though platforms for social commentary are common in American culture, Gamboa aims for The Hoodoisie to go beyond the predictability of American television. They aim to embed a political discourse that draws audiences hungry for a radical perspective.  
"It is the Hoodoisie's goal to become a beacon for people who are looking for truth in the chaos of the world," Gamboa said.
Ricardo Gamboa is a community activist, performer and artist based in Chicago. The Hoodoisie is a live news show podcast that records in different gentrifying neighborhoods bi-weekly throughout Chicago. Upcoming performance dates and locations can be viewed at facebook.com/thehoodoisie.