Pictured above: Jameson Wentworth, Liz Chidester, Elena Romanowski, Britain Gebhardt, Amy Stricker & Lizzie Schwarzrock in "High Fidelity" by Refuge Theatre Project/Photo: Zeke Dolezalek
Anyone who visited the Windy City Café for lunch during April 2018 saw nothing out of the ordinary. The small, independently-owned business looks like any other café in Chicago. But for the staff at Refuge Theatre Project, that was exactly what lured them to it.
"It was the easiest set build we ever did," said Ross Egan, Executive Director and Co-Founder of Refuge. "It was done before we even started rehearsals."
Windy City closes their doors at 3 PM each day—and for three days a week over the last six weeks, that was the cue for the staff of Refuge Theatre Project's latest mainstage production, The Spitfire Grill, to claim the space as their stage. Unable to hang lights from the ceiling, they instead began by switching out every light bulb in the café with wireless bulbs that can be programmed and controlled like typical stage lights.
"Our lighting designer, Collin Helou, discovered [the bulbs] in Japan," Egan explained. "According to the manufacturer, we're the first people to use them in Chicago."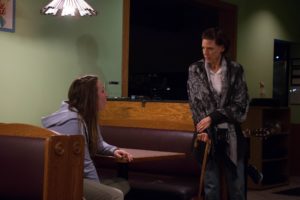 When audiences entered the café for performances of Spitfire, the lights looked entirely normal. It was only two scenes in (when they changed colors) that audiences realized the immersive nature of the production.
"There is a difference between site-specific and immersive," says Mark Bracken, Refuge's technical director, who began as a lighting designer for Things To Ruin, in 2017. "I wouldn't say all of our work is immersive. But with site-specific, you are getting all of the senses touched."
This is the first half of Refuge Theatre Project's mission: to produce theater in site-specific venues, as a way of bringing art to communities who might not attend a performance otherwise. Combined with the second half—producing "underappreciated musicals"—this has led to productions staged in a bar, a gymnasium, a café and a makeshift record store.
The last of these locations was the site of the company's Jeff-Award-winning breakout hit, High Fidelity. Originally staged in a more traditional space, scenic designer Michelle Manni took this a step further when the production was remounted.
"Multiple people, when they walked into the High Fidelity set, actually thought they were in a record store," Manni said. "They thought perhaps we had just rented a record store."
The truth, though, is that Manni, in collaboration with sound designer Richard Schroeder and the Refuge staff, had rented out an empty storefront and built the space from scratch. Both Schroeder and Manni work predominantly in the live event industry;  they turn large empty spaces into venues for galas or weddings.
"It's that event mindset that informed how we wanted to do High Fidelity," Manni explained. "You walk into the room and there's nothing. That doesn't mean anything to us––that's the world that we come from."
Schroeder echoed the sentiment, adding that different spaces beget different challenges for the designer—which helps him improve.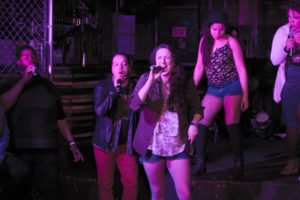 "A lot of people are used to coming into the same system that's in the same room, and you can get set in a non-challenged environment," he explained. "It's beneficial to constantly be having different things thrown at you, so you can know how to adjust."
What Manni and Schroeder see as a blank canvas, however, other artists see differently. Chris Pazdernik, the director of both Spitfire and High Fidelity, mentioned that the spectre of site-specific staging shapes the kind of work Refuge produces.
"So far we've avoided shows that we felt didn't have a natural 'found space' tie-in," Pazdernik said. "Because truth be told, some shows are so cinematic or abstract that being tied to one location would hinder the storytelling. There are a couple shows we've discussed that I look at and go, 'that needs to be in a theater.' We need more of a blank canvas to tell that story, rather than a highly detailed canvas, which is what you get in a found space."
Of course, highly-detailed canvases can sometimes save the designers work. Take the case of set designer Evan Frank, who designed in a gymnasium for Refuge's Lysistrata Jones.
"When he was designing for us for the first time, coming from a traditional place, he had a beautiful brilliant design," Egan explained . "But it was so involved that we had to say 'hey Evan, you're in a gym. Less is more.'"
Not to mention, the entire set for Lysistrata had to be removed, every night.
"The church that owned the gym wanted to be able to use the space," Frank said. "So we had to make sure the entire set—audience risers, booth, and band—would collapse into a 10×15 foot rectangle in the corner of the room. When I designed the show, I designed a lot of things with fabric. There was a whole back wall of sound dampening panels, which helped a ton. Everything was either on wheels or on gliders, it was very easy to move around."
The sound dampening panels speak to another challenge of performing musicals in found spaces: acoustics. While Lysistrata's gym was too echoey, performers in The Spitfire Grill found that the interior of the Windy City Café dampened sound quite effectively.
"We were worried in rehearsal that when we got in the space, the actors were gonna be too loud for people who were two feet away from them," Pazdernik said. "We found the opposite is true—so the actors don't have to hold back."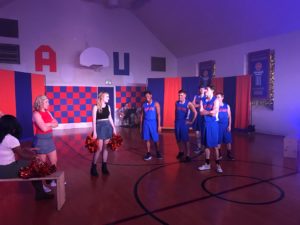 Add to that a fully acoustic pit orchestra for the show (including the piano: "there's literally nothing synthetic about our production," Pazdernik crowed), and the production captures the folksy feel of its café setting impeccably.
Frank also felt this sense of providing the audience with an "experience" during Lysistrata.
"One of the actors set up a free throw competition with audience members during intermission," he recalled. "And that's fun. That's something that you wouldn't get if you saw the show on Broadway. It's fun to bring the audience into the space."
Refuge Theatre Project performs at found spaces around the Chicagoland area. More information on their soon-to-be-announced 2018/19 season will be found through http://www.refugetheatre.com.
Zach Barr (he/him/his) is an arts writer and critic, as well as a director, playwright and stage manager. He wears, both figuratively and literally, many hats. He has contributed everything from season previews, to theater criticism, to angry rants, for Newcity Stage Chicago and Scene+Heard Magazine, as well as developing his own narrative-driven critical style via his blog The Hanslick Girls. Zach serves as Literary Associate at Sideshow Theatre Company and consistently advocates for more asexual/aromantic narratives in media. Learn more about him at zach-barr.com.