Pictured above: Katherine Bellantone as La Muñequita and Raul Luna as Mr. Moral/ Photo: Becca "B" Browne
Can you imagine a world where even the way you wear your hair is a political statement? Well, quite a few people in the United States sure can. That's the topic of Becca "B" Browne's contribution to this anthology. Two women, Shae (Lillian Bianca) and Camille (Kenya Hall), in The Weightless Wig try to keep a record of all the recent minorities murdered by the police tallied before their discussion shifts to the reasons Shae should, or should not, wear a wig in her upcoming court case. Shae is a lawyer and knows that her natural hair would be a distraction in the courtroom and possibly hurt her client's case. As Shae picks out a wig, Camille tries to explain that while that's true—it's still messed up. Shae agrees but feels her hands are tied as she exclaims, "Why does every follicle have to politicized and policed?"  
The Weightless Wig, as well as the rest of the anthology that is El Bear's production of Mr. Moral's Stories for Surviving Dark Times Without Losing It, addresses current anxieties while delivering a night that is equal parts humor, horror, sadness, sci-fi, while also being a response to the current American political climate.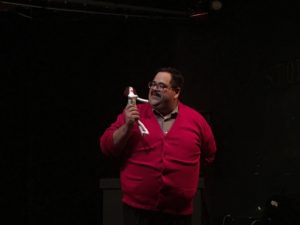 "Each story gets more serious," Writer, actor and Artistic Director of El Bear Rauly Luna explained. "Intersectionality, White Man's complicitness to act against evil, there's a piece about gentrification with masked wrestlers, a conspiracy theory thriller with a giant robot and a piece about ethnic cleansing with robots."
The stories are tied together by Mr. Moral (Luna)—a character, not unlike Mr. Rogers—and La Muñequita (Katherine Bellantone)—the evil doll that wants to watch the world burn and also a personification of Mr. Moral's depression. Mr. Moral and La Muñequita argue through the night as Mr. Moral tries to convince her to see the good in people and La Muñequita tries to get him to realize how flawed the world is. They use each story to try to sway the other one but tension continues to build as they watch how horrible the human race can—and often does—treat one another.
The rehearsal I witnessed took place in the living room of Luna's home. It was a relaxed atmosphere where everyone was encouraged to drink the La Croix in the fridge, share their thoughts and have fun. Before starting the run, writer and director John Fisher listened intently as an actor talked to him about the power of stillness in her piece and why she wants to use more stillness in her performance. Fisher was also game to stand in as a test person for actors to try out props in violent scenes before letting them practice with other actors. They introduced liquids this evening and Fisher would often call hold and grab a towel to help clean the messes up before continuing on. He also put a halt to the liquids in the space when an actor almost slipped after jumping on to her mark.
This friendly and respectful atmosphere juxtaposed with scenes where lines like: "You should be happy to buy your culture back from us!" or "They're not children, they're animals. The President said so himself…" creates an eerily familiar feeling, not unlike experiences certain folx have every day. At one point an actor said his line about calling the police and the entire room erupted in sad laughter.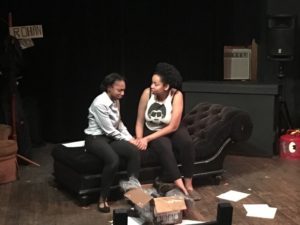 While the references to pop culture trends and mentions to celebrities who have decided to be open with their bigotry keep the piece feeling current, the major themes are nothing new. In fact, Mr. Moral is quite a few years old now.
"I came up with Mr. Moral in college, [a]nd I hadn't revisited him much until last year we were a part of a festival called Yippie Fest," Luna explained. "I was writing a much more politically charged piece at the time that wasn't finished, and so I looked back through my old stuff and found my old Mr. Moral sketches."
Luna wrote all the scenes between plays for Mr. Moral and La Muñequita, the creepy doll that is a manifestation of Mr. Moral's depression. Luna then enlisted four other writers to contribute in addition to the piece he wrote.
"[Mr. Moral] could be silly, wacky and sci-fi, and still be able to make any sort of political statement it wanted," Luna said. "Because, like the Twilight Zone, the story was politics told in a way that made you realize: 'Fuck, we're the monsters…'"
While the anthology is heavy, and often times too on the nose to feel like fiction, Mr. Moral's idea that "we have to have faith and believe in each other," comes through loud and clear, which is the actual intent of the evening of short stories.
"I want [people] to leave with a really happy sense of dread, or a dreadful sense of happiness, like 'Hey, we're fucked, we better do something about it, and also I am sad, or happy? Who knows, but I have so many questions,'" Luna said. "Ultimately, if people leave the show questioning what they can do to make the world less shitty, I'll be happy. They should also leave with the realization that only we have the power to affect change; no one is going to do it for us and no matter how many times we lose, we don't give up."
Mr. Moral's Stories for Surviving Dark Times Without Losing It performances occur Saturday and Sunday at Collaboraction Salon Space, 1579 North Milwaukee Avenue through July 1. Tickets can be purchased at brownpapertickets.com/event/3460906?cookie_header=1.
Sharai Bohannon (she/hers/her) is a playwright who is pretty excited to write about DIY theater and performance in Chicago. She has a background in journalism and is excited to see what all she remembers as she begins her freelance career with Scapi Magazine. Get to know some of her work on her page at the New Play Exchange.